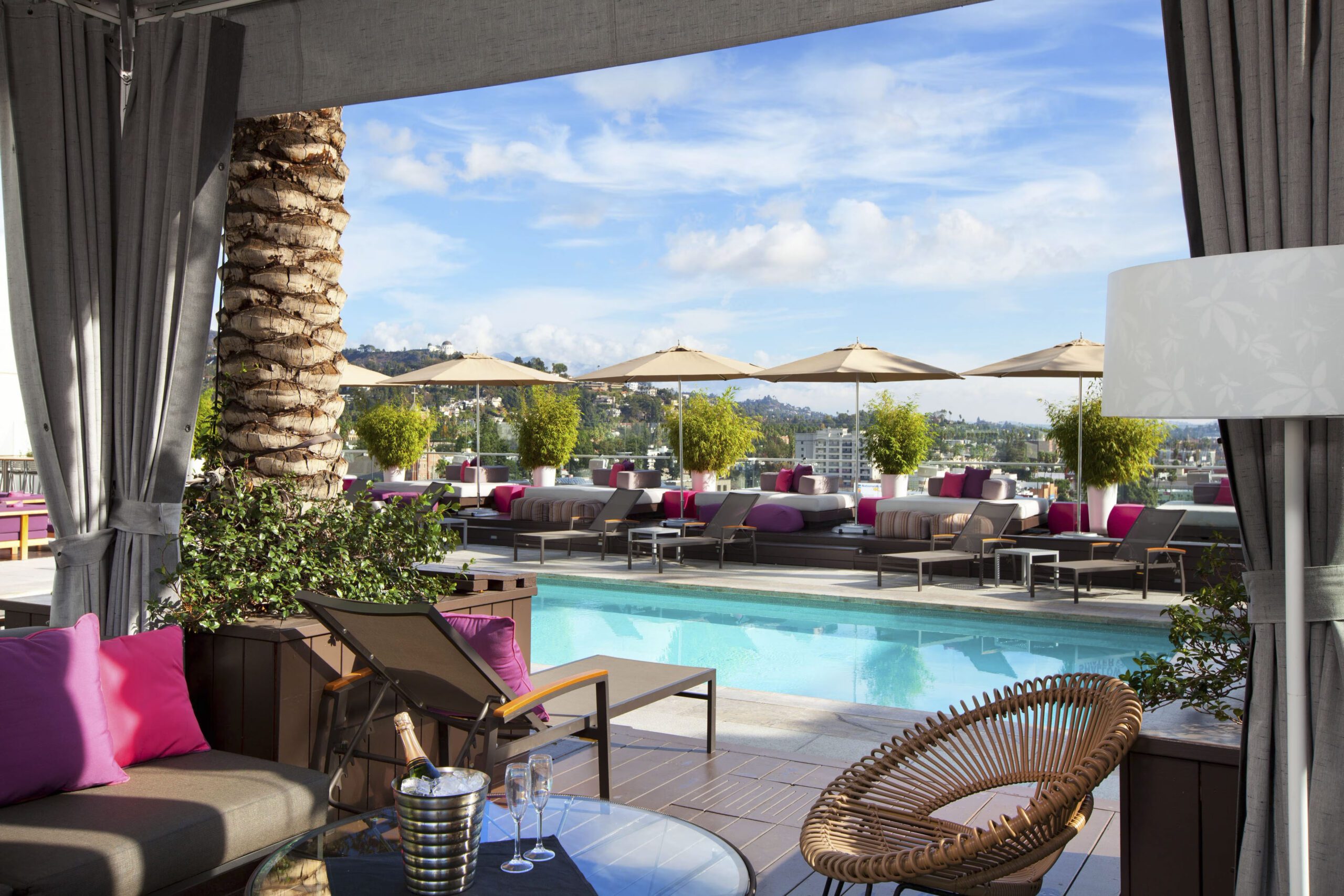 This post is all about pool day pass Los Angeles offers.
With the dog days of summer headed our way and high temperatures sure to follow, access to a swimming pool is top of mind for Angelenos in the mood to beat the heat. After all, what could be more quintessentially LA than spending a sunny afternoon poolside?
If you don't have a pool of your own, don't sweat it! There are literally dozens of options for obtaining a pool day pass in Los Angeles. Found mostly at high-end hotels around the city, these day passes are not only perfect for chilling out, but they're also a great way to check out local accommodations should a family visit or staycation be in your future.
Besides, the only thing better than hanging at a backyard pool of your own is enjoying the added benefit of food and beverage service accessible right from the comfort of your reserved lounge chair or cabana. As a bonus, many of our recommendations are available through ResortPass, making booking super-easy. So, pack your bikini or your swim trunks and read on to score the best hotel day passes in Los Angeles.
Best Pool Day Pass Los Angeles
Downtown
Hotel Indigo Los Angeles Downtown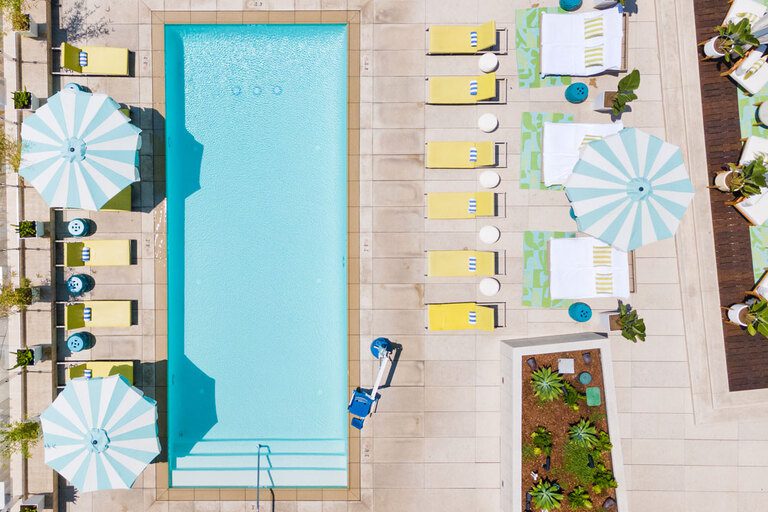 The Swim Club at Hotel Indigo Downtown would look right at home within the canvas of a David Hockney painting. The aqua-blue pool is encircled by delightful yellow lounge chairs and chic woven daybeds, while potted plants and flowing drapes contrast with the glistening DTLA high-rises. A fantastic menu of tropical libations and poolside bites is the perfect accompaniment to an afternoon spent in this dreamy rooftop pool in Los Angeles. Options start at $25 for a day pass and go up to $250 for a premium cabana, with discounted valet parking available.
899 Francisco St., Los Angeles, CA
https://www.downtownlosangeleshotel.com/
InterContinental Los Angeles Downtown
Located on the 7th floor of the tallest building on the west coast, the pool at the Downtown InterContinental enjoys a shimmering backdrop and jaw-dropping city views. Soak in the sun on an ultra-chic pool deck filled with cabanas and lounge chairs and anchored by an epic 85-foot-long swimming pool. Food and drinks are served from the gorgeous outdoor No Dive Restaurant & Bar, and every inch of the setting offers an Instagram-worthy backdrop (Thank goodness for the free Wi-Fi!). Reserve with ResortPass Los Angeles and score a reserved lounge chair with a complimentary glass of Veuve Clicquot for $70. Or grab five of your closest friends and splurge on a deluxe cabana starting at $500.
900 Wilshire Blvd., Los Angeles, CA
https://dtla.intercontinental.com/
Hollywood/West Hollywood
Andaz West Hollywood
When it comes to rooftop pools in Los Angeles, it's hard to beat Andaz West Hollywood, which bills its pool deck as one of the highest in the city. Bask in jaw-dropping views of the legendary Sunset Strip and Hollywood Hills while you take a dip in a lovely pool surrounded by chic daybeds and cabanas. At Bryant's Pool Bar, you're invited to enjoy light bites and beverages. Prices from ResortPass Los Angeles range from $20 for entry and access to a first-come, first-served lounge chair up to $300 for an all-day cabana reservation.
8401 Sunset Blvd., West Hollywood, CA
https://www.hyatt.com/andaz/laxss-andaz-west-hollywood
The Hollywood Roosevelt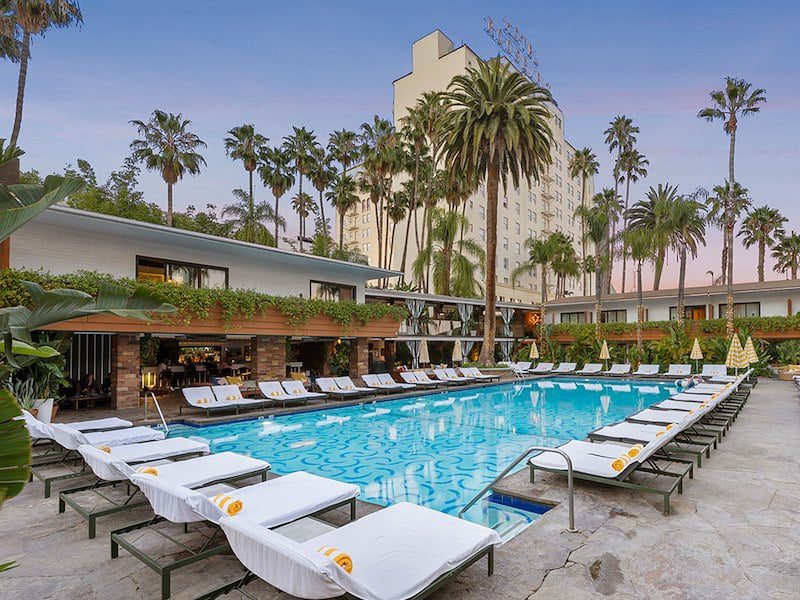 The Tropicana Pool at The Hollywood Roosevelt Hotel promises a classic Hollywood pool experience, and it delivers! From the one-of-a-kind David Hockney mural in the pool itself to the towering palm trees and midcentury vibes, it doesn't get more LA than this. At the Tropicana, your pool day pass scores you a cushioned lounge chair, a complimentary towel and Wi-Fi, while food and drink are available from the pool bar. Book using ResortPass Los Angeles and reserve one lounge chair for $100 or two for $90.
7000 Hollywood Blvd., Los Angeles, CA
https://www.thehollywoodroosevelt.com/tropicana-pool
W Hollywood Hotel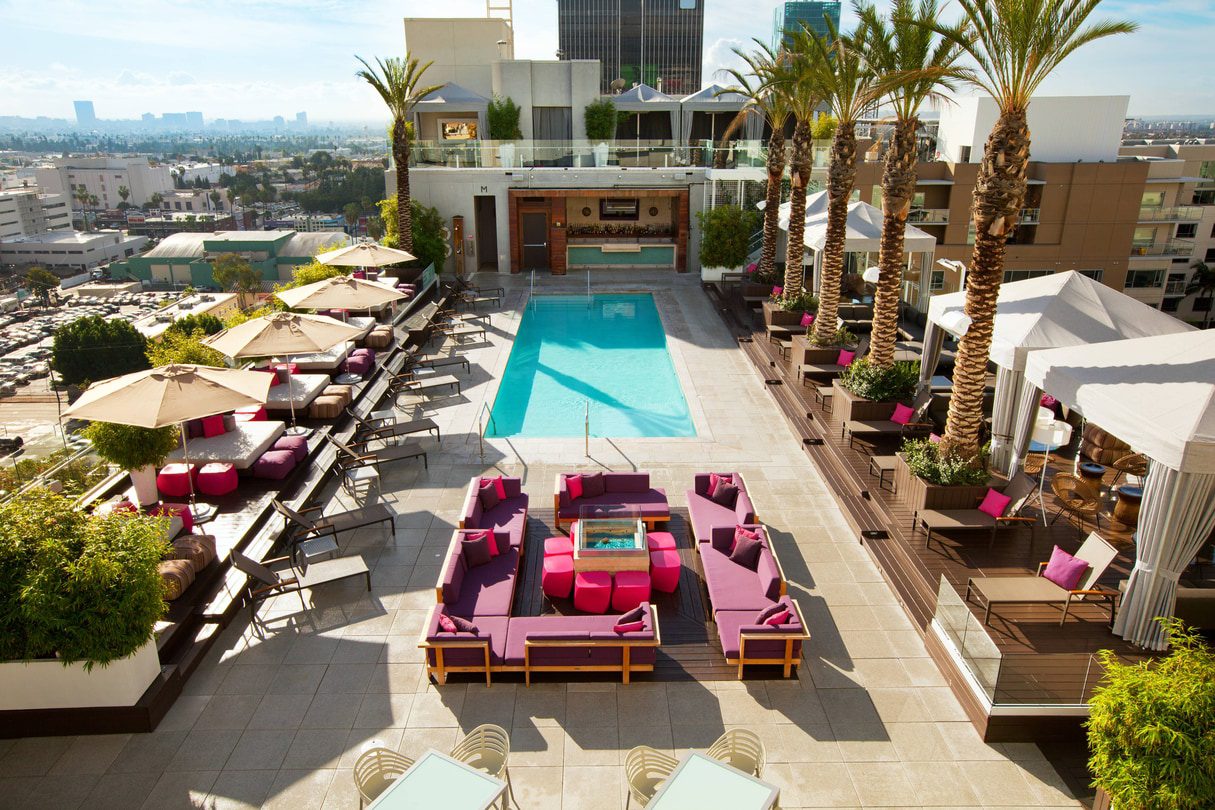 Located in the heart of Hollywood, the WET Deck at the W Hollywood Hotel delivers some of the best views of any pool day pass in Los Angeles. Gaze over the Hollywood Sign, Griffith Park Observatory and Capitol Records building while sipping a cocktail from the poolside bar and enjoying tunes served up by the on-site DJ. Through ResortPass, you'll have the option to book an individual $35 day pass or get your friends together and reserve a $50 daybed or $100 cabana with an additional food and beverage spend required.
6250 Hollywood Blvd., Los Angeles, CA
https://www.marriott.com/en-us/hotels/laxwh-w-hollywood/
Beverly Hills
The Beverly Hilton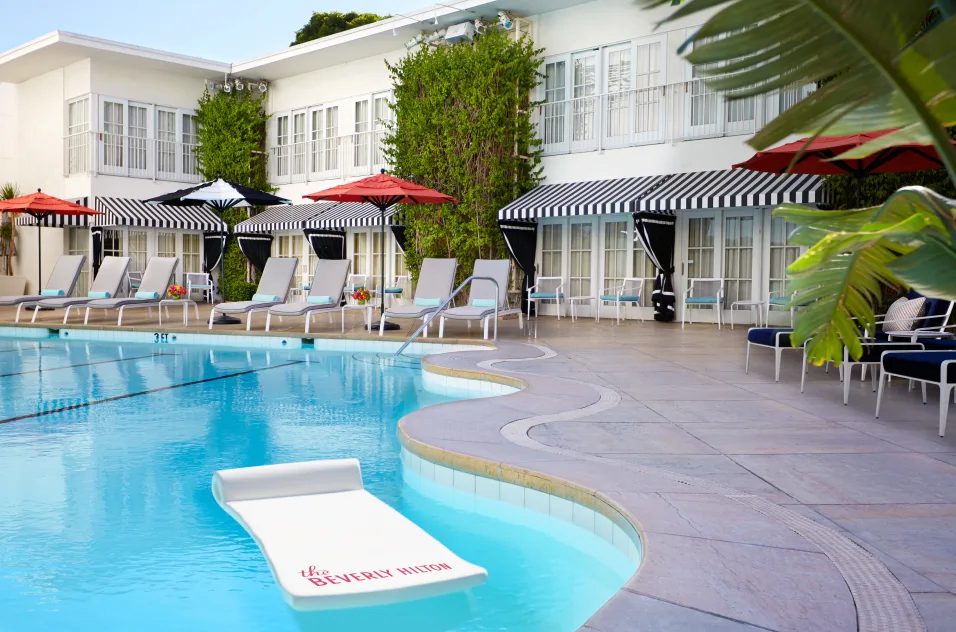 If you'd like your hotel day pass in Los Angeles to deliver a dose of classic old-school Hollywood glamour, you can't beat The Beverly Hilton. From the striped awnings and cozy cabanas to the retro tunes, every detail harkens back to Hollywood's golden age. Take a dip in the Aqua Star Pool — called "the largest heated pool in Beverly Hills" — and enjoy a wonderful selection of signature cocktails and small bites from Circa 55. A day pass delivers a reserved lounge chair, towel service, complimentary Wi-Fi and self-parking for $65. Cabana reservations start at $400 through ResortPass.
9876 Wilshire Blvd., Beverly Hills, CA
https://www.hilton.com/en/hotels/laxbhhh-the-beverly-hilton/
Beverly Wilshire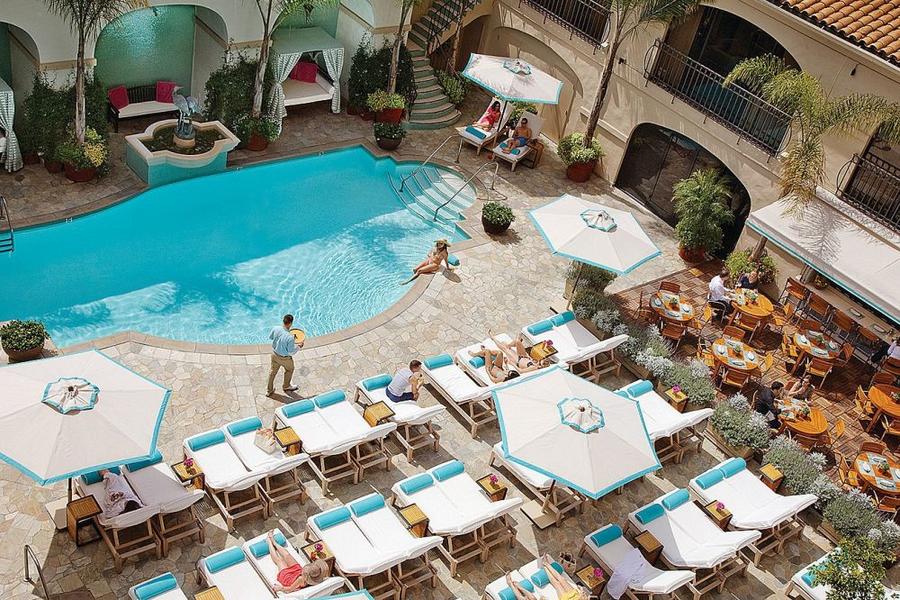 Known as the backdrop for "Pretty Woman," this iconic five-star Four Seasons hotel is a stunner from its iconic canopied entrance facing Rodeo Drive to the Mediterranean-style pool inspired by actress Sophia Loren's Italian villa. What it lacks in size and frugality, this pool more than makes up for in character and warmth, thanks to its lovely archways, red-tile roofs and potted palms. Splurge on a $300 cabana day pass and enjoy premium lounge seating with a TV, food and drink service, plus complimentary sunscreen, water, Wi-Fi and parking.
9500 Wilshire Blvd., Beverly Hills, CA
https://www.fourseasons.com/beverlywilshire/
Mr. C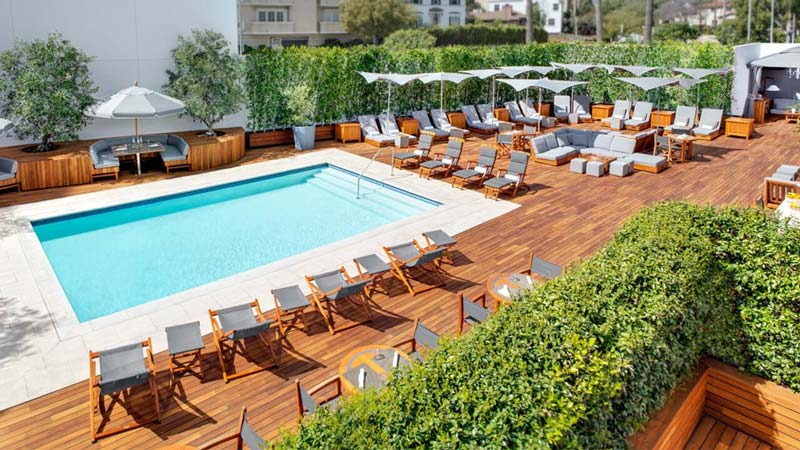 Want a bit of European sophistication with your pool day pass in Los Angeles? Then Mr. C is the destination for you. Created by the famed Cipriani family, the Mr. C brand underscores the luxurious simplicity and timeless international style the team is known for. At their Beverly Hills pool, that means an ultra-chic teak pool deck, furnishings draped with elegant gray textiles and carefully manicured hedges. Offering one of the most extensive day pass menus in the city, Mr. C invites you to choose from the entry-level day pass, daybeds, cabanas or meeting rooms ranging from $55 to $1500.
1224 Beverwil Dr., Los Angeles, CA
https://www.mrcbeverlyhills.com/
Santa Monica/Venice/Marina Del Rey
Fairmont Miramar Hotel & Bungalows
One of the most romantic entries on our list, the pool at Santa Monica's Fairmont is nestled among groves of mature trees, lawns and charming bungalows. The heated pool and spa invite you to relax alongside the sounds of the ocean nearby. Food and beverages from FIG restaurant will quench your appetite. At just $45 for adults and $20 for kids, the Fairmont is definitely one of the best pool day passes in Los Angeles. Pro tip: Arrive early to score a seat closest to the pool in this relatively petite retreat.
101 Wilshire Blvd., Santa Monica, CA
https://www.fairmont.com/santa-monica/
The Marina Del Rey Hotel
If you prefer your pool day surrounded by harbor views, the Marina Del Rey Hotel is the retreat for you. Undoubtedly one of the best pool day passes in Los Angeles, this stunning pool deck wows with blue and yellow striped cabanas and lounge chairs that amplify the nautical vibes alongside swaying palm trees and rows of boats. Refreshments from SALT Restaurant & Bar make this pool a feast for your taste buds as well as your eyes. Passes for daytime entry, loveseats, daybeds, cabanas and Sunday pool party events are available starting at $50.
13534 Bali Way, Marina del Rey, CA
https://www.marinadelreyhotel.com/
Viceroy Santa Monica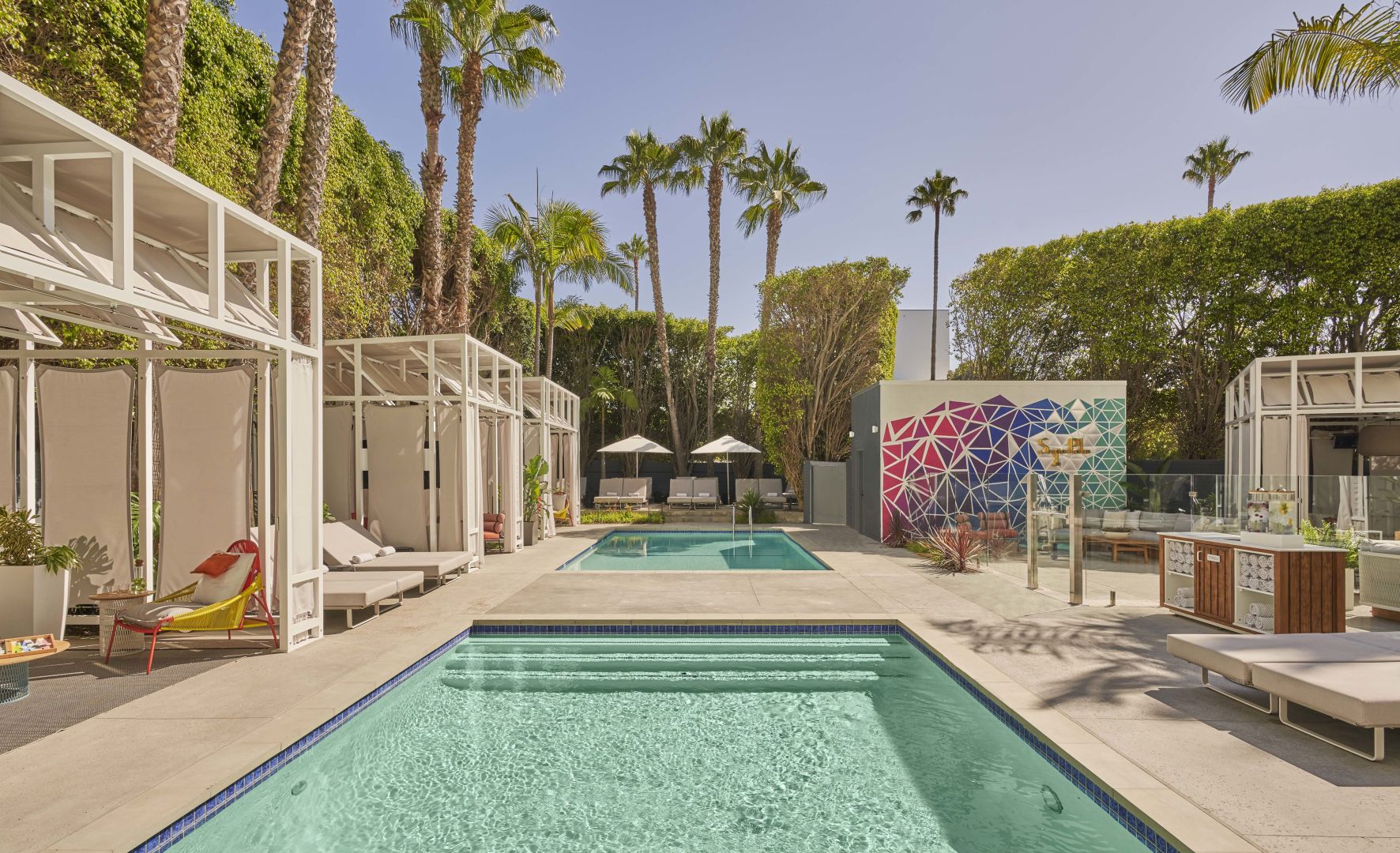 Located just a block from the beach, The Viceroy Santa Monica recently unveiled a $21 million renovation that takes its inspiration from the vibrant local lifestyle. Anchored by a geometric Evelyn Leigh mural, the indoor-outdoor pool area is brighter and lighter than before. Black-and-white stripes and green accents have given way to sky-high scaffolded cabanas, colorful string chairs and extra-wide loungers. Cool off in two sparkling pools and enjoy food and drinks from the Sugar Palm lounge. Day passes range from $600 to $700 for cabanas with TVs and complimentary water, sparkling wine and Wi-Fi, perfect for posting poolside.
1819 Ocean Ave., Santa Monica, CA
https://www.viceroyhotelsandresorts.com/santa-monica
Culver City/Palms/Mar Vista
The Shay
The Shay made headlines in late 2021 when it was billed as the area's first rooftop gathering spot featuring a pool and bar/restaurant. In the short time since, this Destination by Hyatt outpost has earned rave reviews for its chic pastel décor and welcoming staff. With an ideal location right near the Culver City Metro Station, this is the perfect pool day pass in Los Angeles for avoiding traffic hassles. Enjoy a large heated pool, fantastic views and delectable food and drinks at the adjacent Canopy Club. ResortPass Los Angeles options range from $50 for a daytime pass to $300 for a large cabana with sofa seating.
8801 Washington Blvd., Culver City, CA
https://www.hyatt.com/en-US/hotel/california/the-shay/laxdi
Pasadena
Pasadena Hotel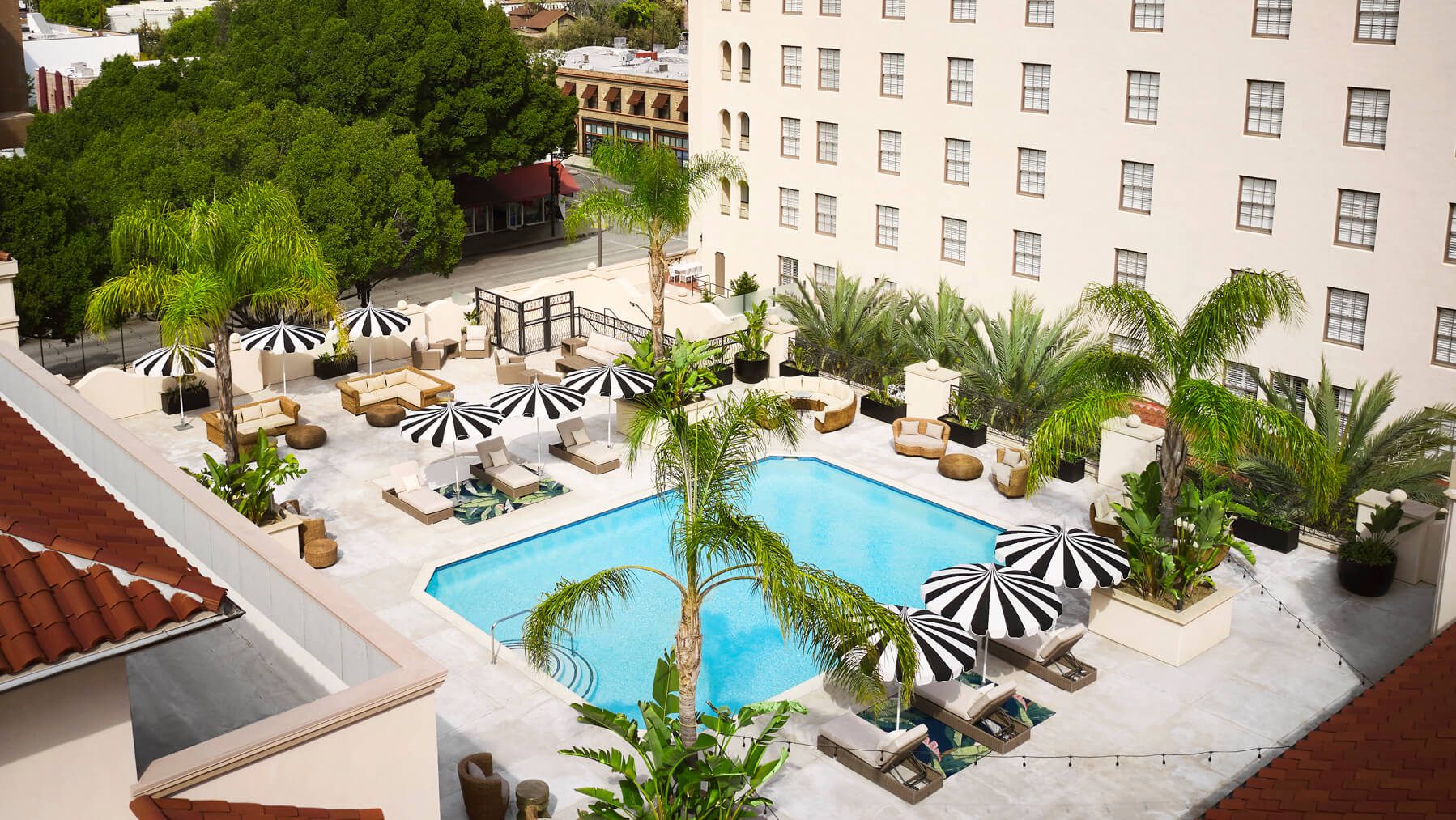 Staycation alert! The Pasadena Hotel & Pool is the perfect getaway destination for an away-from-it-all ambiance just 20 minutes northeast of Downtown. Enjoy major "Hotel California" vibes on the rooftop pool deck, an enchanting space featuring lush palms, striped umbrellas, red-tile roofs and views of the San Gabriel mountains. Food and drinks are delivered poolside from the lobby bar for a completely carefree escape. The $35 day pass includes access to a first-come, first-served lounge chair, free towel service and Wi-Fi.
928 E. Colorado Blvd., Pasadena, CA
https://www.pasadenahotel.com/
Whether you're seeking a peaceful weekday poolside sanctuary or a lively wet deck weekend with friends, there's a wonderful pool day pass in Los Angeles waiting for you!