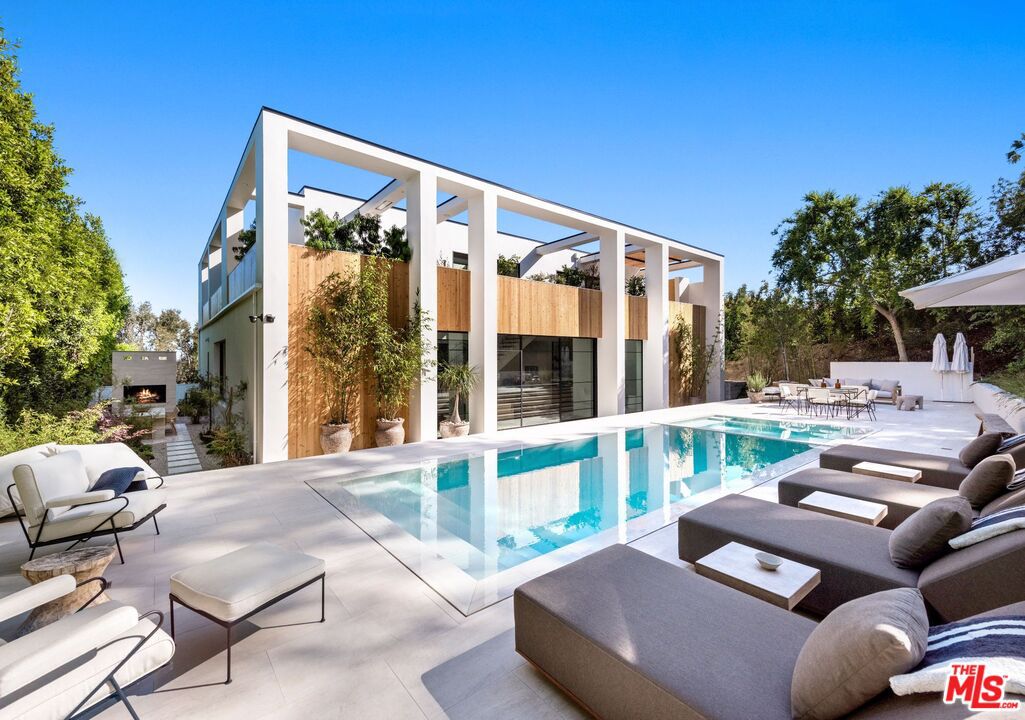 Take a peek into one of the most exceptional properties in the Doheny Estates, West Hollywood Hills, Los Angeles. Designed by the renowned architectural firm, OSKLO, this home blends sophistication with innovative design. This new construction has been artfully crafted for premium modern living.
With four bedrooms and five bathrooms, this home measures 8,326 square feet. The lot covers .44 acres, and the outdoor space includes lush greenery, Japanese pines, and a meticulously manicured garden. Priced at $12,995,000, 9235 Robin Drive is listed by Branden Williams at The Beverly Hills Estates.

Located on the illustrious Billionaires Row, this prestigious residence boasts an iconic address. It is placed in the heart of the esteemed "Bird Streets" in the West Hollywood Hills. Guests are greeted by a grand cobbled driveway flanked by grand gates. The compound is ultra-private, offering a unique sense of seclusion.

From the grand entrance, the careful attention to detail is immediately apparent. Custom OSKLO furnishings grace the interiors, exemplifying the finest in bespoke design. The space has been curated to create an ambiance of refinement and comfort.
The interior is a symphony of textures and materials, showcasing a harmonious blend of quarried limestone and oak floors. Towering 13-foot ceilings create an airy and spacious atmosphere, inviting natural light to flood every corner of the residence.

Entertainment is elevated to an art form within this opulent home. An oak-paneled media room offers a perfect sanctuary for private screenings, while the atrium-style living space fosters a sense of community. Based on the extravagant communal spaces, this home is intended to be shared with friends, family, and esteemed guests.

The master suite maximizes serenity and sophistication, boasting sweeping views of the city below. The attached bathroom adds to the high-end amenities with a spa-inspired design. Three exquisitely decorated guest rooms each feature en-suite facilities, complete with full slab showers and private terraces.

A testament to the seamless integration of nature and architecture, the residence features an Amangiri-inspired yard. At the push of a button, 40-foot metal doors slide to reveal a captivating oasis. A private dining garden adorned with fragrant citrus trees and an enchanting 15-foot fireplace sets the stage for a unique al fresco dining experience.
Last but not least, a lap pool and spa complete the luxurious outdoor space. The entire exterior is ideally designed to soak up the Los Angeles sunshine.

This home designed by OSKLO is more than an abode, it's a pinnacle of architectural achievement. The property stands among the most exclusive properties in California.
Inside and out, the home is memorable for its aesthetic value and quality construction. A result of talent and impeccable taste colliding, this home has been curated for elegant California living.
Listing: 9235 Robin Drive, Los Angeles, CA 90069 [The Beverly Hills Estates]