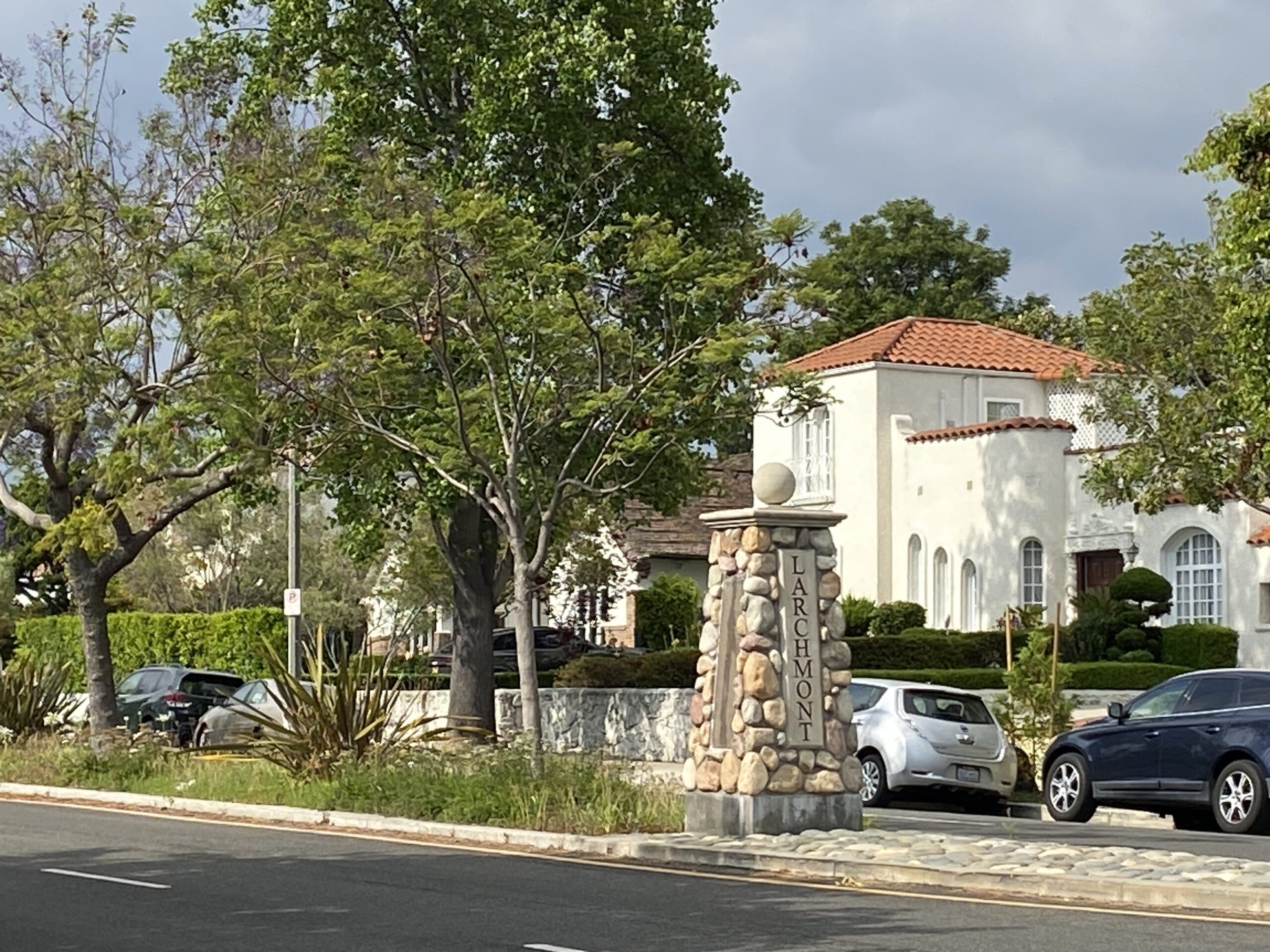 Nestled between the trendy stores in the Fairfax District and the liveliness of Hollywood is a small pastoral hideaway called Larchmont Village, Los Angeles.
Abutted by the Wilshire Country Club and Hancock Park to the west and Koreatown to the south, Larchmont Village, Los Angeles has a very small main drag of just one mile. Larchmont Boulevard runs from 3rd Street to Melrose Avenue with most of the shops, restaurants, and activity between 1st Street and Beverly Boulevard then slowly tapering off after Rosewood until the bustle of Melrose.
While the Fairfax District gets all the fanfare for nightlife and shopping and nearby Miracle Mile is known for the splendor of its luxury towers, Larchmont Village is a hidden gem that doesn't get jampacked with tourists. Small shops, extravagant spa experiences, and dozens of restaurants spilling onto the sidewalks that beckon to hungry pedestrians are just some of the best-kept secrets in Larchmont Village, Los Angeles.
History
Heralded as the smallest neighborhood in LA, Larchmont Village is well-known among Angelenos today for its quaintness. But before Larchmont Village, Los Angeles became the beacon of upscale clothing stores for dogs juxtaposed to ice cream and sushi joints, what actually drew people to the area in the World War I era was the Hollywood Mineral Hot Springs.
According to a historian at the Windsor Square-Hancock Park Historical Society, the hot springs were on the south side of Melrose Avenue between modern-day Larchmont Boulevard and Gower Street. They were a major draw to merchants who lived in what is now DTLA so the 3rd Street streetcar was extended in 1920 to run along Larchmont Boulevard all the way to Melrose.
This explains why the street and sidewalks are so wide relative to other boulevards in the city, and why there are many spas in the area that speak to its storied past. Larchmont Sanctuary Spa is just north of Beverly Boulevard but while the fate of the original Hollywood Mineral Hot Springs is unknown, Beverly Hot Springs Spa near Beverly Boulevard and Western Avenue has the only geothermal hot spring bath in the whole city. If the original hot springs didn't dry up, they just went slightly east into Oakwood.
When Los Angeles was still a streetcar-centric city in 1920, entrepreneur Julius La Bonte settled in what is now Larchmont Village and developed the main commercial blocks between 1st Street and Beverly Boulevard. La Bonte expressly wanted to design the area as a walkable neighborhood where residents could get everything they needed, even walking to work. Hollywood Broadcasting Studios once had a home in Larchmont Village as well.
La Bonte saw his vision through and it became the springboard for "planned communities" like MetLife's Stuy Town and Parkchester developments in New York. Two blocks that later sprawled into about five weren't enough for grocery stores, movie theaters, and other community necessities and amenities. But the large apartment blocks and commercial lots for these developments and Park La Brea a mile west would prove to be suitable for planned communities.
Today, the wide streets have diagonal parking spaces and there are other parking lots along Larchmont Boulevard as well. But whether you live nearby or are visiting, the area is still very walkable and designed to meet new people and regularly talk to your neighbors and shopkeepers.
Walkability and Pet Culture
Los Angeles is a city that takes advantage of its sprawl and loves dogs. Pet-friendly rentals with dog parks and even dog-washing stations abound. But even though Larchmont Village is the tiniest neighborhood in Los Angeles, it also has to be one of the most pet-friendly neighborhoods on account of its walkability – and one of the best neighborhoods in Los Angeles to visit.
Larchmont Boulevard is home to several vet practices and boutique pet shops. Dog culture is a significant part of Larchmont Village's character. With the wide streets and outdoor seating, you can bring your pup for a visit and easily make some new friends!
Logistics and Geography
Larchmont Village has regular bus service although it is not very close to the Metro. The nearest Metro station is Beverly Vermont or Wilshire Western, which can be reached by the 14 and 210 buses respectively.
While there is still a sign up for the LADOT Dash Larchmont shuttle, it's now the Hollywood-Wilshire route which runs north on Gower Street to the Hollywood and Vine Metro station and south down Western Avenue to the Wilshire Western station. You would need to ride the 210 in either direction to reach either Metro station.
Metro 16 runs along 3rd Street to West Hollywood or DTLA and can be picked up where Larchmont Boulevard begins. Metro 10 that runs along Melrose can be picked up where the boulevard ends. Of all the buses on this list, the 14 and 16 are the most consistent and reliable.
There is some street parking in Larchmont Village and a few customer-only lots for select businesses. Since the main drag on Larchmont Boulevard is so walkable, residents who live on the side streets or close by tend to just walk there rather than park.
The nearest freeway is the 101 which is best reached by going up to Melrose then heading east towards Vermont Avenue and hopping on from there. The 10 is the next closest freeway by going south on Western Avenue.
Larchmont Village, Los Angeles is also an extremely attractive place to live not just because of its relaxing and neighborly vibe, but its proximity to major employers. If you work at Paramount, you can walk to the Paramount Pictures gate. Other major attractions like The Grove and Fairfax Market are a very short drive or bus ride away.
Larchmont Village Apartments and Housing
California bungalows line the south side of Larchmont Boulevard while Mission Revival homes sprawl on Gower Street and Beachwood Drive. Larchmont Boulevard was specially developed to be a walkable main drag but most of the housing in Larchmont Village, Los Angeles is single-family homes.
Sprawling ranchers and small bungalows fill the side streets between Larchmont Boulevard and where Oakwood begins. Home sales have cooled in Larchmont Village in 2023 but the median sale price is around $2 million, significantly above the median sale price for Los Angeles.
Larchmont Village apartments are mostly found north of Beverly Boulevard or in what's technically Oakwood or Hancock Park. Average rent is $2,452 for a Larchmont Village 1-bedroom apartment, which is close to the citywide average.
Larchmont Village Restaurants Highlights
Larchmont Village, Los Angeles is known for its incredible restaurants. Casual options and chains like Peet's Coffee and Jeni's Splendid Creams can be found in the neighborhood, and there's a relaxing outdoor spot to eat for everyone.
Here are our picks for must-visit Larchmont Village restaurants. All have outdoor seating, perfect for soaking up that California sun.
Kiku Sushi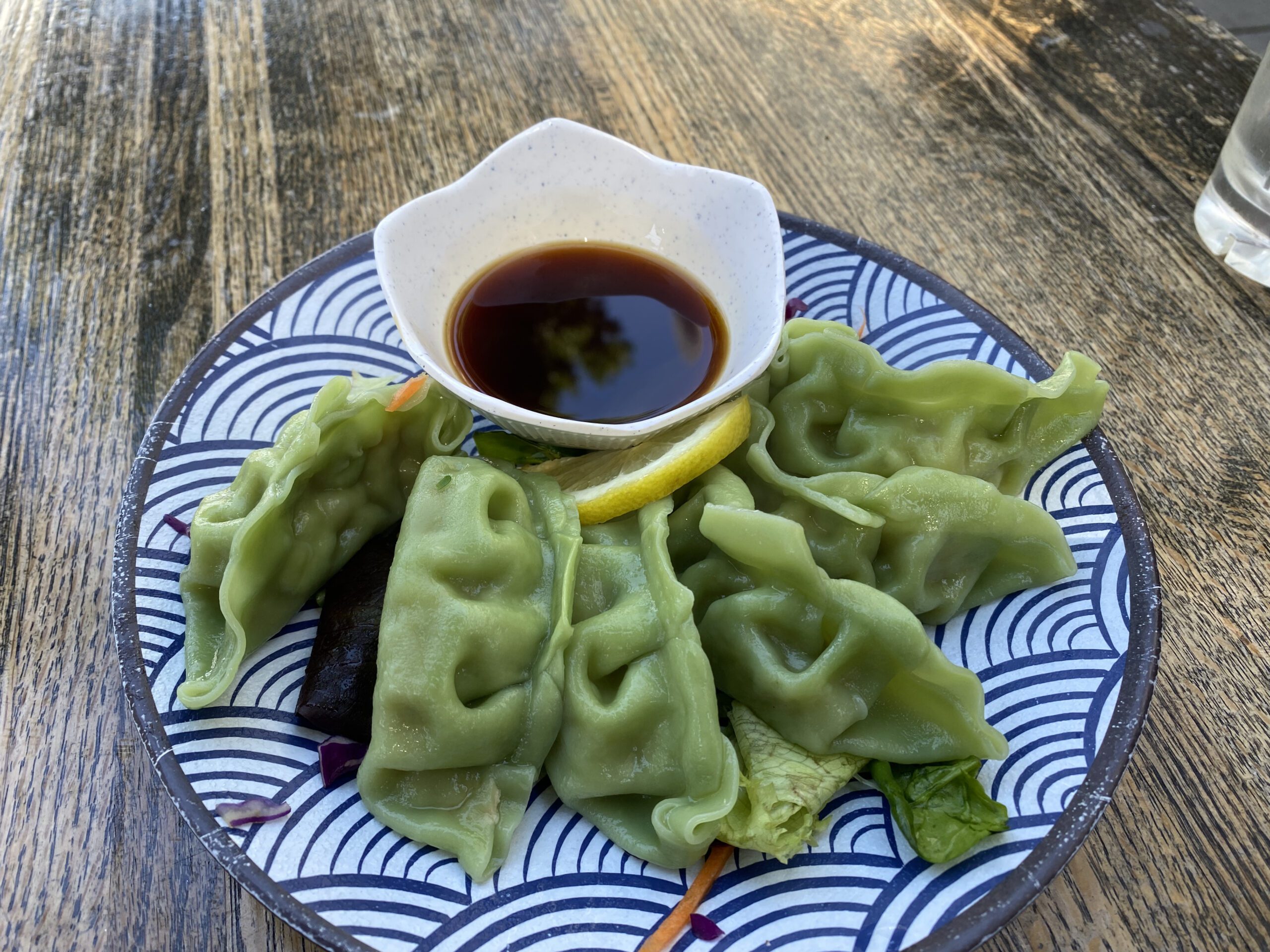 Kiku Sushi is your typical neighborhood sushi bar serving up all the classics selected from a paper menu. They offer lunch specials and a surprising number of vegetarian options and include miso soup and edamame with every order.
Le Petit Greek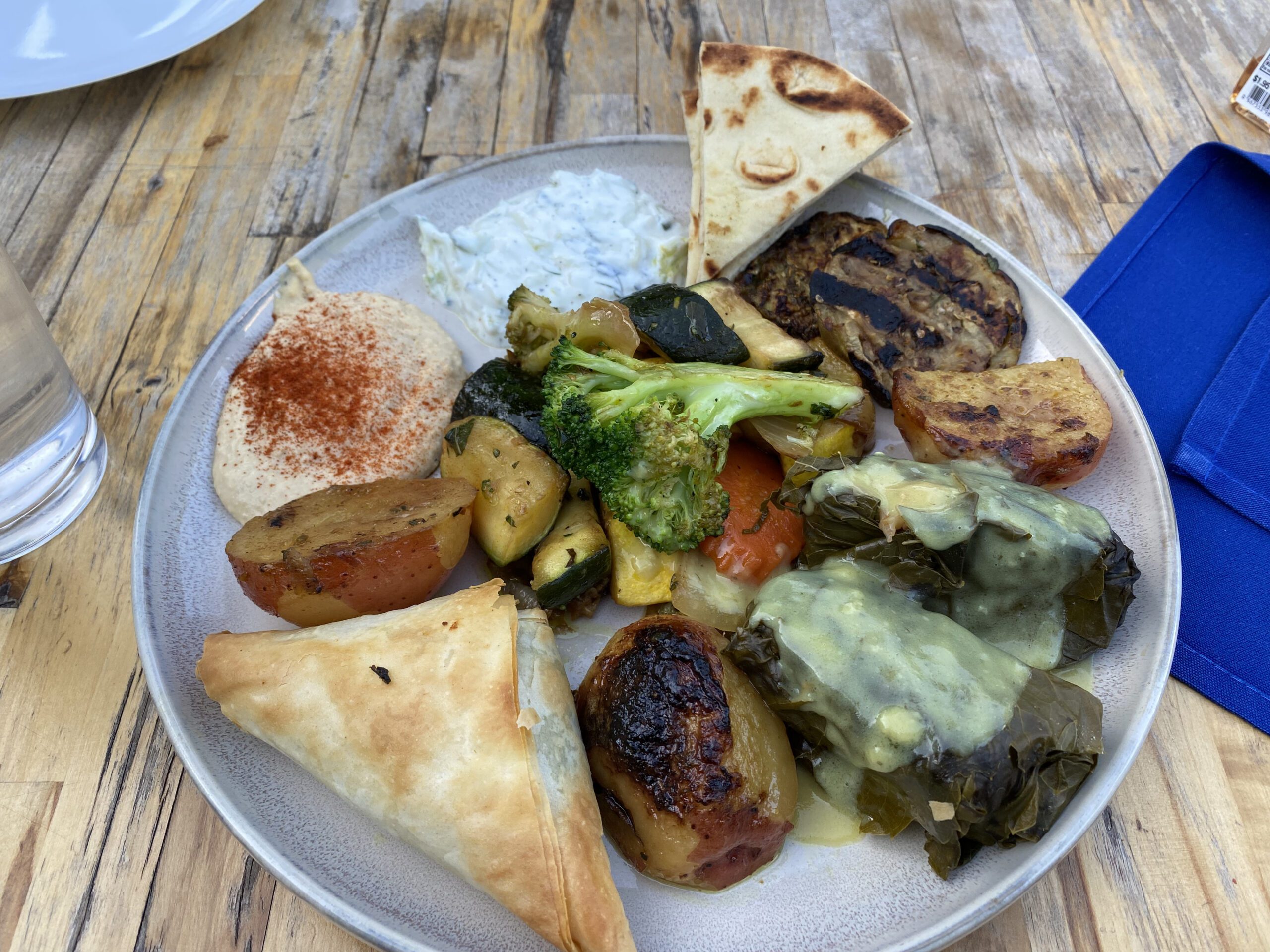 Le Petit Greek offers classic Greek entrees and all of those incredible Mediterranean mezes like gigante bean salad, spanakopita, dolma, and so much more. They also have a large selection of Greek-style flatbreads with various meat and vegetable toppings. The vegetarian plate comprises almost every appetizer on the menu and is perfect when you don't know what to get.
Erin McKenna's Bakery
With a flagship location in New York, Erin McKenna's Bakery strives to be the most inclusive bakery possible by making all of their baked goods vegan, gluten-free, and kosher. One or all of these restrictions can make it difficult to find delicious baked goods but Erin McKenna's has you covered. You can also stop by in the evenings with the Too Good to Go app to snag some of their vegan donuts on the cheap, they freeze well!
Cafe Gratitude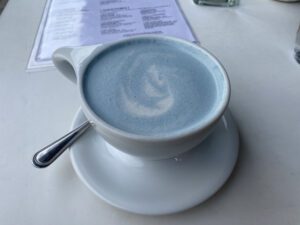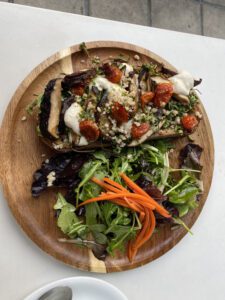 On the northern tip of Larchmont Village near Melrose, Cafe Gratitude promises world-class vegan health food and enthralling people-watching from inside or outdoors. With a menu that would give Erewhon a run for their money with all the items named after metaphysical elements, the prices also reflect it but you'll always feel healthier after you leave.
Village Pizzeria
New York and New Jersey expats can rejoice. If you've been looking for that genuine East Coast pizza you just can't easily find in Los Angeles, look no further than Village Pizzeria on Larchmont Boulevard. You'll feel a little culture shock since the interior looks like a 1950s diner with plentiful outdoor seating, and you can't just go up to the counter and grab a slice to go like you would back home. You need to get takeout or table service, and there's pasta and other menu items aside from pizza.
But that pizza is worth the trip if you're feeling homesick because we're pretty sure the owner imports their water from Brooklyn. It tastes exactly like a slice in Bensonhurst would.
Larchmont Village Farmers Market
As of summer 2023, the Larchmont Village Farmers' Market is open on Wednesdays from 1-5PM and Sundays from 10AM-2PM.
The small farmers market features about 20 vendors selling organic local produce, farm-fresh eggs, artisanal baked goods, and gourmet packaged foods like hummus and labne. There are also vendors selling hot food like chicken wings and dumplings, and non-food vendors like jewelry makers and crystal sellers.
Thanks for reading our guide to Larchmont Village, Los Angeles. The neighborhood offers respite from bottlenecked freeways and the stresses of daily life as a walkable sanctuary offering sunshine, amazing food, dogs, and spa treatments.
Larchmont Village might be the smallest neighborhood in Los Angeles by square mileage but it's one of the inadvertently biggest in terms of its impact on urban planning history.