Check out our list of where to buy succulent arrangements in Los Angeles.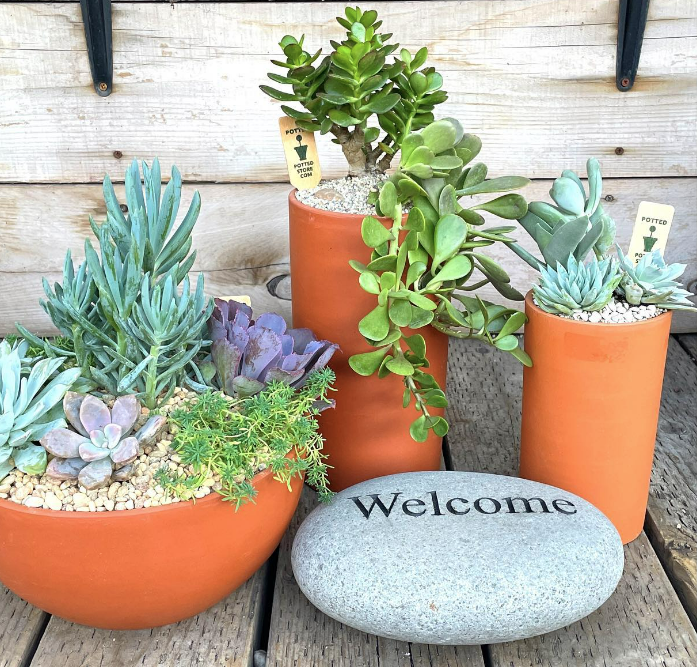 Hello, succulent lovers and newbies!
If you've been living in Los Angeles for a while, you've probably found a plant nursery or two that keeps you coming back.
But in a city as big as ours, there are likely a ton of nursery gems you haven't been to yet.
Welcome to our list of places to buy succulent arrangements in Los Angeles. We've got some good stuff in store for you!
If you're a current succulent obsessor or soon-to-be enthusiast, our list of succulent arrangements in Los Angeles will guide you to the most impressive arrangements the city has to offer.
1. Dewy Flowers
Dewy Flowers was founded in 2010 with the intention of making succulent arrangements more readily available to other plant lovers in Los Angeles.
Their mission of reaching the local community was successful, as there are now shop locations at The Original Farmer's Market and Westfield Century City Mall.
The arrangements made at Dewy Flowers are incredibly high-quality, and shoppers can find ready-to-purchase arrangements in stores and shippable succulents on their website.
Dewy Flowers is also a solid option for anyone in the market for a custom succulent arrangement.
Their custom wall arrangements are especially trendy for backyards and storefronts.
For a spin on the large wall arrangements, consider a smaller framed arrangement inside your home or as a romantic gift.
Simply email them your desired size with a reference photo and a written description of your succulent arrangement, and they will take care of the rest.
The Original Farmer's Market
6333 W 3rd St, Los Angeles, CA 90036
Westfield Century City
10250 Santa Monica Blvd, Los Angeles, CA 90067 – 2nd Floor
2. Potted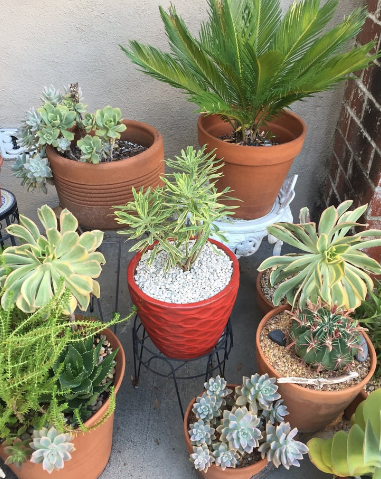 If you're looking for a one-stop shop for all things plants and gardens, Potted is the place to go.
With over 15 years in the Los Angeles plant nursery industry, Potted has grown to feature patio furniture, art and decor, gardening supplies, and a vast inventory of plants and succulents in Atwater Village.
The creative minds of owners and best friends Mary Gray and Annette Goliti Gutierrez have also carried Potted into the entertainment and interior design industries.
Whether you're a film or television executive needing to rent studio space and Potted inventory for your next flick or a homeowner looking to turn your living area or backyard into a plant-covered oasis, the Potted team is available to support you.
In-store visitors will find potted succulent arrangements available for immediate purchase. The Potting Bar at Potted is another option for anyone who wants to pot their succulent arrangements.
Delivery services are available to Los Angeles residents within a 20-mile radius.
3158 Los Feliz Blvd, Los Angeles, CA 90039
3. Rolling Greens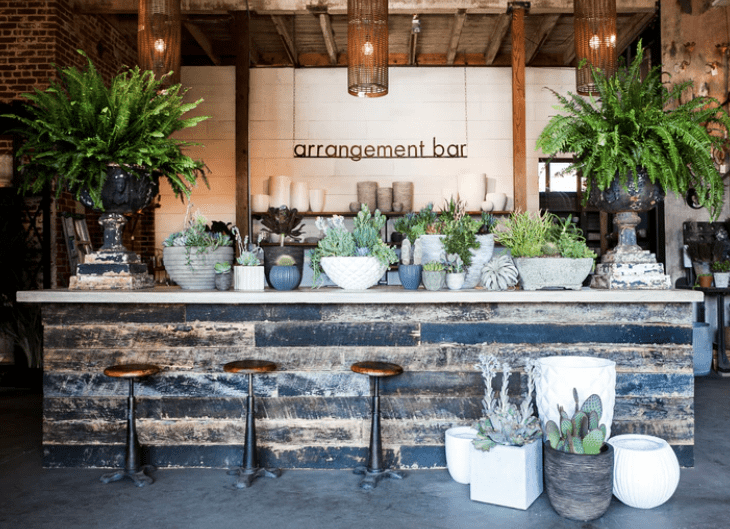 With locations throughout Los Angeles, the Baristas at Rolling Greens work with shoppers who stop by the "arrangement bar" to design a custom succulent arrangement.
You will begin your planting journey by choosing the perfect succulents and container before sharing your vision of the finished product with your Barista.
You can chat with them throughout the planting process to ensure you are happy with the custom arrangement you take home.
If you are running low on time or don't have specific requirements, Rolling Greens also offers pre-planted succulent arrangements that house healthy mixes of succulents, air plants, and cacti.
Whether you get a custom or pre-planted arrangement, a Barista will share any necessary care tips for your new succulent baby.
If you are interested in expanding your plant knowledge further, Rolling Greens regularly hosts public and private workshops.
There is also some exciting news for West Los Angeles residents: a new arrangement bar is opening in Santa Monica this summer!
9528 Jefferson Blvd, Culver City, CA 90232
7505 Beverly Blvd, Los Angeles, CA 90036
12833 Ventura Blvd #145, Studio City, CA 91604
2573 Lincoln Blvd, Santa Monica, CA 90405
4. Sonny Alexander Flowers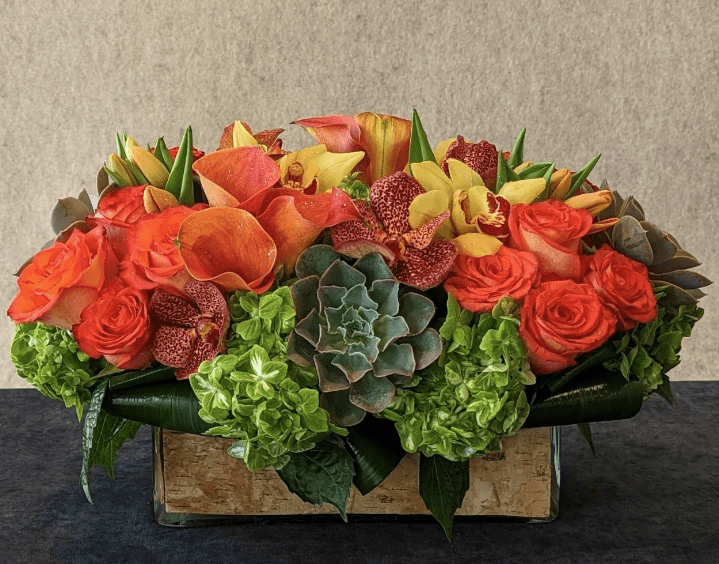 Since 1929, the Sonny Alexander Flowers family has been producing gorgeous blends of flower and succulent arrangements in Los Angeles.
With fresh flowers, thriving succulents, and an incredibly kind team, every arrangement you purchase will be flawless.
The custom arrangement process is a bit different at Sonny Alexander Flowers.
Instead of crafting your arrangement, you give the florist total creative freedom to design a matchless arrangement just for you.
All flowers used in your arrangement will be fresh with the season. Be sure to let them know that you would also like succulents included in the arrangement.
For traditional succulent arrangements, you can shop in-store or online.
Next-day delivery options are available.
9330 W Pico Blvd, Beverly Hills, Los Angeles, CA 90035
5. The Juicy Leaf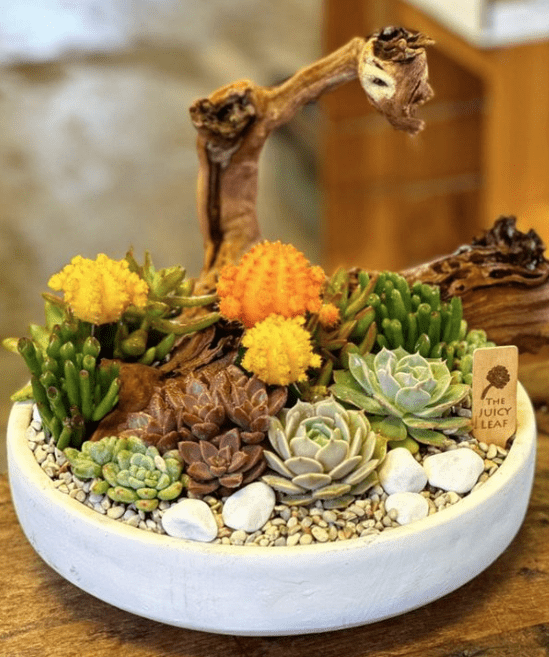 Similar to Sonny Alexander Flowers, The Juicy Leaf also sells custom succulent arrangements of the designer's choice, with options for both standard and premium arrangements.
However, consider booking a Planting Party if you want to craft the arrangement yourself!
Planting Parties are private workshops hosted by The Juicy Leaf team for groups of 6 to 20 people.
When the pandemic hit, founder Felix Navarro decided to host virtual Planting Parties to continue spreading joy and human connection through succulent arranging.
Even with in-person workshops being available again, virtual Planting Parties have remained a staple for shoppers at The Juicy Leaf.
If you like to keep things simple, you can skip the custom succulent arrangement and Plant Parties and instead shop pre-planted arrangements in-store and online.
Whichever way you go, you'll be happy with the succulent arrangement you get from The Juicy Leaf!
2614 Arthur St Ste B, Los Angeles, CA 90065
FAQ
Like any future (plant) parent, you probably have some questions.
What are the benefits of succulents?
There are many benefits of succulent arrangements thriving in your space, including ease of care and positive effects on your health and environment.
Succulents aren't high-maintenance plants, so caring for them is a relatively effortless process. Easy care is a massive benefit of succulents, especially for people who are new to plants or have struggled to keep other plants thriving.
They don't require regular watering, and most of them only need to be repotted every year or two.
Despite how little you have to do to properly tend to them, it's a rewarding feeling to watch your succulents blossom with your care.
Another benefit of succulents is their potential to relieve physical pain. Some succulents, like yucca and aloe vera, are regularly used as natural remedies.
According to a National Library of Medicine review, yucca "is a rich source of steroidal saponins."
The potential anti-inflammatory properties of yucca make it a holistic pain soother for people who have arthritis.
Aloe vera is also a pain reliever, specifically for treating minor burns.
While you can buy aloe vera gel in traditional retail stores, nothing works like the real thing!
What are the different types of succulents?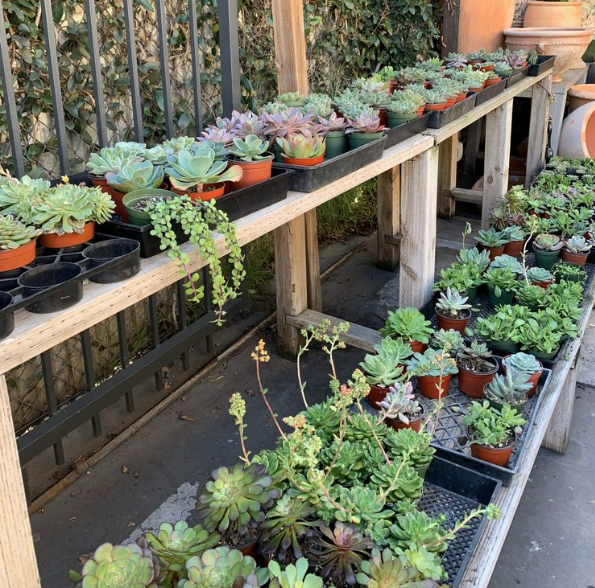 With each shop creating one-of-a-kind succulent displays and customers having the option to design their own, the types of succulent arrangements available are plentiful.
However, some types of succulents are more widely used than others.
Rosette succulents and paddle plants are two of the most common types of succulents in pre-planted arrangements.
Named for their rose-like shape, rosettes are beautiful and fit well in succulent arrangements of any size.
Paddle plants feature paddle-shaped leaves creating a nice, nearly-flat bedding to surround other succulents.
Other succulents, like lithops and Crassula Buddha's Temple, are more unique and challenging to find.
Lithops succulents mimic small, colorful rocks, and they come in a wide variety of shapes. Their size and appearance have earned them the nickname "living stones."
Crassula Buddha's Temple is a remarkably rare, geometric-shaped succulent. In summer, light pink flowers will blossom from the top of healthy Crassula Buddha's Temple succulents.
How to choose the right succulent arrangement?
If you're looking for tips on how to choose the right succulent arrangement for your home or office, we've got you covered.
Tip 1:
Make sure the look of the succulent arrangement matches the vibe of your space.
If you have a more minimalist apartment, you probably don't want a super full, overly vibrant arrangement.
Instead, opt for the arrangement that feels best for your space and personality.
Tip 2:
Even with a more minimal style—but especially if you love color and variety—it's important to consider the type, size, and shades of your succulents.
Succulent arrangements should be low-lying while still having a few succulents slightly taller than the rest. The type and size of your succulents will create variation, and your color choices will add extra visual appeal.
Bold green, dusty blue, and pops of pink work great for people who love lots of color in their homes or office.
Tip 3:
Picking the perfect pot will take your succulent arrangement to new levels of stunning.
Whether you like the rustic look of carved-out wood, the modern ambiance of a glass terrarium, or you want to keep things traditional with a ceramic pot, there are so many potting options to choose from.
This article was all about succulent arrangements in Los Angeles.