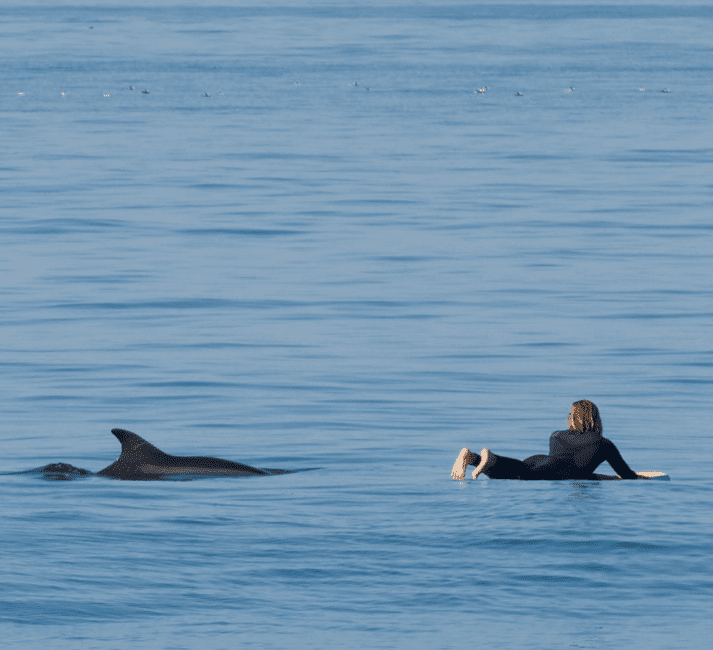 Check out our list of the top 6 free things to do in South Bay Los Angeles and enjoy days of outdoor exploration!
The best things to do in South Bay Los Angeles happen outdoors when the Southern California sun shines and ocean breezes keep the day cool. And they're entirely free!
In a major city like Los Angeles, it's easy for residents to get wrapped up in the work grind or for visitors to lose track of time in famous shops and restaurants, but it's nice to make time for outdoor activities too.
To truly experience everything the city offers, relaxing in nature and spending time on the water is a must.
Whether you're a South Bay local looking for a different weekend activity, or a tourist wanting to experience the Pacific like a South Bay native, the following list of things to do in South Bay Los Angeles has options for everybody.
FAQ
Welcome to South Bay Los Angeles. Let's learn a little, shall we?
What cities are in South Bay, LA?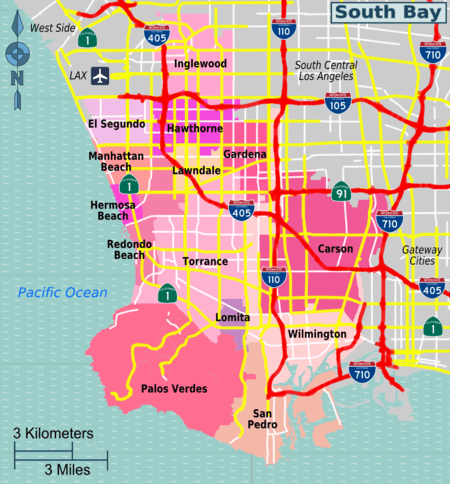 The South Bay comprises over 20 cities, including Hermosa Beach, Manhattan Beach, El Segundo, Redondo Beach, Rancho Palos Verdes, and Palos Verdes Estates.
What is South Bay known for?
The South Bay has a rich history, with longstanding roots in tourism and industrialization.
Redondo Beach, Manhattan Beach, and Hermosa Beach became popular vacation destinations in the late 1800s, and they remain prime locations for modern-day South Bay tourists.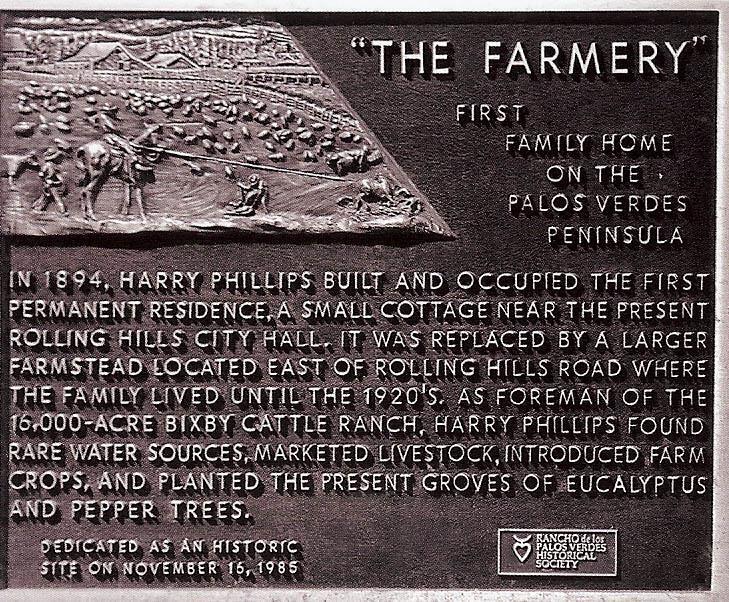 El Segundo was a prime location for the oil industry, and WWII brought the aerospace industry to regions like Inglewood and Hawthorne.
The tourism and industrialization of many South Bay cities caused the Palos Verdes Peninsula to be a highly sought-after community for families. Today, the Palos Verdes Peninsula neighborhoods are known for luxurious homes and high-quality schools.
Is South Bay a good place to live?
Each South Bay city offers a different lifestyle, from close-knit communities to lively neighborhoods. Either way, Southern California is one of the country's best places to live, and South Bay is proof of that.
El Segundo and Torrance are great places to live for anyone looking for a smaller suburban atmosphere.
Redondo Beach is vibrant and busy, making it perfect for people who love being on the go.
Manhattan Beach offers close access to the water like Redondo Beach, but the vibe is much more reserved and upscale.
The Palos Verdes Peninsula includes Palos Verdes Estates and Rancho Palos Verdes, and these neighborhoods house some of the South Bay's wealthiest residents.
Whether you make a home in South Bay or simply stop by for a vacation, these are the best free things to do in South Bay Los Angeles.
Free Things to Do in South Bay Los Angeles
The best things in life are free, and these free things to do in South Bay are proof of that!
1. Have a Beach Day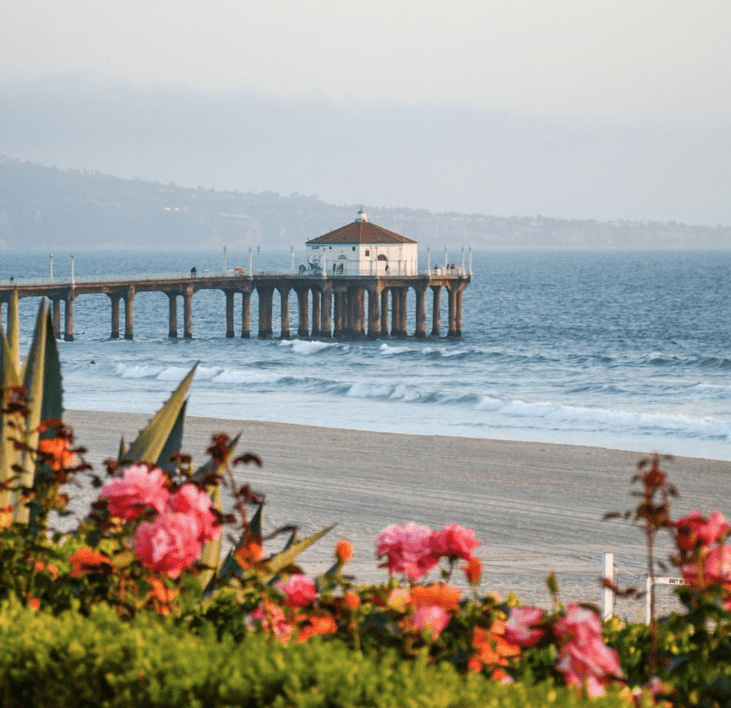 Sunbathing and swimming at the beach is a top-tier South Bay activity, but there are more options, too!
Manhattan Beach Pier
If you want to spend the day at the beach without getting caked in sand, walking the Manhattan Beach Pier is always a good time.
With over 900 feet of walkability and multiple activities along the way, the Manhattan Beach Pier gets much attention from locals and tourists.
Some activities include watching surfers, listening to the waves, and doing recreational fishing. Pier fishing doesn't require a license, although some rules apply.
A quick walk to the end of the pier will also get you to the Roundhouse Aquarium Teaching Center.
The aquarium consists of three exhibits: the Marine Habitat Gallery, the Education Gallery, and the Marine Science Gallery.
With ten tanks and more than 100 species of sea creatures, the aquarium at the end of Manhattan Beach Pier is an immersive free thing to do in South Bay.
If a day of play is more interesting to you, compete in a game of beach volleyball at Hermosa Beach.
The volleyball nets are all available for use without reservation. Still, beach volleyball is incredibly popular at Hermosa Beach, so it's best to arrive early if you plan to play.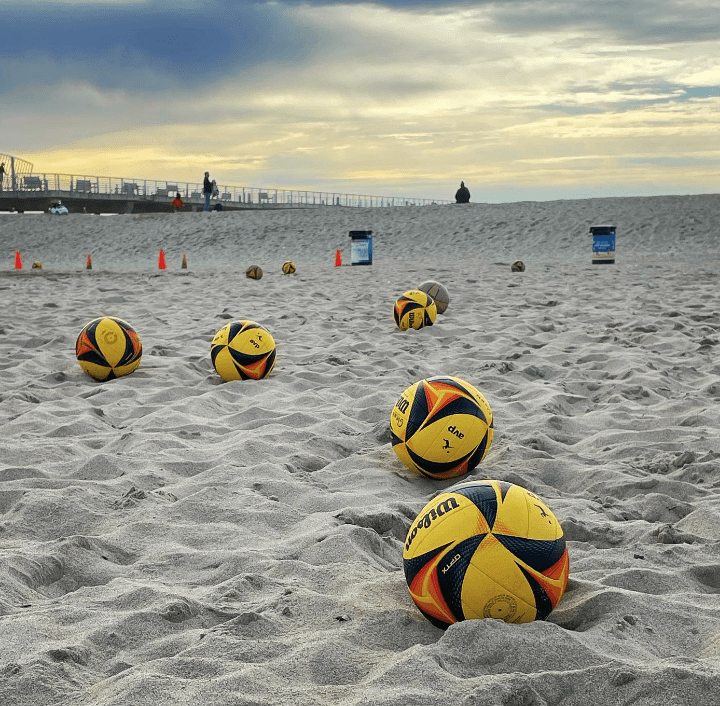 Volleyball tournaments also occur at the beach annually. Whether you want to participate or watch, there are multiple chances to get in on the entertainment.
You can check out California Beach Volleyball Association and AVP America for more details on tournament schedules.
2. Surf the Day Away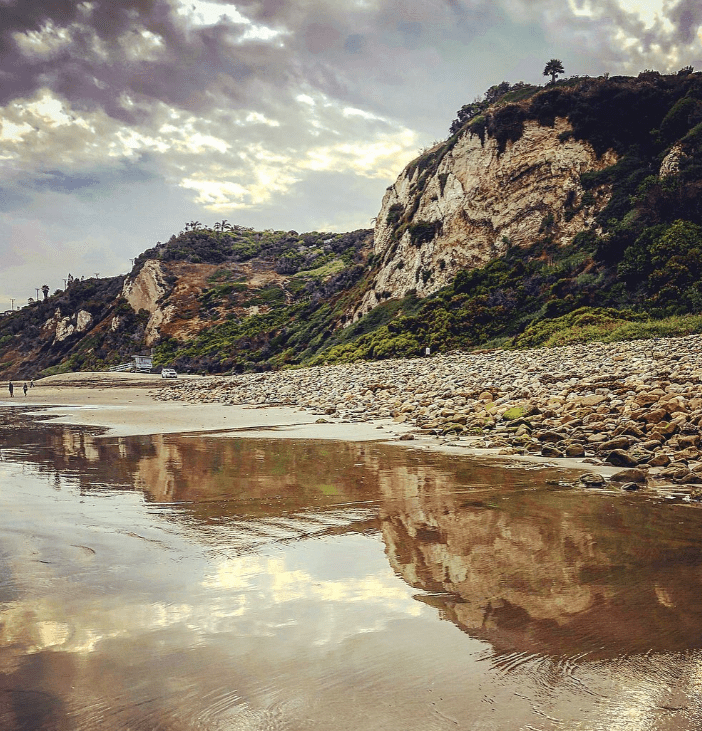 Surfing is a Southern California pastime, and if you have a surfboard, it's also an exciting free thing to do in South Bay.
Known by locals as Right Around Torrance Beach and lovingly nicknamed RAT Beach, Malaga Cove is a hidden gem in South Bay.
The waters at RAT Beach don't get over-populated with surfers and divers, so it's a great spot to check out if you're just getting comfortable surfing.
As a bonus, surfers who come out to RAT Beach tend to be regulars. Surfing at a lesser-known beach makes it easier to meet people who enjoy being out on the water as much as you do.
It's important to note that the hike down the cove is a bit rocky, but if you're willing to make the trek, surfing at RAT Beach is a five-star experience! And finding parking is easy.
3. Go Whale Watching
The neatest thing about South Bay is that you can stand atop a lush mountain overlooking the ocean and probably see a whale. Especially during migration season!
Who said whale watching can't be free? Point Vicente Lighthouse begs to differ!
There are clear ocean views, and visitors have full access to the Point Vicente Interpretive Center, where you can learn more about gray whales and their yearly migration.
Bring a friend, pack a picnic, and get your cameras ready because you'll spend the whole day at the park appreciating the weather and spotting whales.
4. Visit Botanical Gardens
Manhattan Beach Botanical Garden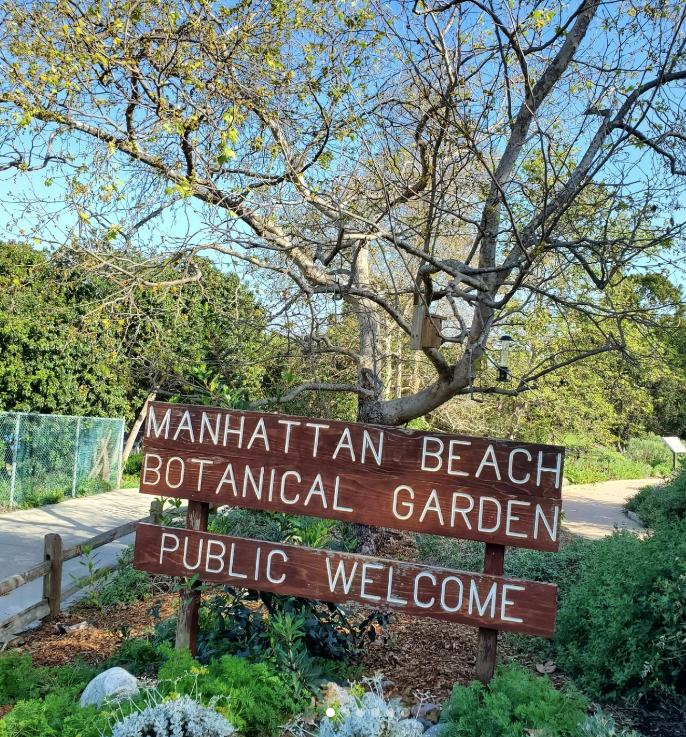 Located at Polliwog Park, the Manhattan Beach Botanical Garden is small and striking. It only takes about ten minutes to tour the whole garden, but it's a tranquil space in the middle of a bustling park, and it's well worth the stop.
Bring your tiny humans on a free self-tour through the botanical garden and learn about the native Southern California plants that grow there before heading to Polliwog Park.
Polliwog Park is the largest in South Bay and features several play areas for children of all ages. A large dog park spanning nearly 6,000 square feet provides solid space for your fur babies to run and play, too.
5. Take a Bike Ride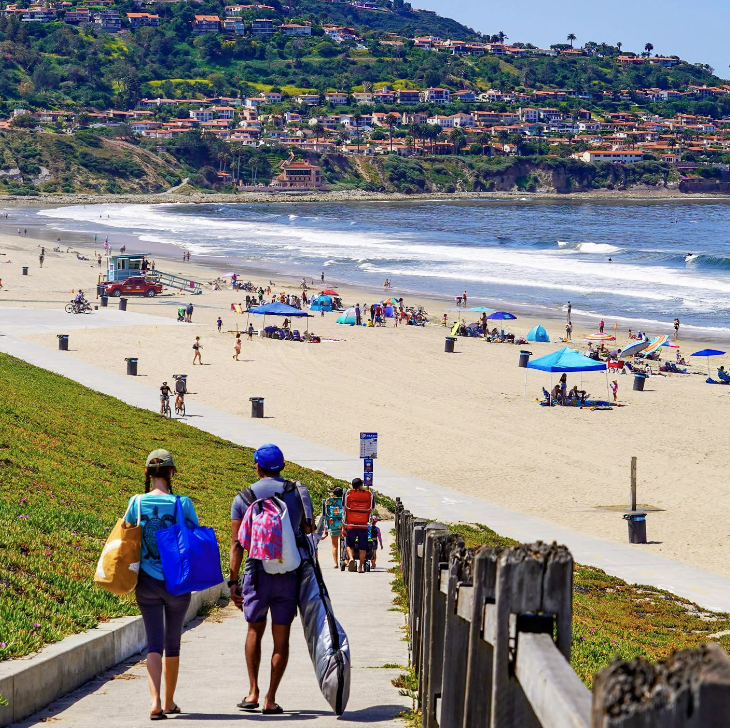 For a day of free fun, head over to Torrance County Beach and take a bike ride or roller skate up the coast to Pacific Palisades.
Stretching across 22 miles of the coast, locals and tourists alike can make an all-day excursion from a trip up The Strand.
Depending on where you start and how long you plan to take a bike ride, The Strand will lead you through Manhattan Beach, Marina del Rey, the Venice Canals, and Santa Monica.
If you pack a lunch, there are tons of benches along the beach and the Marina Basin to take a break and enjoy your food. Restaurants and shops also line The Strand if you need a short escape from the Southern California sun or want to grab a souvenir.
No Bike, No Problem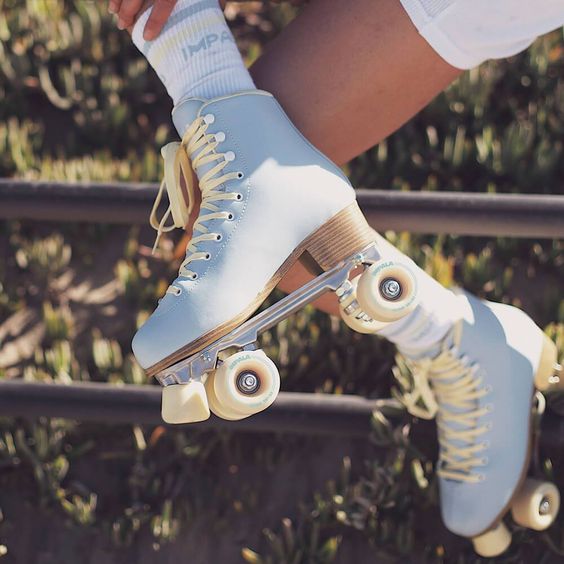 Unfortunately, taking a bike ride is only free if you have your own bike, but there are still options for those who want to experience The Strand and are willing to use a rental.
If you start your journey up The Strand at Torrance County Beach, Torrance Bikes is a small family-owned bike rental shop.
For anyone interested in renting rollerskates or longboards, Beach Bound Sports in Hermosa Beach is the place to go.
Alternatively, keep your trip up The Strand free and enjoy a walk!
6. Support Local Farmers
Since no admission fees are required, checking out weekly South Bay farmer's markets can be another free activity.
If you do decide to do some shopping, tons of local vendors and farmers are selling excellent products.
But no worries if you stick to strolling through–just attending shows support. And there are always opportunities to buy next week!
Every Friday between 12 PM and 4 PM, Hermosa Beach hosts a farmer's market on Valley.
The farmers and vendors who set up booths at the Hermosa Beach Farmer's Market sell seasonal fruits and vegetables, gorgeous assortments of flowers and plants, fresh baked goods, cultural foods, and plant-based products. There is the occasional dog treat, too!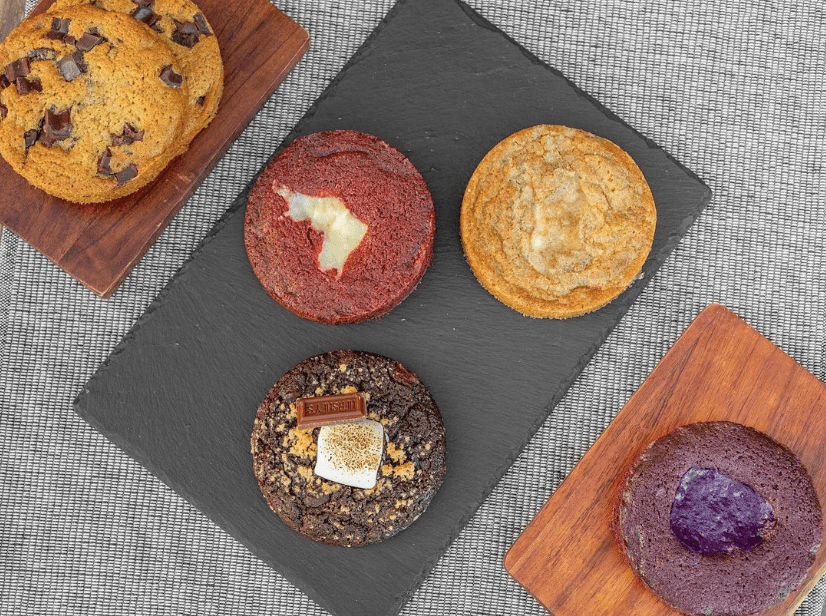 Food trucks are also set up around the farmer's market, selling ready-to-eat crepes, tamales, hot dogs, small snacks, and much more.
The farmer's market is just over a 10-minute walk from the Hermosa Beach Pier, making it a perfect destination for anyone who spends their morning at the beach or plans to catch a sunset in the evening.
Follow the Hermosa Beach Farmer's Market Instagram account for updates.
This article showed you the best things to do in South Bay, Los Angeles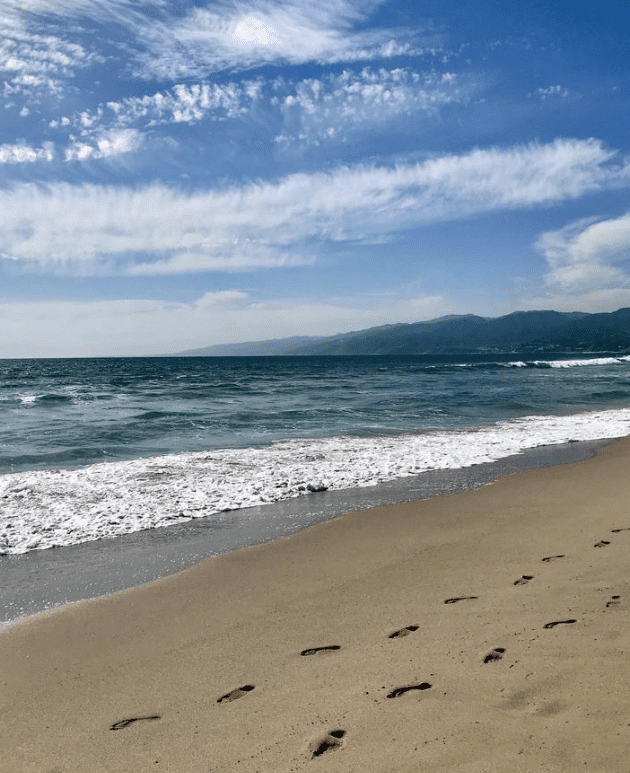 The South Bay sun is calling – she says she misses you!