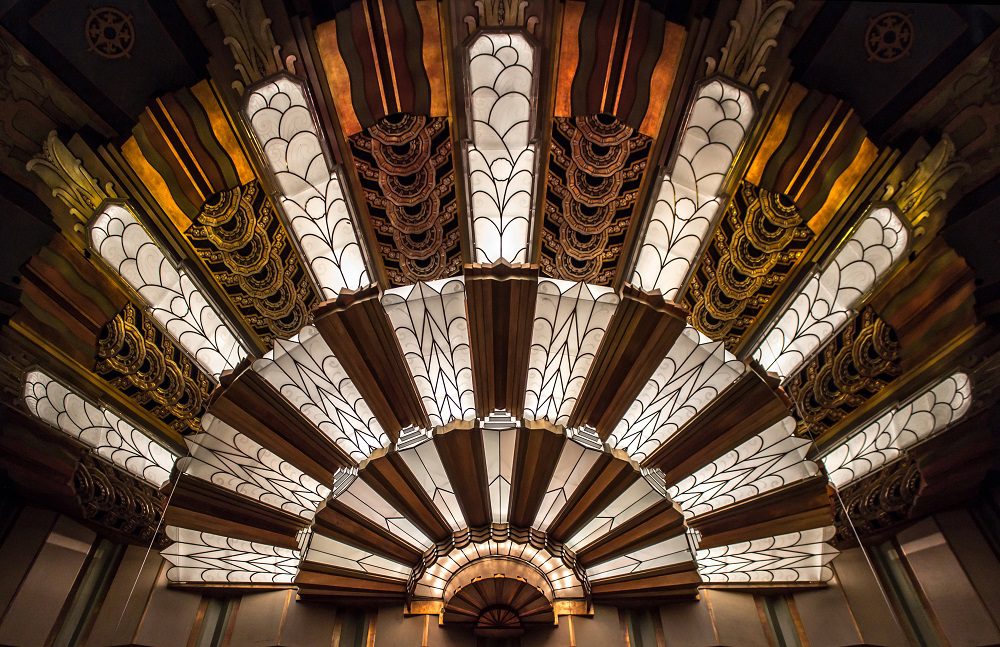 This article is all about art deco in Los Angeles.
Los Angeles is an incredible city when it comes to architecture. There are many architectural styles represented in the city, including art deco in Los Angeles.
In this article, we cover the history of the architecture style generally as well as specifically in Los Angeles, before diving into some of the best known art deco buildings and homes in Los Angeles, as well as walking tours.
Art Deco Architecture and History
Art deco art and architecture trace their origins to the Parisian arts décoratifs movement that began during the late 19th century. This new approach combined indigenous motifs and geometric symmetry with a decidedly modern, machine-age sensibility and was quickly adopted in graphic design, visual arts and fashion. But architecture, particularly civic buildings, is where art deco made its most lasting impression.
The heyday of art deco American architecture lasted from 1925 and 1940 and can be viewed as a natural progression between exuberant, asymmetrical Victorian designs and the sleek midcentury modern buildings that followed. The popularity of art deco coincided with the development of innovative materials and techniques that enabled buildings to stretch ever higher, which is why so many of the most famous early skyscrapers employ deco styling, including New York City's Chrysler Building, Rockefeller Center and Empire State Building.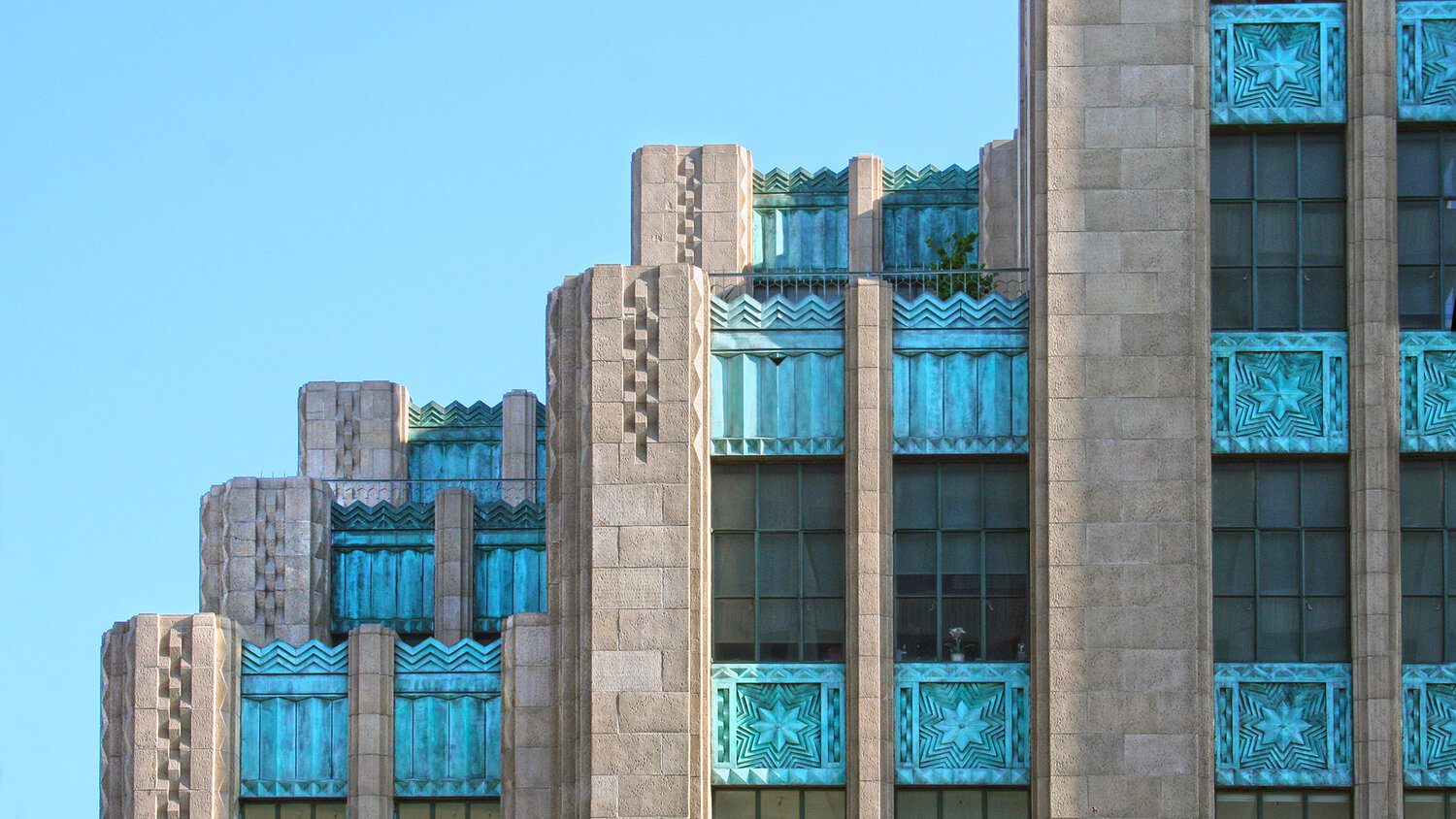 While art deco artisans embraced originality and sleek surfaces like reinforced concrete, plate glass and sheet metal, the style also borrows heavily from patterns found throughout Native American, Mayan, Aztec and Egyptian art, as well as from classical architecture, futurism and cubism. Following the Great Depression, art deco architecture became more simplified, emphasizing verticality, straight lines and curves, all inspired by industrial machinery and massive ocean liners.
Art deco architecture is often classified into three distinct movements:
Zigzag Moderne: This eclectic art deco form relies heavily on highly stylized decorative elements and ornamentation, including chevrons, sunbursts and repetitive geometric patterns. Painted terra cotta, glazed brick and decorative glass incorporate color into façades, while inlaid stone floors and wood veneers line elaborate interiors. The Deco Building and Eastern Columbia Building exemplify zigzag moderne art deco in Los Angeles.
Streamline Moderne: The Great Depression put a damper on zigzag moderne's extravagances, resulting in a more restrained version of art deco that emphasized machine-made materials and nautical elements, including curves, portholes and railings meant to convey movement. The long-defunct Pan-Pacific Auditorium and The Mauretania apartments are excellent examples of streamline moderne art deco in Los Angeles.
PWA/WPA Moderne: As the Public Works Administration and Works Progress Administration were formed to provide employment and boost morale during World War II, a new, heroic form of deco architecture emerged. This stripped-down style is frequently found in the public buildings, bridges and schools of this period. Ornate ornamentation is nearly absent, with classical elements, symmetry and scale providing a distinctly monumental feel. City Hall beautifully represents this so-called "depression moderne" style of art deco in Los Angeles.
Art Deco in Los Angeles
The rise of art deco in Los Angeles coincided with the city's boom era of the 1920s and 1930s. While the city's population barely topped 100,000 at the turn of the century, it reached a whopping one million by 1924. From oil strikes generating millions of gallons of black gold per week to the glamorous Golden Age of Hollywood, Los Angeles was the place to be in this heady period between World Wars.
The most prominent designers of art deco architecture in Los Angeles at the time were the father-and-son team of John and Donald Parkinson, who built dozens of LA's most important buildings. Claud Beelman designed several art deco beauties, including the breathtaking Eastern Columbia, while the firm of Morgan, Walls & Clements was responsible for a number of deco-inspired theaters and buildings, including The Wiltern and the aptly named Deco Building.
Art Deco Buildings in Los Angeles
While there are dozens of extant art deco buildings in Los Angeles, these examples stand out in terms of grandeur, prominence and preservation.
Bullocks Wilshire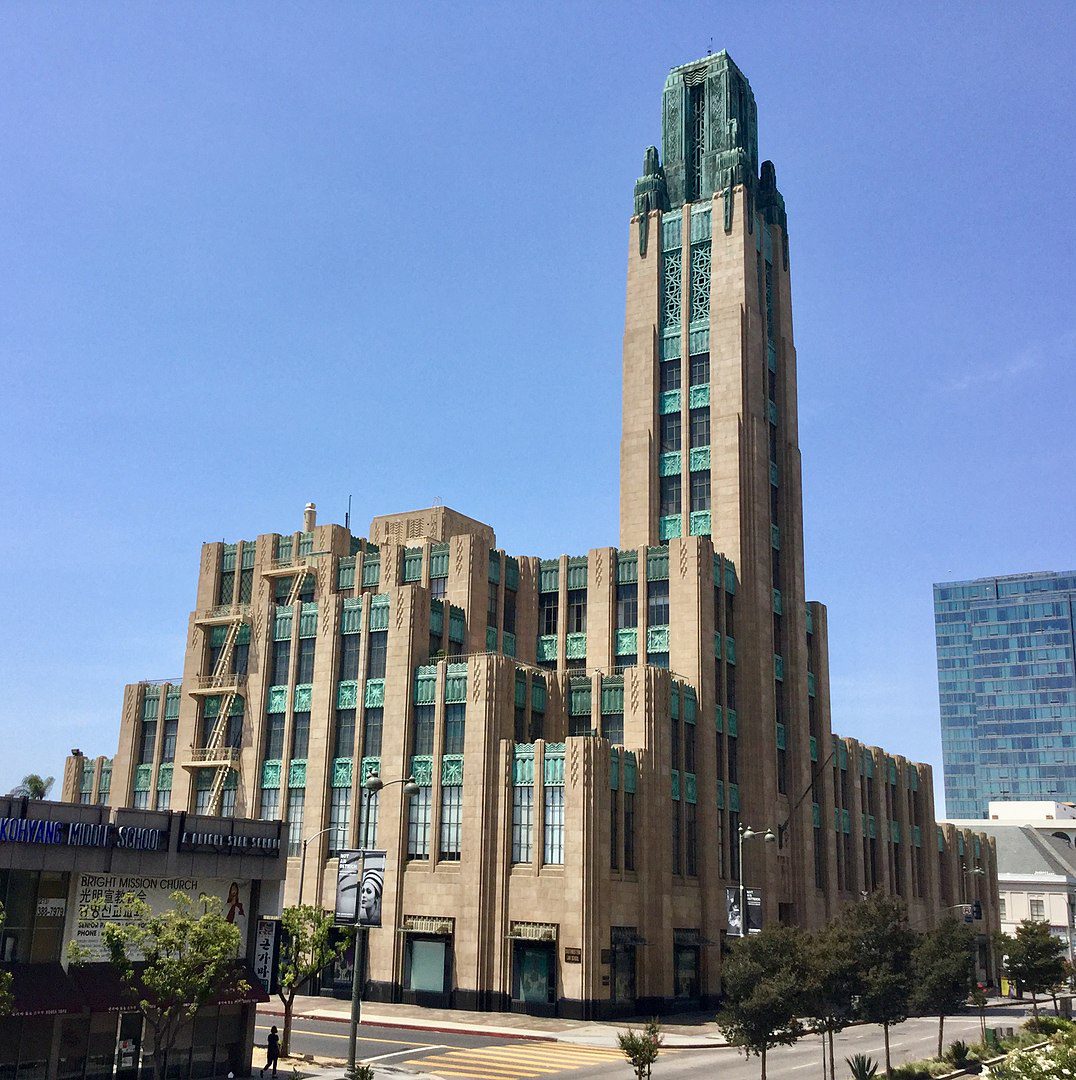 Designed by John and Donald Parkinson in 1929, Bullocks Wilshire boasts exquisite art deco features, including a stunning zigzag moderne façade and a patinaed copper tower. When it first opened, the luxury department store catered to an upscale clientele with a recently acquired fondness for arriving by personal automobile. They were greeted by a handsome porte-cochère entrance and interiors filled with handcrafted stone and wood finishes and exquisite light fixtures by René Lalique, a darling of the Parisian art deco scene. Over 60 years later, neighboring Southwestern Law School purchased the beleaguered store and undertook a painstaking $29 million restoration featuring meticulously restored sections of the original store. Hear what it was like to work in this retail destination from former employee Angela Lansbury.
3050 Wilshire Blvd., Los Angeles, CA
https://www.laconservancy.org/locations/bullocks-wilshire-southwestern-law-school
The Deco Building
This diminutive two-story art deco building in Los Angeles makes an outsized impact with its spectacular black and gold terra-cotta façade and exquisite zigzag moderne interiors. Designed by Morgan, Walls & Clements in 1929, The Deco Building now serves as a creative co-working and community space catering to Indonesian-American businesses.
5207-9 Wilshire Blvd., Los Angeles, CA
https://www.laconservancy.org/locations/deco-building
Eastern Columbia Building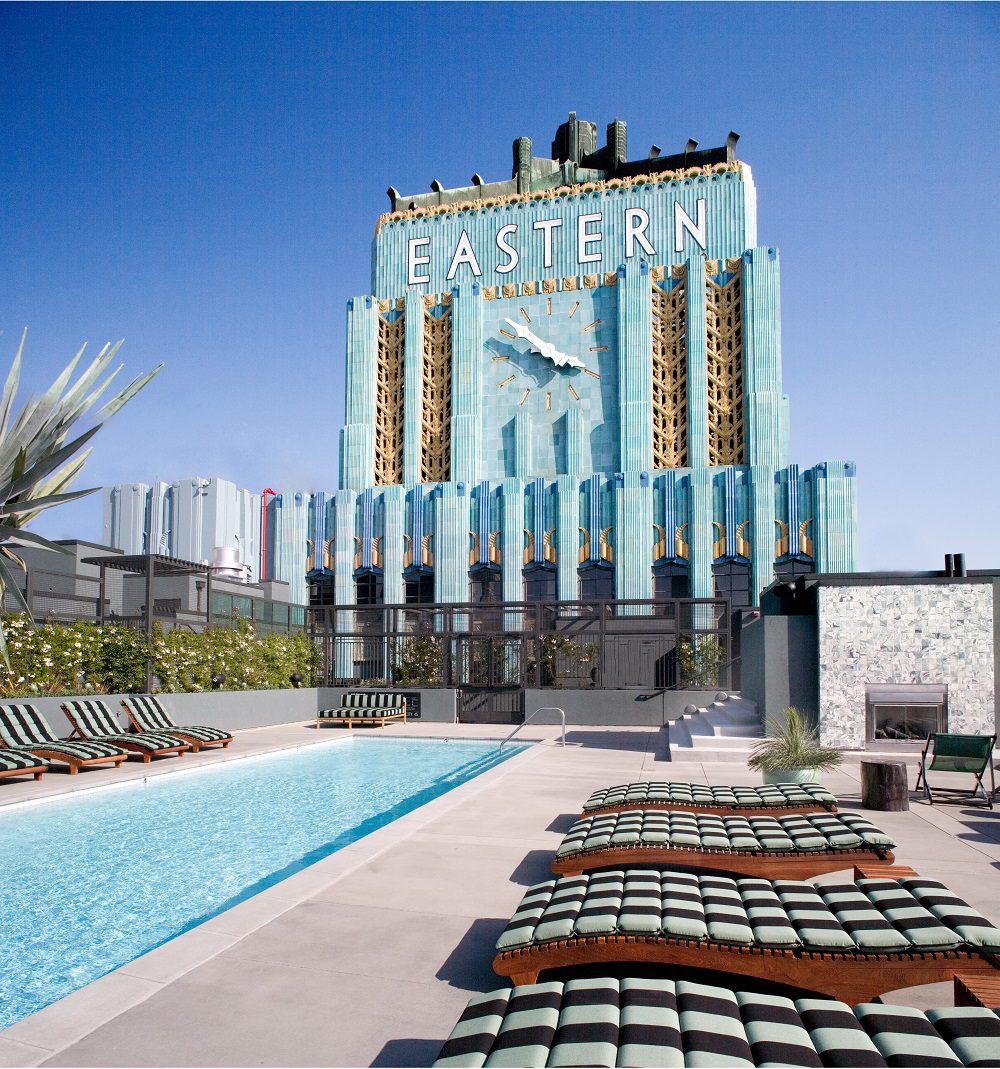 One of the most breathtaking art deco buildings in Los Angeles, the Eastern Columbia shimmers in the California sun thanks to a spectacular façade of turquoise terra-cotta with copper and gold leaf accents. Sunbursts, chevrons and a clock tower wrapped in buttresses underscore its zigzag moderne design. Created by Claud Beelman in 1930, Eastern Columbia underwent an award-winning luxury condominium conversion in 2006. For an up-close look of the interiors and exteriors, watch Huell Howser's tour of the magnificent building.
849 S. Broadway, Los Angeles, CA
https://www.laconservancy.org/locations/eastern-columbia-lofts
Griffith Observatory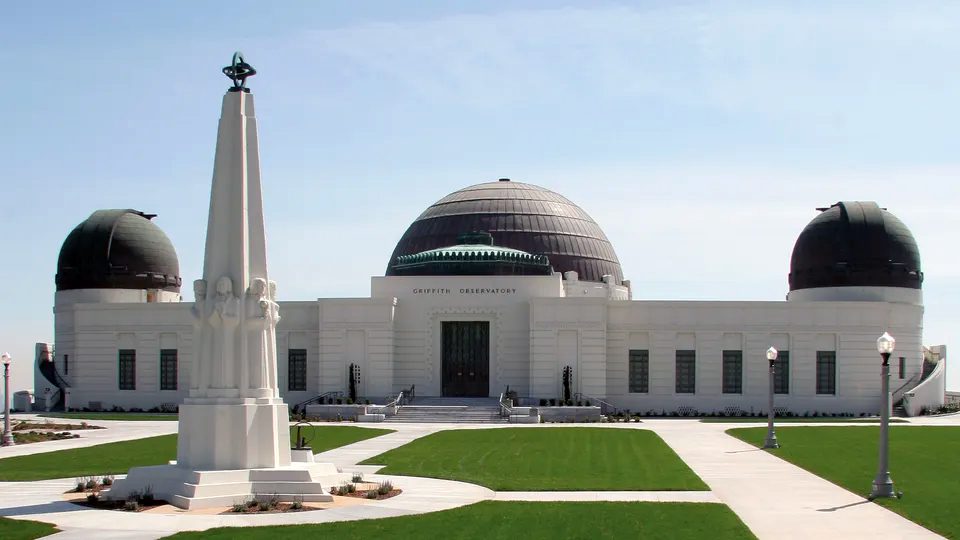 Perched high above the city, the Griffith Observatory is one of Los Angeles' most well-known and beloved landmarks. Construction began on the observatory in 1933 as a WPA project making it an ideal example of Depression-era art deco in Los Angeles, from its cast-in-place concrete walls to its distinctive domes.
2800 East Observatory Rd., Los Angeles
https://griffithobservatory.org/
Los Angeles Central Library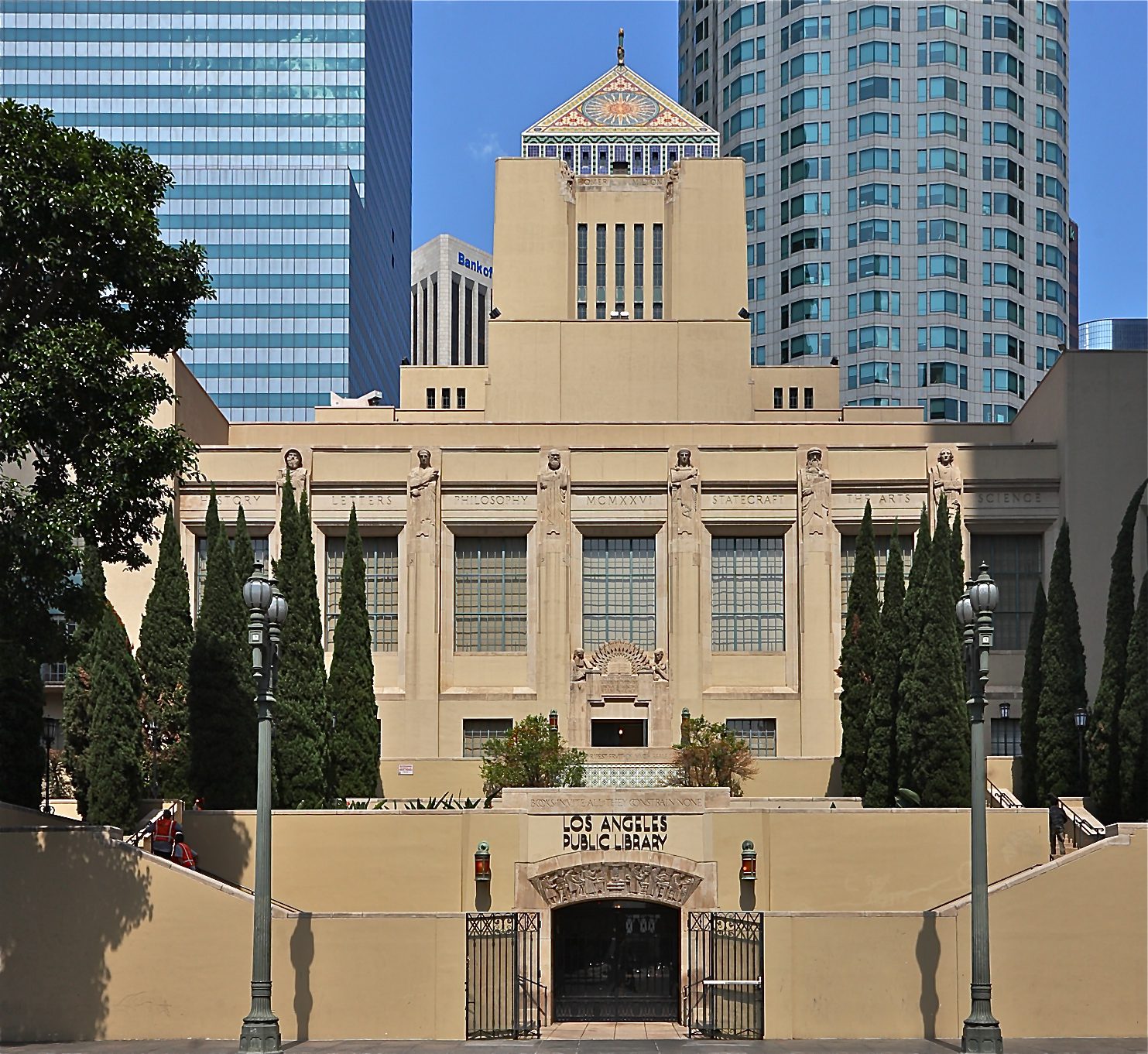 The Central Library in Downtown Los Angeles beautifully illustrates the restrained and ornamental aspects of the art deco movement. The original Goodhue building opened in 1926, boasts a monumental simplicity ideal for highlighting the extensive sculptural and decorative program. The interiors and the pyramidal tower include colorful tilework in sunbursts and geometric patterns that define art deco. In the 1970s, the planned demolition of the library led to the formation of the Los Angeles Conservancy, which saved the admired site and has now become the largest architectural preservation nonprofit in the country.
630 W. Fifth St., Los Angeles, CA
https://www.laconservancy.org/locations/los-angeles-central-library
Los Angeles City Hall
One of the architects of City Hall, John C. Austin, described the monumental building as "Modern American," but the building's classic inspiration, ziggurat shape and geometric motifs make it an excellent example of art deco architecture in Los Angeles. Fun fact: The building employs concrete containing sand from all 58 California counties and water from all 21 missions.
200 N. Spring St., Los Angeles, CA
https://www.laconservancy.org/locations/los-angeles-city-hall
The Oviatt Building
The Oviatt Building is widely considered the first art deco building in Los Angeles. It served as the headquarters of Alexander & Oviatt, one of the country's most prominent haberdasheries, and was topped by owner James Oviatt's sprawling penthouse, known as a second home to many of Hollywood's Golden Age stars. Charmed by the newly emerging art deco style, Oviatt filled the building with stunning ornamentation and extensive Lalique glasswork and lighting. Today, The Oviatt houses the beautifully restored Cicada Club restaurant and lounge, while the penthouse is used for film shoots and events.
617 S. Olive St., Los Angeles, CA
https://www.laconservancy.org/locations/oviatt-building
Sunset Tower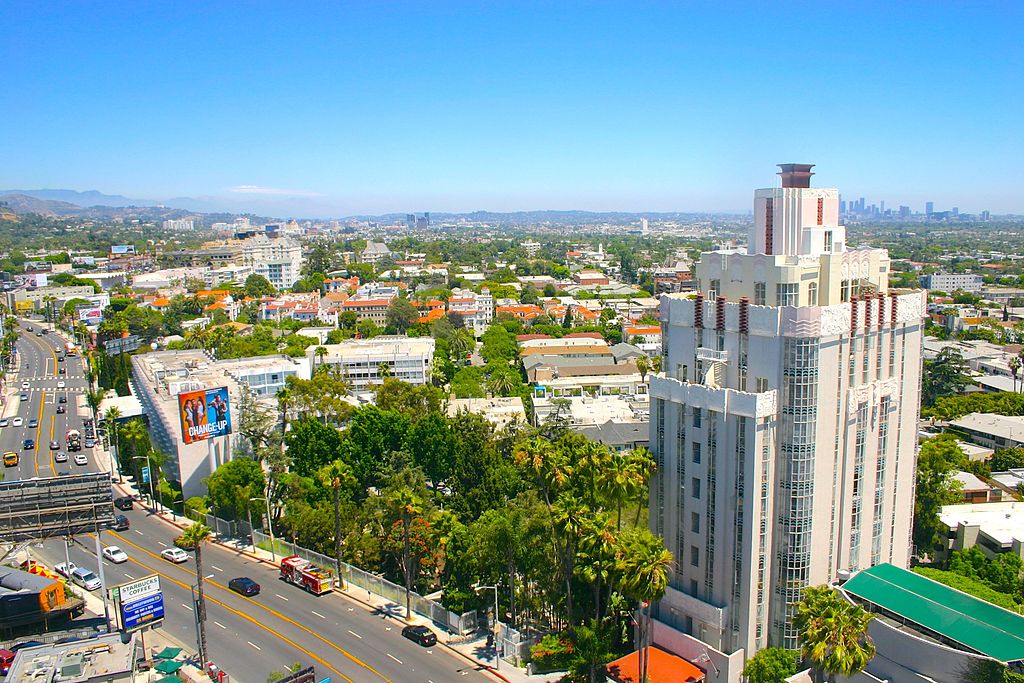 Constructed as a luxury apartment house in 1929, Sunset Tower is often considered one of the finest art deco buildings in Los Angeles thanks to its beautiful streamline moderne and zigzag styling. Advertised as "Hollywood's Most Distinguished Address," Sunset Tower has been home to Howard Hughes, Frank Sinatra, John Wayne, Truman Capote, Mae West and Iggy Pop over the years, and the legendary Tower Bar remains a place to see and be seen. The building is listed on the National Register of Historic Places, and a 1988 restoration and conversion to a first-class hotel earned an award from the LA Conservancy.
8358 Sunset Blvd., West Hollywood, CA
https://www.sunsettowerhotel.com/
Title Guarantee Building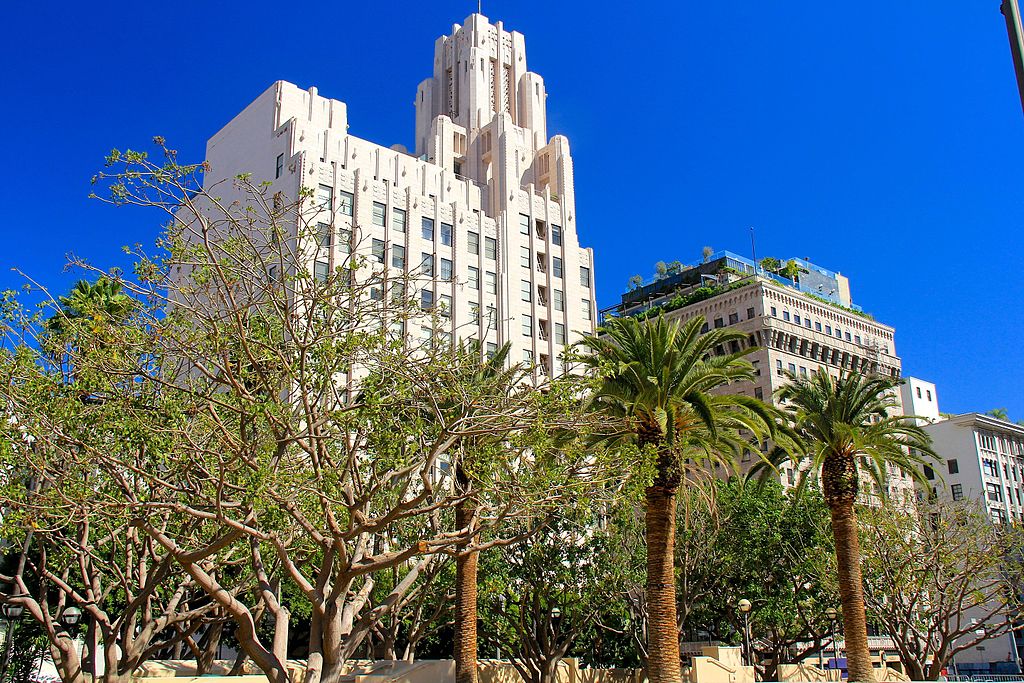 Designed by the Parkinsons in 1930, the Title Guarantee Building takes inspiration from Chicago Tribune Tower by creating an art deco version of that building's gothic tower, including stylized flying buttresses and gargoyle-like downspouts. The terra-cotta and granite structure starred as the exterior of Lou Grant's newspaper offices in the TV show of the same name. Today, it is a residential loft building.
411 W. Fifth St., Los Angeles, CA
The Wiltern & Pellissier Building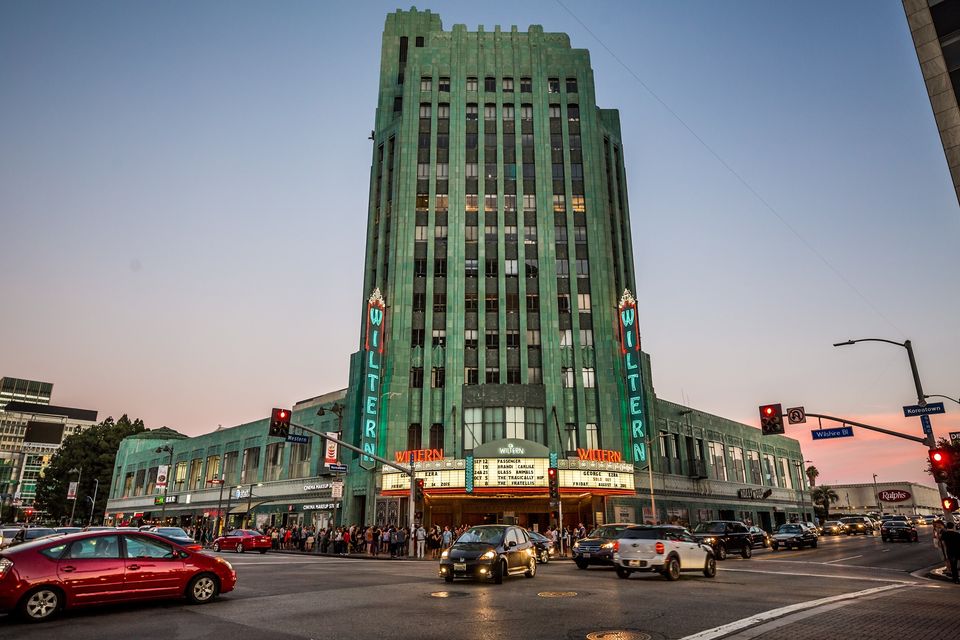 With a stunning blue-green terra-cotta façade and a commanding position at the corner of Wilshire and Western, The Wiltern is one of the most recognizable art deco buildings in Los Angeles. Designed by Morgan, Walls & Clements in 1931, the theater features zigzag styling and powerful verticality outside and a wealth of stylized décor and murals inside. It's no surprise it's been called a "dictionary of Art Deco style" by theatre historian and founding LA Conservancy board member John Miller.
3780 Wilshire Blvd., Los Angeles, CA
https://www.laconservancy.org/locations/wiltern-and-pellissier-building
Art Deco Homes in Los Angeles
Art deco architecture thrived when most Americans were grappling with the aftermath of WWI and the ensuing Great Depression. It's one reason the grand architectural form is far more common in commercial buildings and public spaces than in private residences. That said, a handful of beautiful art deco homes in Los Angeles exist.
The Mauretania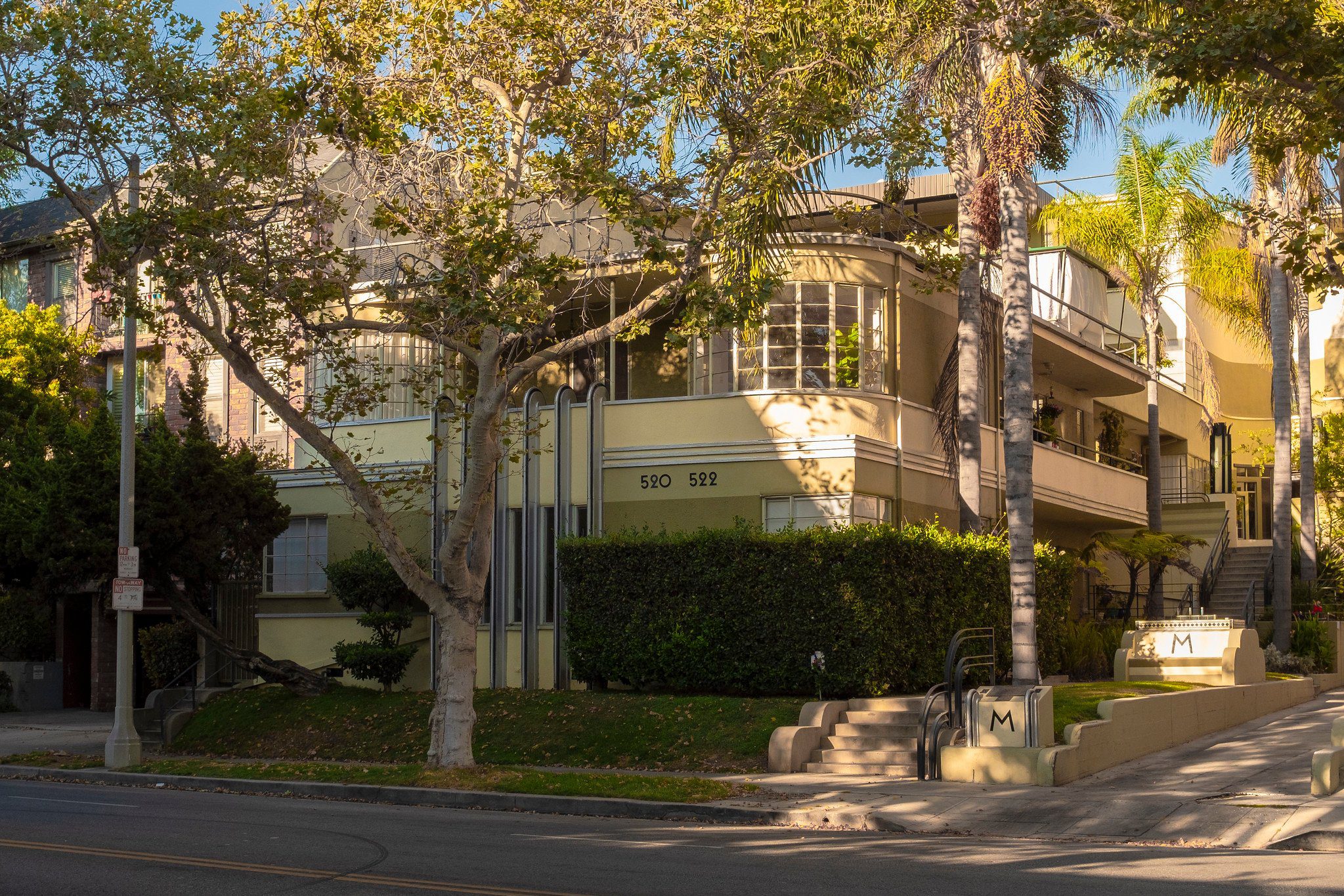 Located in desirable Hancock Park, The Mauretania exemplifies streamline moderne's nautical influence with its robust curves, railings and a moniker taken directly from a Cunard-White Star Line ocean liner. Commissioned in 1934 by actor Jack Haley, best known as the Tin Man in the "Wizard of Oz," The Mauretania includes 10 apartments, including Haley's penthouse, where John F. Kennedy once stayed during his presidential run. Today, apartments rarely become available at the gorgeous art deco building owned by Dave Goldstein, known for his collection of beautifully restored historic apartment houses.
520-522 N. Rossmore Ave., Los Angeles, CA
https://artdecoapts.com/press/the-mauretania/
The Cedric Gibbons House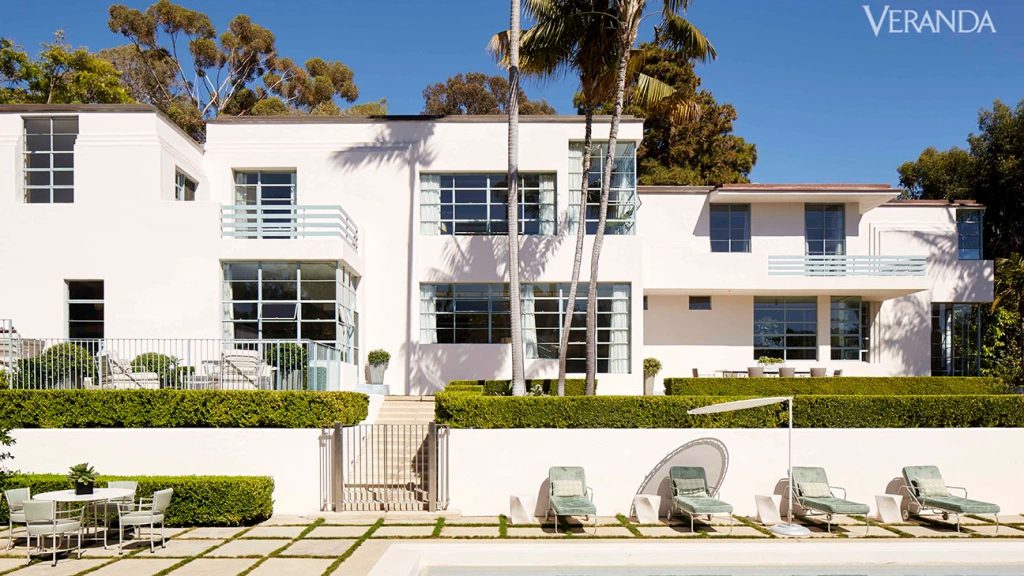 Built in the 1930s for actress Delores Del Rio by her husband, Oscar-winning art director Cedric Gibbons, this glamorous residence epitomizes streamline art deco in Los Angeles with its zigzag motifs and repetitive lines that carry through the windows, ceilings and nautical railings. Thanks to a series of attentive owners over the years, the home retains many of its prized architectural features and recently underwent a reverent renovation and expansion.
757 Kingman Ave., Santa Monica, CA
https://www.veranda.com/decorating-ideas/a1559/cedric-gibbons-house-tour/
Samuel-Novarro House
Frank Lloyd Wright and his son Lloyd Wright designed several Los Angeles residences at the intersection of art deco and Mayan revival. The 1928 Samuel-Novarro House in Los Feliz is one of the most impressive of the group, with its sleek concrete walls providing the perfect backdrop for intricately patterned oxidized copper trim. Built by silent film star Ramon Novarro for his manager and rumored lover, Louis Samuel, Novarro reclaimed the home after learning Samuel had been embezzling from him. Over the years, the residence has been owned by a star-studded cast, including Leonard Bernstein, Diane Keaton and Christina Ricci.
2255 Verde Oak Dr., Los Angeles, CA
https://www.laconservancy.org/locations/samuel-novarro-residence
Art Deco Walking Tours in Los Angeles
To learn more about these (and more) beautiful examples of art deco in Los Angeles, check out one of these fantastic walking tours.