This article is all about Los Angeles skate parks – its history in the city as well as the best skate parks worth a visit today.
It's not an exaggeration to call Los Angeles the birthplace of modern skateboarding. During the 1950s heyday of Southern California surfing, wave riders longed to find an equally thrilling pastime on days when the ocean was flat. Initially called "sidewalk surfers," teens affixed clay or steel wheels to wooden boards and boxes and imitated their surf moves on dry land. By the end of the decade, several Los Angeles companies began mass-producing this new mode of transportation and entertainment. Later, the invention of urethane wheels added the thrilling element of speed to the sport now known as skateboarding.
In the mid-1970s, postwar prosperity had slipped into recession, and the famous Dogtown skateboard scene came to life around Santa Monica's decrepit pier, the site of a burned-out amusement park. The Zephyr Surf Team — a ragtag group of kids who became surfers, surf shop owners and board shapers — alternated between riding waves through the dangerous pier pilings and weaving skateboards through the equally perilous LA streets. As their ranks grew, they became known as the Z-Boys, although the group did include a single intrepid female, the legendary Peggy Oki. Soon, the swimming pools left empty by the unrelenting droughts of the era lured skateboarders from the sidewalks into backyards, where a new vertical style of skateboard tricks was born.
Through the 80s and 90s, city governments cracked down on street skating, and sky-high insurance costs discouraged the development of dedicated skate parks. While skateboarding's popularity plunged, a perfect storm of events — including the rise of Tony Hawk's otherworldly talent, extreme sports video games and the advent of The X Games — helped resuscitate and legitimize the activity as a worthy pursuit and enthralling spectator sport. With more than 85 million riders globally, skateboarding today ranks as the sixth most popular sport in the world, earning its Olympic debut in 2020.
With SoCal and skate culture forever intertwined, it's no surprise there are dozens of Los Angeles skate parks to explore, each offering a unique scene and set of features. We've scouted some of the best in the city to bring you a skate park for every mood and style. Happy riding!
Los Angeles Skate Parks with Killer Views
Redondo Beach Pier Skate Park
One of the newest skate parks in the Greater LA area, Redondo Beach Pier Skate Park is a plaza-style venue surrounded by outstanding views of the marina and bay. Drop in, and you'll find a smooth surface winding through an array of street features, including manny pads, bumps to ledges, rails and curbs, plus several different quarter pipes. Designed by Spohn Ranch, the park debuted in April 2023 to rave reviews from skaters.
500 Fishermans Wharf, Redondo Beach, CA
https://skatethestates.com/redondo-beach-pier-skatepark
Venice Beach Skate Park
Just inches from skateboarding's Dogtown origins, you'll find one of the most photogenic skate parks in the world. Surrounded by sandy beaches and iconic Pacific sunsets, Venice Beach Skate Park is a dream for skaters and Instagrammers alike. The park was built in 2009 by California Skateparks at a cost of $3.5 million and boasts a killer snake run flanked by a pool and a mini-bowl, plus a street section with ledges, rails and stairs. Even non-skaters make a point to visit this beachside skating mecca for the immaculate vibes and views that make it one of the very best Los Angeles skate spots.
1800 Ocean Front Walk, Venice, CA
https://www.laparks.org/skatepark/venice-skate
Best Los Angeles Skate Park for Watching Pros
Stoner Skate Plaza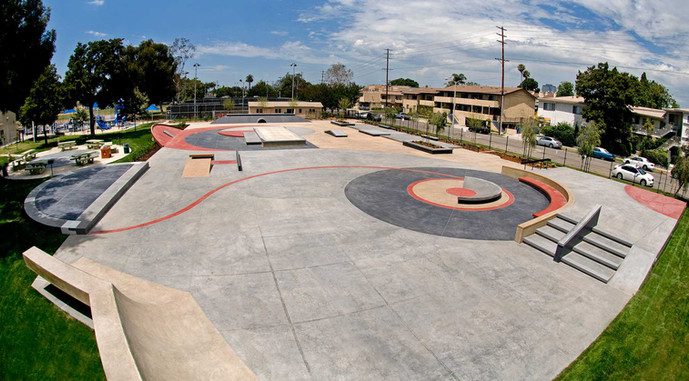 Built in 2010 by California Skateparks, Stoner Skate Plaza is one of the city's most well-regarded and popular parks. The 20,500-square-foot plaza boasts unique black and red detailing, including a giant letter S, which makes it easily recognizable in its numerous social media appearances. But what draws most skaters, and a healthy number of pros, to the park are the unique elements you won't easily find elsewhere, including a broad wave-like bank, a wide China gap and a rooftop-style ramp. Plenty of ledges, manny pads, stairs and flat rails earn Stoner a rightful place on any list of the best skate parks in Los Angeles.
1835 Stoner Ave., Los Angeles, CA
https://www.laparks.org/skatepark/stoner-skate
Best Los Angeles Skate Parks for Beginners
Amelia Mayberry Skate Park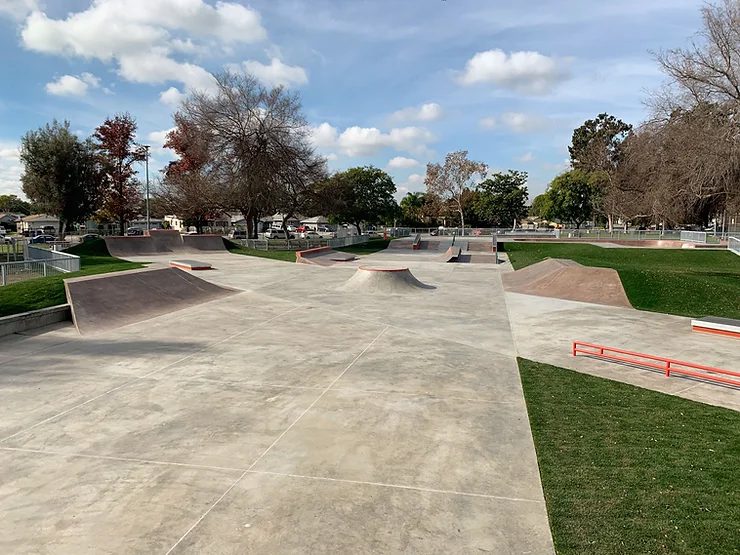 Designed by professional skateboarder Kanten Russell and Newline Skateparks in 2020, Amelia Mayberry Skate Park offers a spacious layout perfect for those just starting out. Inside the 18,500-square-foot park, you'll find a volcano, a large L-shaped bowl, banks, ledges, manny pads, a flat rail, stairs, hubbas and multiple quarter pipes. Neatly manicured turf and the surrounding park add good looks to this great Los Angeles skate spot.
13201 Meyer Rd., Whittier, CA
The Cove Skate Park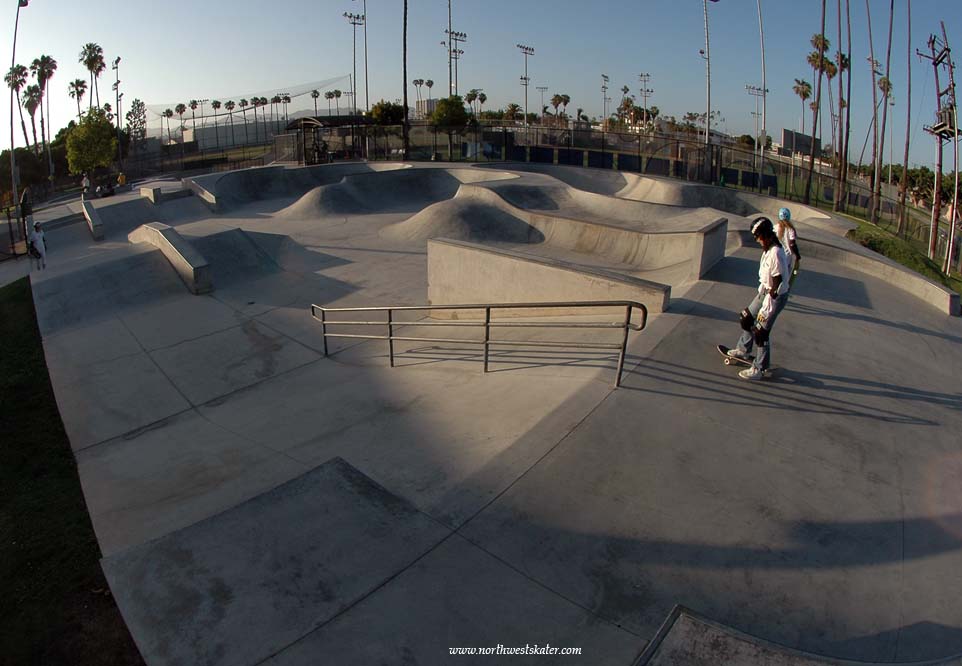 Taking its name from the stretch of ocean where the Z-Boys first met, The Cove is a 20,000-square-foot skate park in Memorial Park, just over a mile from that iconic Dogtown location. Aggro veterans may bristle at the required liability waiver, strictly enforced safety equipment rules and entry fees ($3 a day or $80 per year for kids 6-17 years old; $5 a day or $140 annually for local adults), but The Cove is ideally suited for beginners or skaters looking for a slightly mellower scene. Inside, you'll find a dope array of ramps, stairs, rails, a pool and multiple bowls, including an over-vert bowl. Girls-only sessions and tons of beginner classes make this a great spot for young skaters and newbies, with plenty to attract experienced vets as well.
1401 Olympic Blvd., Santa Monica, CA
https://www.smgov.net/Departments/CCS/content.aspx?id=32414
Culver City Skate Park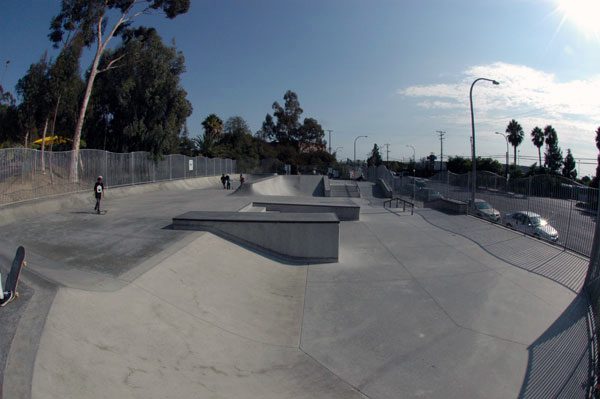 While stringent safety equipment rules requiring helmets, knee pads and elbow pads may turn off some seasoned veterans, they make Culver City Skate Park one of the best skate parks in Los Angeles for beginners. Several on-site skate school options are great for those just starting out or more advanced skaters looking to perfect their craft. The 13,000-square-foot park includes a centerpiece clover pool with a 10-foot deep end, plus ramps, bowls, banked hips, manny pads and stairs.
9910 Jefferson Blvd., Culver City, CA
https://www.culvercity.org/Parks/Culver-City-Skate-Park
Something-for-Everyone Los Angeles Skate Parks
Chevy Chase Skate Park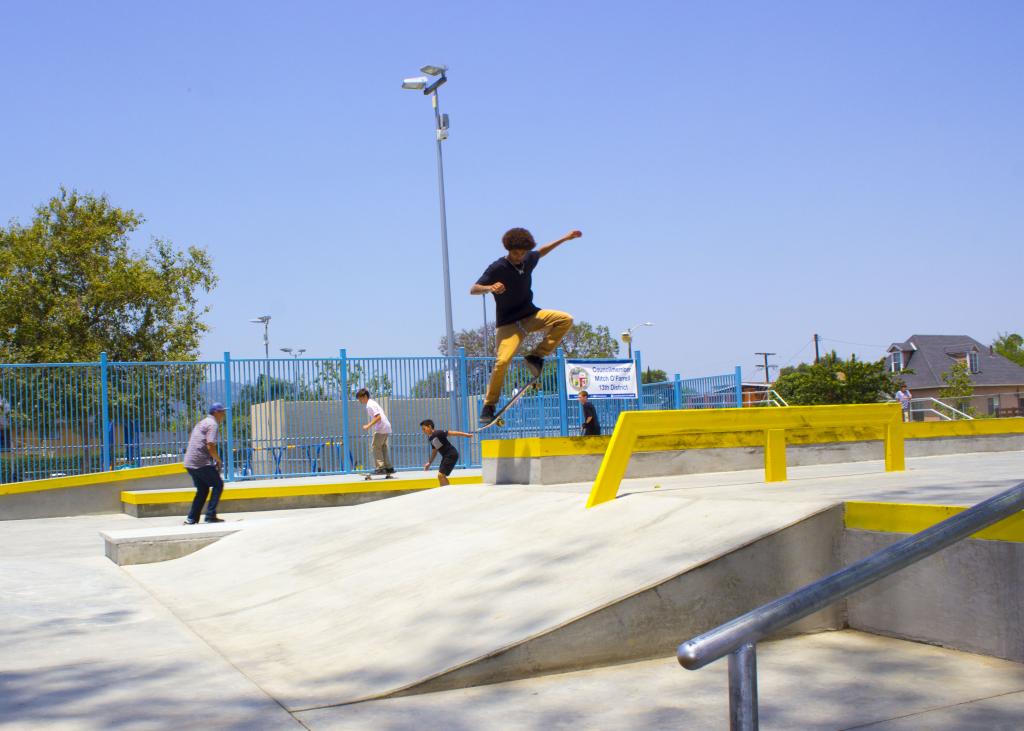 Located just outside the western border of Glendale, "Chevy" has gained a solid reputation for its smooth surface and great ledges since it opened in 2019. During the pandemic, Boos Cruise — a collective representing LGBTQ BIPOC skaters— made Chevy Chase Skate Park its regular Wednesday night meetup spot, promoting inclusivity in a sport that hasn't always been welcoming to those who aren't white, male and straight. Chevy definitely ranks among the great Los Angeles skate parks for pros and newbs alike.
4165 Chevy Chase Dr., Los Angeles, CA
https://www.laparks.org/reccenter/chevychase
Pedlow Field Skate Park
Located alongside the massive Sepulveda Basin Recreation Area, Pedlow Field Skate Park earned the distinction of being the Los Angeles parks department's first skate park when it opened in 2001. Today, the since-renovated 20,000-square-foot park offers plenty of flat ground and transitions for beginners and enough street features to keep more experienced riders happy. Visitors are especially fond of the snake run that ends in a pool alongside a separate kidney-shaped deep bowl. Come early to avoid the crowds.
17334 Victory Blvd., Encino, CA
https://www.laparks.org/skatepark/pedlow-skate
Best Los Angeles Skate Park for Advanced Skaters
Peck Park Skate Park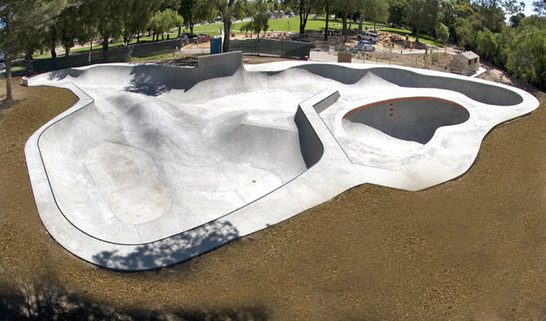 Described by one visitor as "Proper California," the all-transitions Peck Park Skate Park gives skaters a ton of speed due to the site's significant slope. Backed by the Tony Hawk Foundation, the petit 10,500-square-foot park was designed by pro Lance Mountain with a long snake run, flow course and backyard pool. Visitors praise the friendly, welcoming scene, but fans of plaza-style skating won't find their favorite street features here.
560 North Western Ave., San Pedro, CA
https://www.laparks.org/reccenter/peck-community
Best Endangered Los Angeles Skate Park
West LA Courthouse Skate Plaza
The West LA Courthouse Plaza is a midcentury modern civic space anchored by an iconic amphitheater and surrounded by planter boxes with irresistible ledges. Skateboarders have been visiting and filming at the plaza since the 80s, making it one of the most recognizable Los Angeles skate spots.
In 2014, after the adjacent courthouse closed, the folks who helped make Stoner skate park a reality turned their sights to the plaza. With funding from Nike Skateboarding, the location became a hybrid model for legalized skating — not quite a skate park, but a public area where skateboarding was no longer forbidden.
Less than a decade later, the revered plaza's days are numbered as it faces redevelopment as West LA Commons, a mixed-use project with residential units and commercial offerings. While the developers hope to save some of the notable architecture and incorporate a skate area, there's no doubt the plaza that skaters have loved for decades will soon be gone, taking with it an indelible part of Los Angeles skate park history.
1633 Purdue Ave., Los Angeles, CA
https://en.wikipedia.org/wiki/West_LA_Courthouse_skate_plaza
Best Coming-Soon Los Angeles Skate Park
Malibu Bluffs Skate Park
Preliminary plans for a 12,5000-square-foot permanent skate park situated in Malibu Bluffs Park have made it past the public comment and design stages and are currently awaiting coastal building guideline review. After the Coastal Development Permit, a public Planning Commission hearing is expected to happen as early as summer 2023.
Proposed designs by California Skateparks feature a mixture of transitions and street features surrounded by lush landscaping and killer views of the water and mountains. While skaters await the new destination, a temporary park with wood ramps is currently open on adjacent park property.
24250 E. Pacific Coast Hwy., Malibu, CA
https://www.malibucity.org/976/Skate-Park
This article showed you Los Angeles skate parks worth checking out.