This article is all about living in Downtown Los Angeles.
Downtown Los Angeles, colloquially renamed DTLA, has long been seen by both the Census Bureau and LA residents as a place where people work and go out rather than where they live. For such a highly-walkable downtown full of high-rise apartments surrounded by transit and amenities, DTLA ironically has lower population density than Pasadena and Beverly Hills per Census and city data sets. Neighboring Westlake and Koreatown respectively have the second and top highest density in the entire city.
Los Angeles as a whole is experiencing an interesting reversal of its car-centric policies and culture. Both younger generations and new crops of transplants are eschewing cars or simply driving less. Before the freeways and car ownership became an American rite of passage, LA was home to the largest streetcar system in the world. Easily going from home to work and back without a personal vehicle wasn't even restricted to living in DTLA – you could go all the way to San Bernardino or Santa Monica by streetcar!
This shift in desire to see Los Angeles return to its streetcar roots has led to higher demand for housing in DTLA. A return to rail has yet to materialize in most of the city but DTLA is the transit hub of the greater Los Angeles area in addition to a major job center. The cultural shift towards walkable cities and public transportation-fueled lifestyles has made living in downtown Los Angeles an attractive prospect when this wasn't the case just a few decades ago. Much of the area is dedicated to commercial zoning, giving rise to mixed-use developments like FIG at 7th. Many are proving to be highly desirable properties with thriving commercial activity.
New residential and mixed-use developments keep being built in DTLA to keep up with the demand. With exciting new transit projects nearing completion like the Regional Connector project and Metro D purple line extension, more people than ever are moving to Downtown Los Angeles, contributing to an influx of new residents. Whether you plan on driving in or embracing a car-free lifestyle, here's what it's like living in downtown Los Angeles.
Pros of Living in Downtown Los Angeles
Downtown Los Angeles is mostly known for being a major job center and cultural destination.
Government agencies and the financial, media and entertainment, and professional services industries hold the largest employment numbers in downtown Los Angeles. Hospitality, restaurants, and nightlife also have significant presence. Downtown Los Angeles is actually just as huge, diverse, and teeming with action as the city's sprawling western counterparts like the Fairfax District and Hollywood.
Excellent food, concerts and clubs, museums, and just sitting in Pershing Square Park to people-watch attracts tourists and residents alike to DTLA. DTLA also encompasses the Los Angeles Convention Center and Crypto.com Arena plus other large and small event venues. Many hotels are in the area and the proximity to rail and buses make it easy to commute to conferences, conventions, concerts, and other large events in addition to jobs in the hospitality and event planning sectors. Destination hotels in DTLA like Hotel Figueroa and The Intercontinental on 7th are popular venues for corporate meetings, seminars, weddings, and launch parties.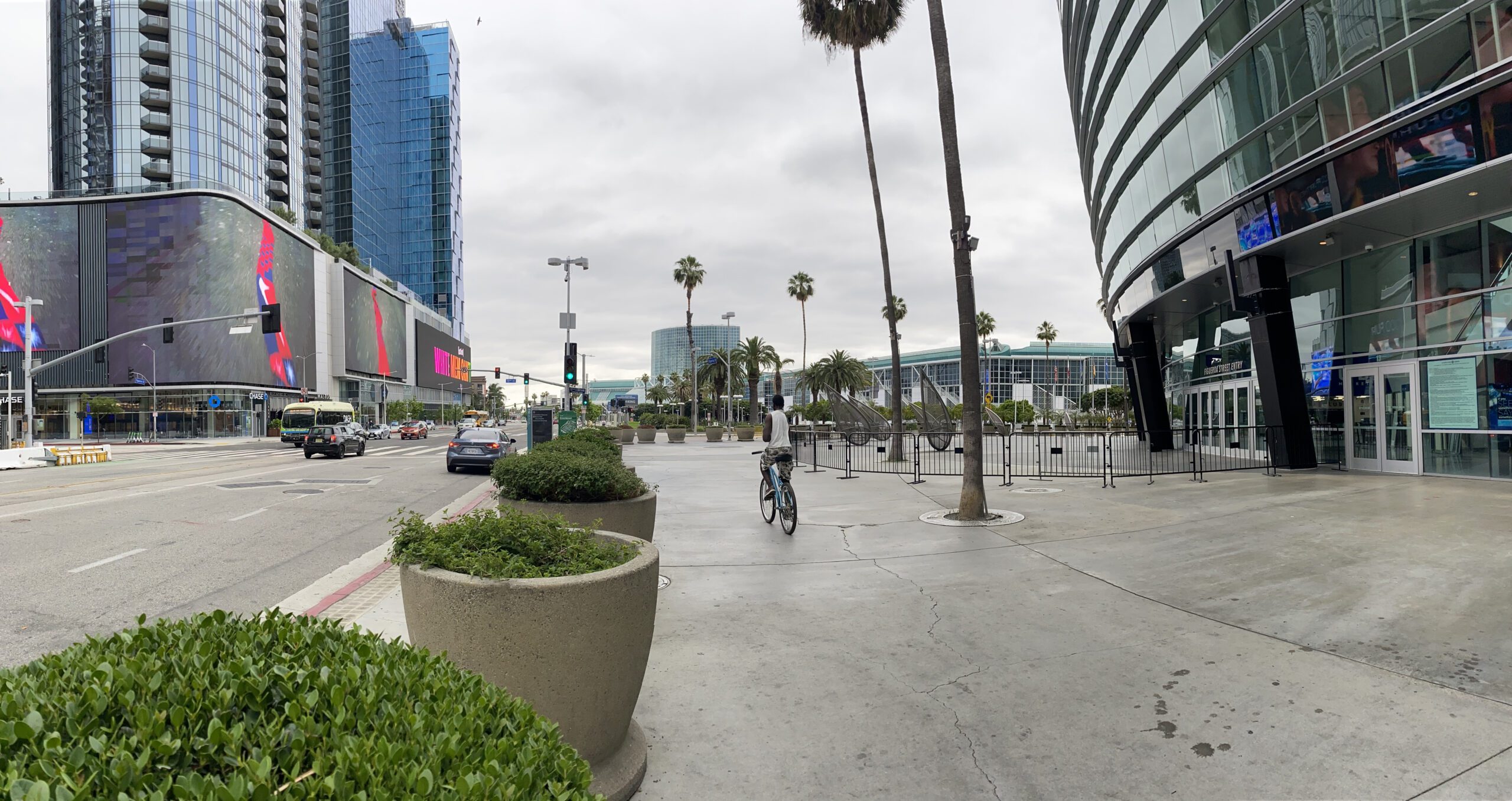 Little Tokyo offers an immersive experience on the outskirts of DTLA. The Fashion District and Flower District are less Rodeo Drive and more wholesalers that aren't open to the public, but you can poke around for hidden gems where you'll find crafting suppliers that let consumers in for items they'll never find at Michael's.
Art supply shops and galleries beckon near brew pubs and coffee shops where artists critique one another to make the Arts District live up to its name. Historical relics and landmarks immortalized in bronze plaques, or even well-preserved from their original form like Angel's Flight, can be found next to ultra-modern apartment complexes and vegan sushi joints.
There's literally anything and everything in DTLA.
Living in Downtown Los Angeles isn't just for commuting to financial, government, or hospitality jobs. Shopping and dining for every taste and budget are right at your fingertips, and you can walk to venues hosting underground bands or the biggest acts in the world.
Logistics and Transportation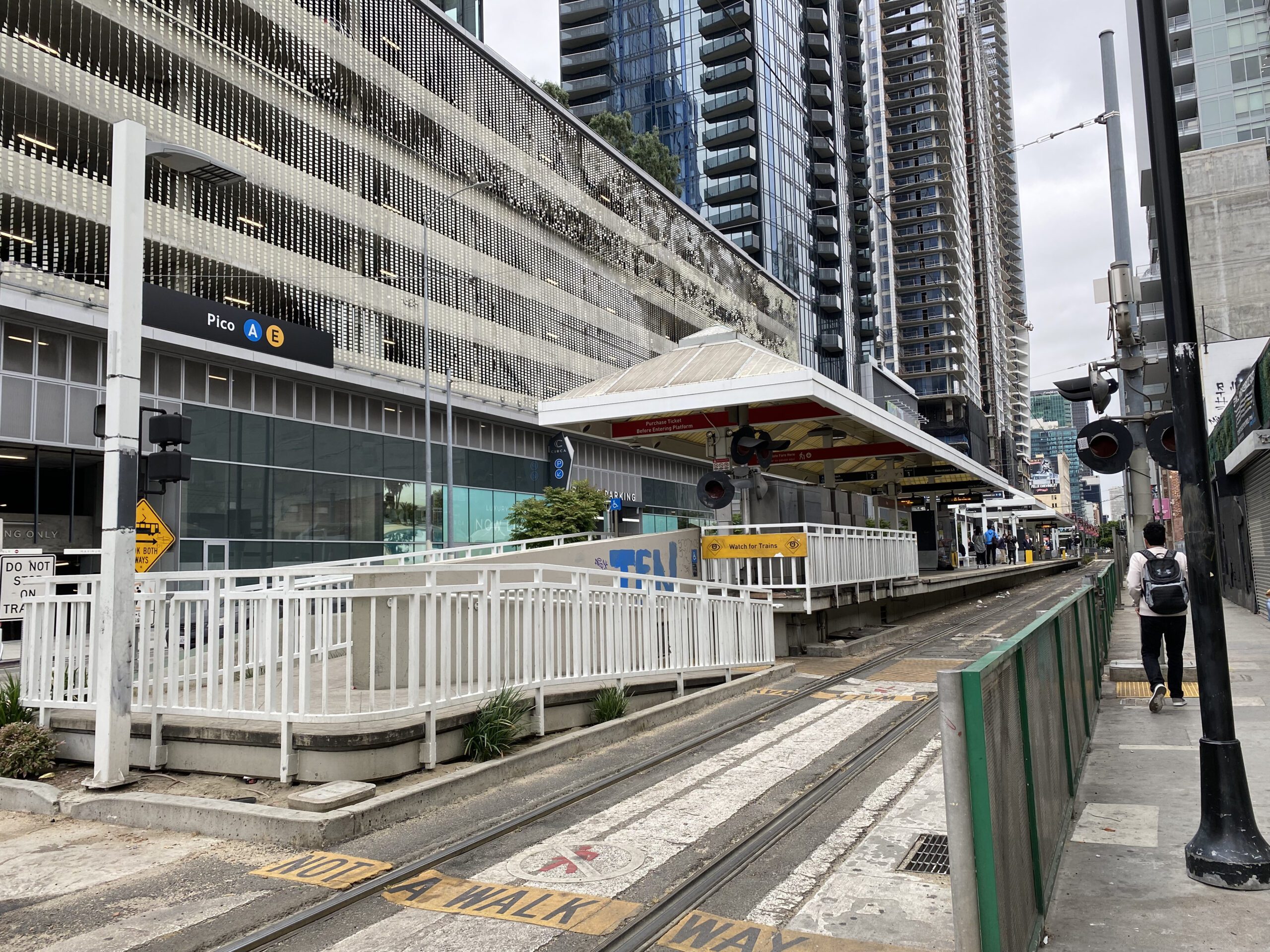 Moving to downtown Los Angeles feels like a natural move for northeast emigrants used to the density and walkability of cities like New York and Boston. Even if you're not from the northeast, you'll find DTLA to be a transit paradise in comparison to the rest of LA.
Living in DTLA makes travel to almost anywhere in the city and region a snap. It's very easy to live in Los Angeles without a car if you reside in DTLA because of the proximity to almost every Metro rail line, Metrolink and Amtrak at Union Station, and innumerable buses from Metro and dozens of other transit agencies like Foothill Transit and Montebello Bus Lines.
While there are several Metro rail stations downtown, the most notable stations in DTLA are the 7th Street Metro Center, Union Station, and Pico. Upon the completion of the Regional Connector project on June 16, 2023, three new stations will open as well and make the L gold line accessible from 7th Street Metro Center (technically, no longer the gold line but extensions of the A and E lines).
Many Metro buses and bus lines from other transit agencies serve downtown Los Angeles. They notably include multiple LADOT Dash and Commuter Express routes, Metro J silver busway to San Pedro and El Monte, Big Blue Bus R10, and Antelope Valley Transit Commuter Services.
DTLA is also bounded by multiple freeways that are so close around the downtown core, they almost converge. The 10, 110, and 101 snake around one another so that you can also drive almost anywhere to or from downtown Los Angeles.
Moving to Downtown Los Angeles | Housing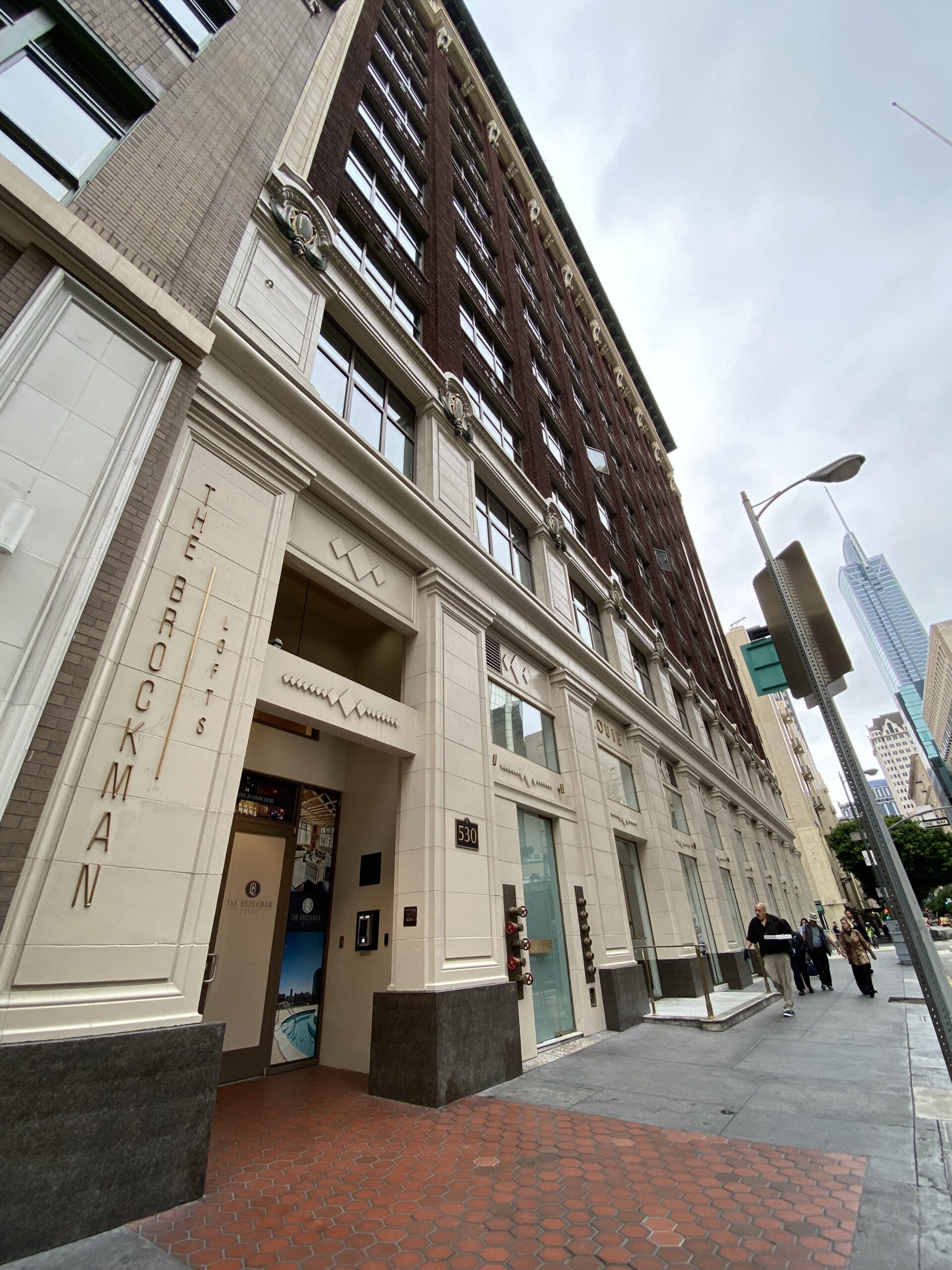 Unlike most of Los Angeles, nearly all of the housing stock in DTLA is apartments. There are almost no houses in the area save for the scant single and multi-family homes south of the 10 and north of Washington Boulevard that are technically within DTLA boundaries but outside of the downtown core.
Most of downtown Los Angeles is commercially zoned with newer mixed-use zoning that started to appear. Subsequently, newer housing stock is high-rise apartments but there are many older low-rise apartment buildings throughout DTLA as well. Older apartments with few or no amenities and lower rent can be found in Skid Row, Pico Gardens, and below 9th Street. Most of the high-rises closer to the train stations and main drags along Figueroa Street and Grand Avenue are new construction or renovated properties with more amenities that tend to have a higher price tag.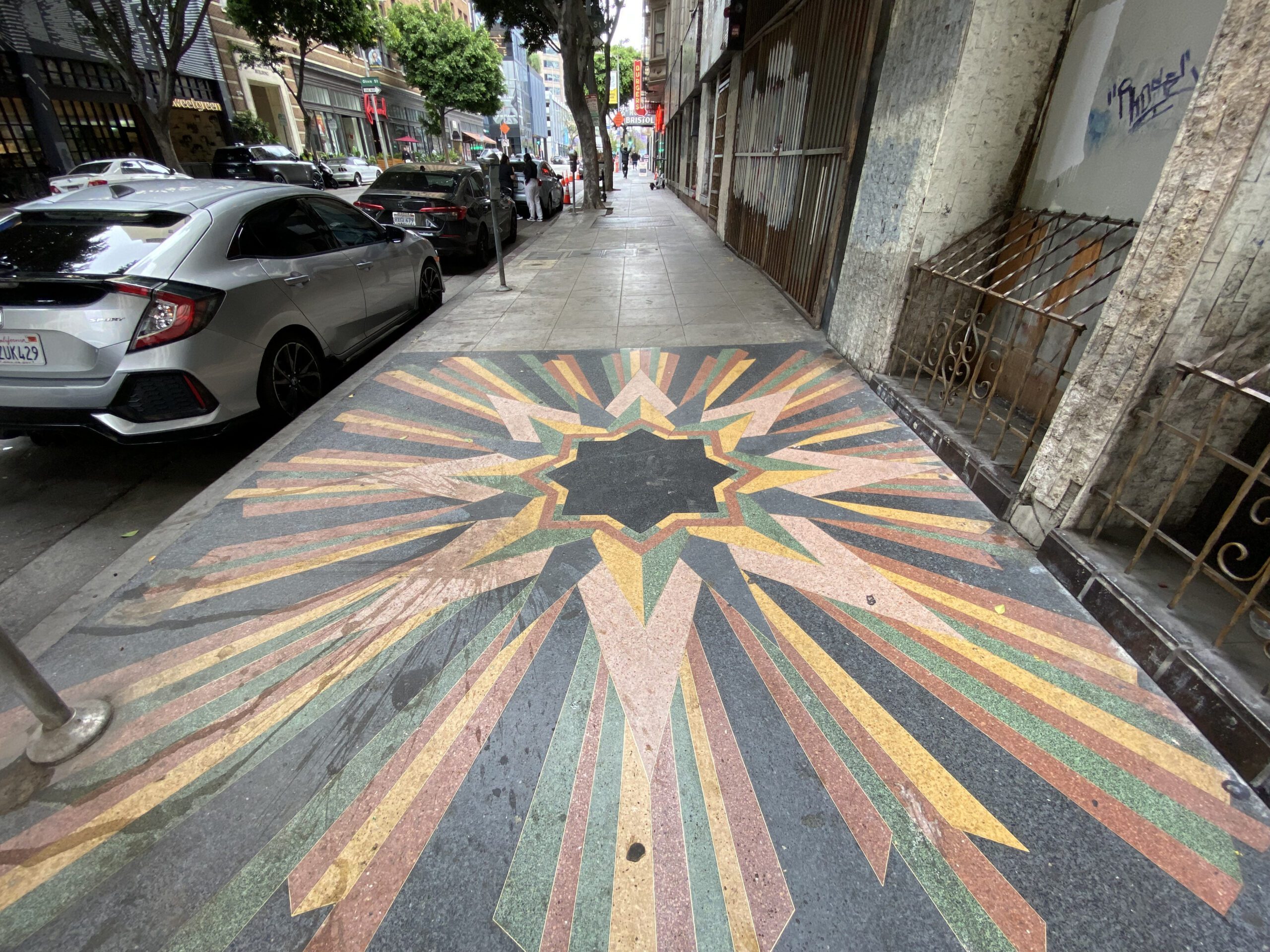 Some buildings predating the 1930s have held up in the downtown core. Converted lofts are common, often repurposed from former factories and foundries. Some DTLA lofts are available for rent but many were developed into condos. Since high-density housing isn't as strongly woven into LA's fabric as sprawl, these condos often sell for significantly less than newer condo units of comparable size in other neighborhoods.
Many Beaux Arts and Art Deco buildings and street decorations have been preserved all over DTLA.
Dining and Food Culture
Living in downtown Los Angeles is a foodie's dream. Whether it's deli and fast-casual bites for a busy afternoon or a long evening of fine dining that you're looking for, DTLA has it.
FIG at 7th and The Bloc are near the 7th Street Metro Center for the convenience of shoppers, commuters, and residents of their trendy mixed-use developments. FIG at 7th has a large food court and The Bloc has a variety of dining options within. Both are popular spots for a quick and economical lunch with plentiful outdoor seating.
Local and national fast food and casual dining chains proliferate almost every block then are punctuated by trendy fusion joints and four-star New American restaurants. Downtown destination eateries include Mrs. Fish, Otium, and storied upscale restaurant and supper club Cicada Restaurant and Lounge.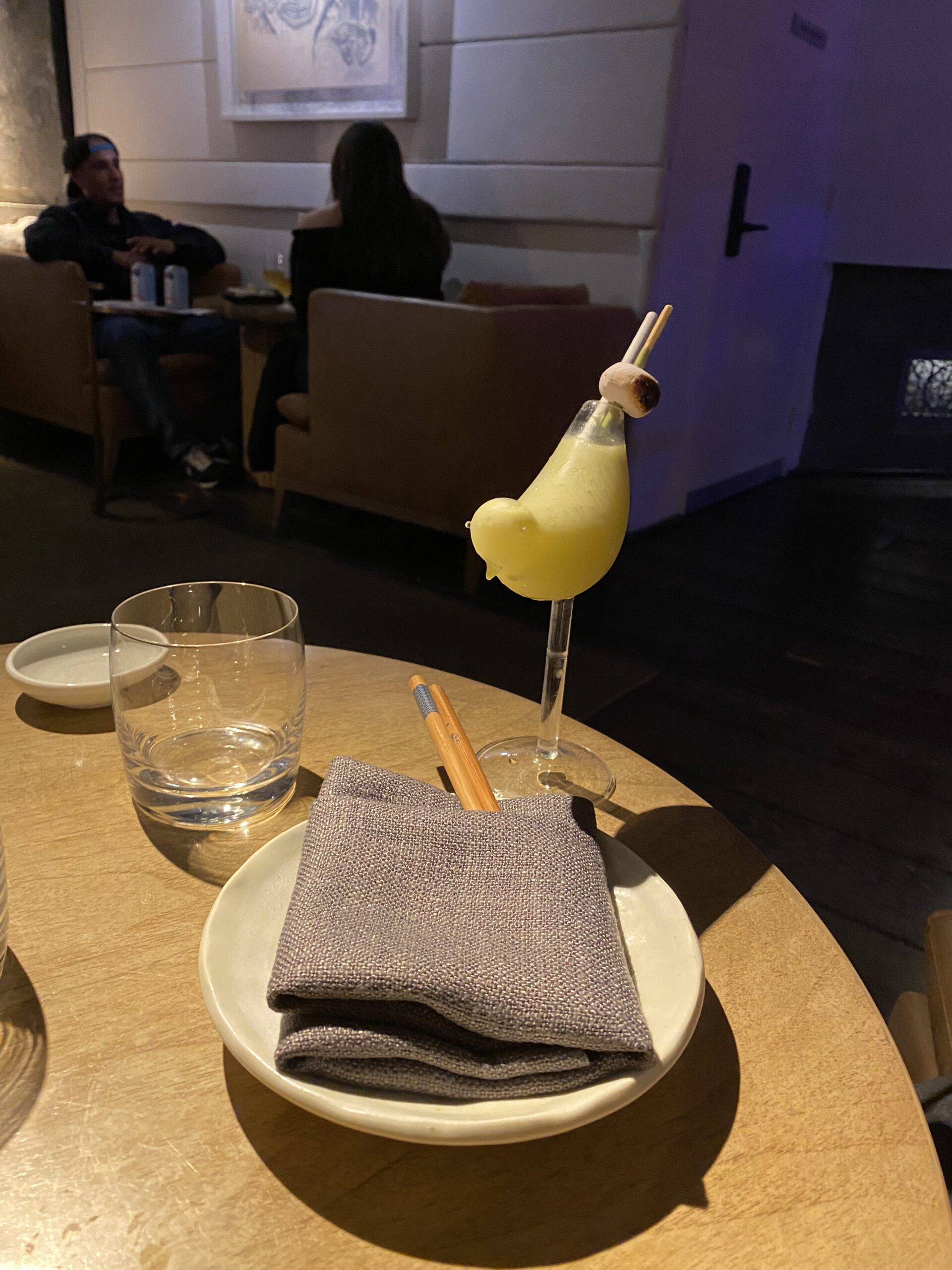 Long before indoor food halls started having a moment in American cities in the 2010s, the renowned Grand Central Market by Pershing Square originated in 1917 and is still bustling today. While a few grocers and dry goods vendors can still be found there, a majority of Grand Central Market's vendors sell cuisines from all over the globe that run the gamut from classic preparation to hipster versions of their origins. On weekends, a local crafters' market can be found in the basement with vendors selling clothing, jewelry, soaps, and other goods.
If you're a vegetarian or vegan struggling to find more than veggie burgers and salads in DTLA, Boomtown Brewery in the Arts District frequently hosts Vegan Playground which is essentially a vegan version of the Grand Central Market.
If you veer a few blocks from the gloss of Instagrammable cupcakes on Flower Street and Financial District denizens trying to impress their dates or bosses at semi-upscale franchises like Ruth Chris, you'll find unassuming Mexican restaurants with happy hour deals that feel like you went back to 1997 price-wise.
No matter how you cut it, moving to downtown Los Angeles is a paradise if you hate cooking.
Education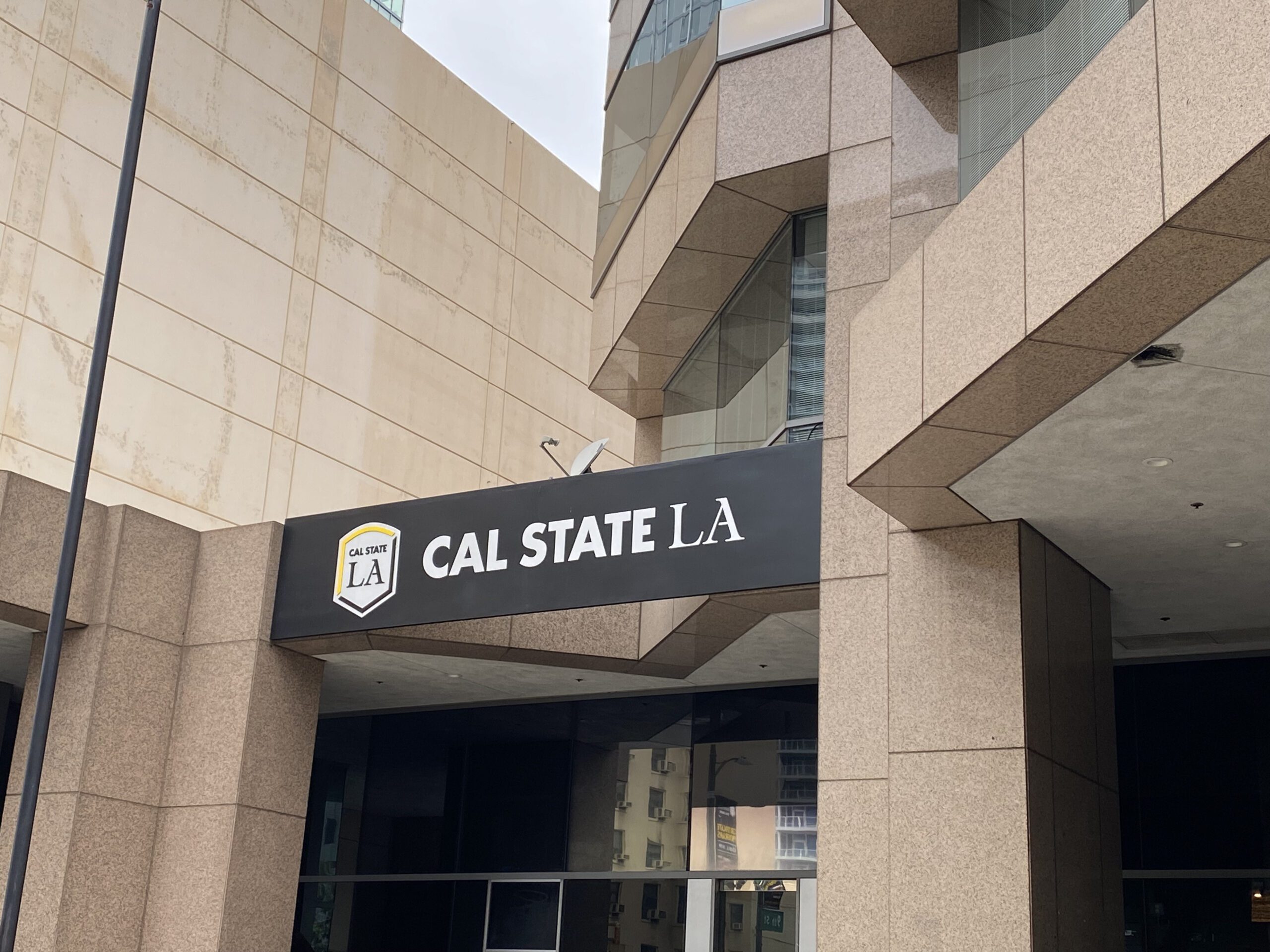 With Census and city data indicating that most households in downtown Los Angeles are single or widowed with no children (average household size of 1.6, on par with other "living alone" neighborhoods like West Hollywood), coupled with DTLA's zoning being primarily commercial, there are comparatively few public and private schools in DTLA.
Los Angeles Unified School District (LAUSD) public schools in DTLA include 9th Street Elementary, John H. Liechty Middle School, and LAUSD's largest continuation high school, Central High Tri-C and Community Day School. There are Partnership for Los Angeles Schools institutions such as Felicitas & Gonzalo Mendez High School and private Catholic schools like Mission Dolores School. Most other LAUSD schools are located just outside the bounds of DTLA and you will need to contact your district to place your child in the nearest school.
Higher education institutions in DTLA include Cal State's DTLA campus and FIDM, the Fashion Institute of Design and Merchandising.
Things to Do in DTLA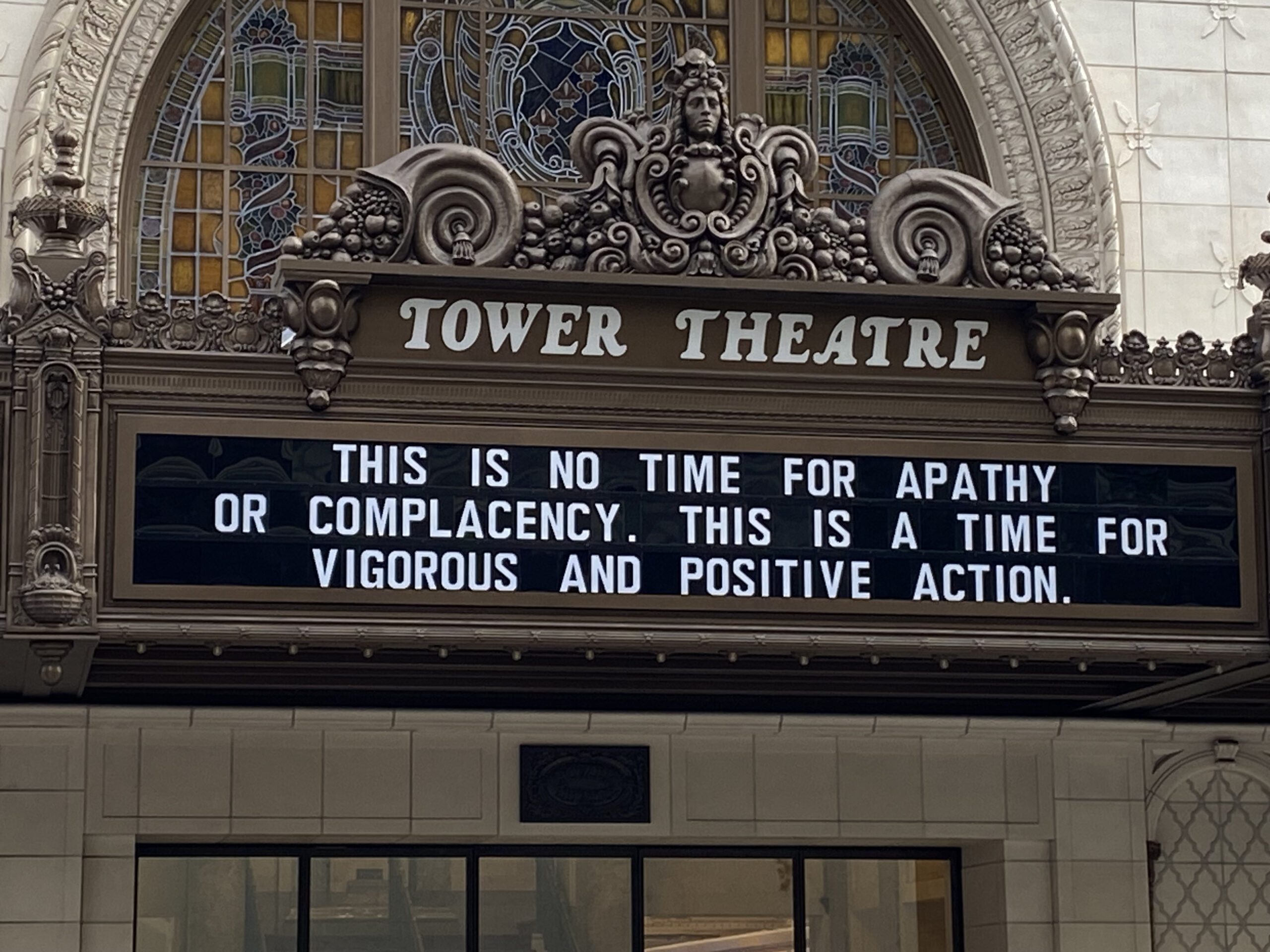 Living in downtown Los Angeles offers so much nightlife and culture outside your door. Countless bars, restaurants, lounges, and nightclubs decorate almost every block. Small parks create green dots on the map while Grand Park, Grand Hope Park, and Pershing Square offer more space to sit down and people-watch, and also offer events and free concerts. The Japanese Cultural Center also has a beautiful park and zen garden to visit.
While Los Angeles has museums and other institutions dedicated to different interests scattered around the city, many are clustered in DTLA such as The Broad, The Geffen Contemporary Art Museum, Japanese American National Museum, Museum of Social Justice, and the Quotidian Art Museum celebrating decades of Black artists in LA.
Downtown LA has several notable performing arts venues such as the Globe Theater, Microsoft Theater, and the historic Los Angeles Theater in addition to smaller niche theaters like REVIVE Dinner Theatre. The Music Center and LA Opera are across from Grand Park with the Walt Disney Concert Hall down the street, which is the home of the LA Philharmonic Orchestra.
Live music culture is alive and well in downtown Los Angeles. While more underground music scenes have found homes in bars around the neighborhood, notable metal and alternative rock bands frequently play at The Belasco. National acts play at LA Live and the Grammy Museum on-site is worth a visit if you arrived early.
When you live in downtown Los Angeles, you'll never run out of things to do.
Is Living in Downtown LA Safe?
DTLA has gotten a bad rap for having historically high crime rates. Skid Row also has negative connotations for having one of the largest stable numbers of unhoused residents since the 1930s.
Per LAPD statistics for the central precinct that encompasses downtown Los Angeles, there was a small uptick in violent crime from 2022 to 2023 but the vast majority of crimes reported are property crimes. Vehicle break-ins and thefts are the most common crimes that appear on this crime mapping tool.
Vehicle break-ins are a citywide problem but especially prevalent in DTLA because so much of the neighborhood empties out at night. Since downtown Los Angeles is more spread out and not as densely populated compared to other American downtowns, there are often fewer witnesses to deter would-be car thieves.
It's best to stay on your guard, especially at night, and avoid side streets as much as possible. Flower Street, Figueroa Street, 7th Street, and Grand Avenue are more well-lit and near stores, restaurants, clubs, and other businesses that have more people out after the commuters have left for the day.
If you're moving to downtown Los Angeles with a car and your building doesn't have parking facilities, an indoor garage will provide more protection from car thieves. If you'd rather park on the street to avoid the expense, do not keep cash, valuables, or any irreplaceable items in your vehicle.
What Area is Considered Downtown Los Angeles?
DTLA, or simply downtown, is the official name and boundary of the neighborhood as far as the government is concerned. Semantically, DTLA is composed of several small districts: the Financial District to the northwest, Little Tokyo and the Arts District to the east, the Toy District and Skid Row in the center, and South Park, the Fashion District, and the Flower District to the south.
Union Station and Cesar Chavez Avenue bound DTLA by the north, just where Chinatown begins, while Washington Boulevard right below the 10 comprises the south boundary. The 110 draws DTLA's western boundary and the Los Angeles River separates downtown Los Angeles from Boyle Heights to the east.
Each boundary and district of DTLA has a distinctly different feel. They represent a wide band of cultures, histories, ways of life, and economic classes but create a melting pot of all that makes LA a compelling place to live.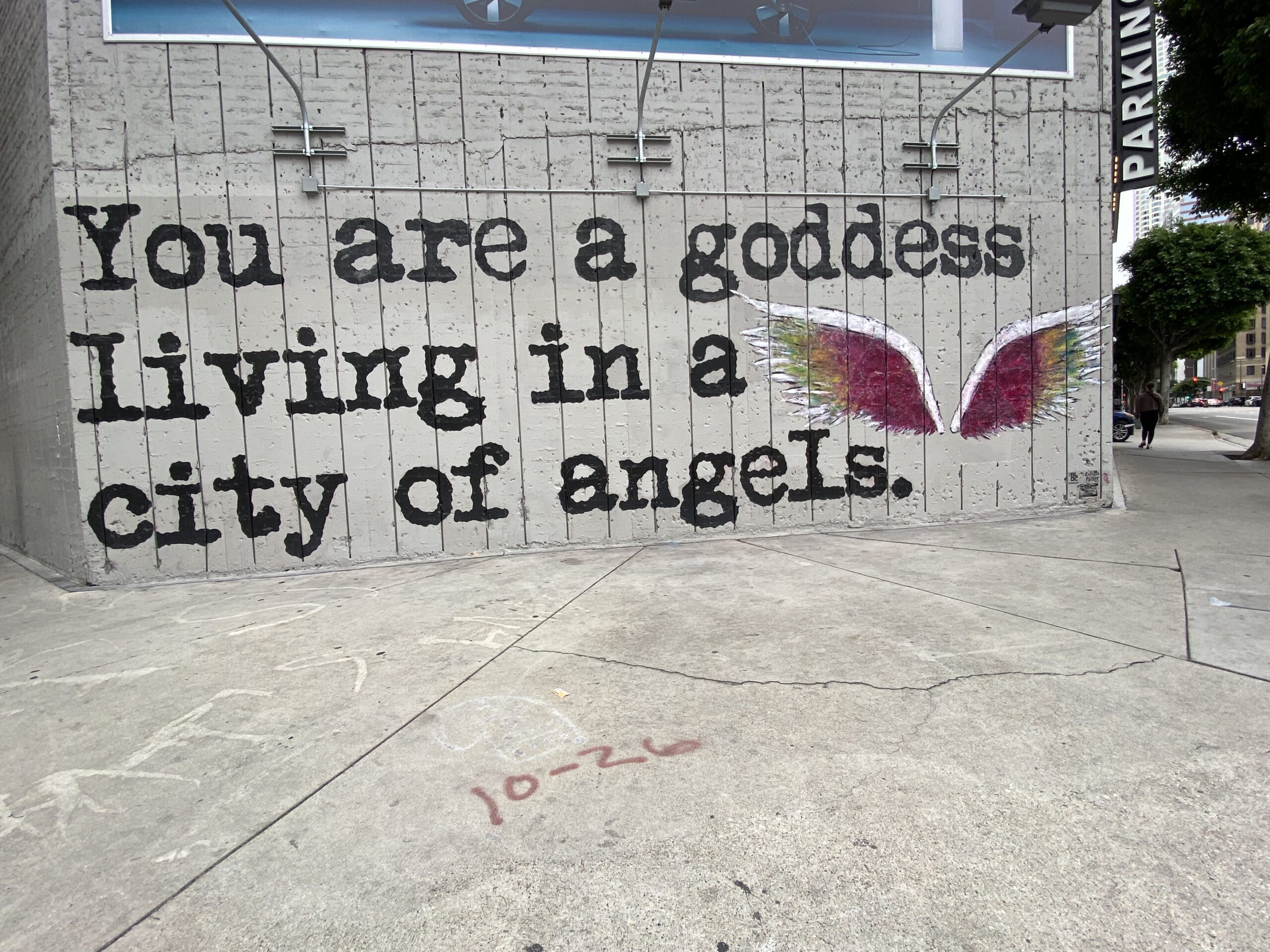 Living in downtown Los Angeles offers convenience, easy access to shopping and dining, and a highly central location that makes it easy to go almost anywhere in the city. A DTLA apartment also means the ability to live in LA without a car. DTLA is home to both well-known attractions and hidden treasures that can only be found by spending enough time there.