The best things to do in Chinatown Los Angeles entertain tourists and locals. Explore cultural treasures, shopping spots, tasty cuisine, and vibrant nightlife.
Los Angeles is a big city, and whether you're a vacationing tourist or a resident looking to explore new neighborhoods, Chinatown LA is well worth the visit.
Whoever you are, we've got you covered with some fun destinations!
If you're seeking cultural exploration, a shopping spree, delectable cuisine, or exciting nights out, Chinatown LA has something to offer everyone.
Let's journey through the top 10 things to do in Chinatown Los Angeles to ensure you have the perfect day exploring.
FAQs: Things to do in Chinatown Los Angeles
Is LA Chinatown worth visiting?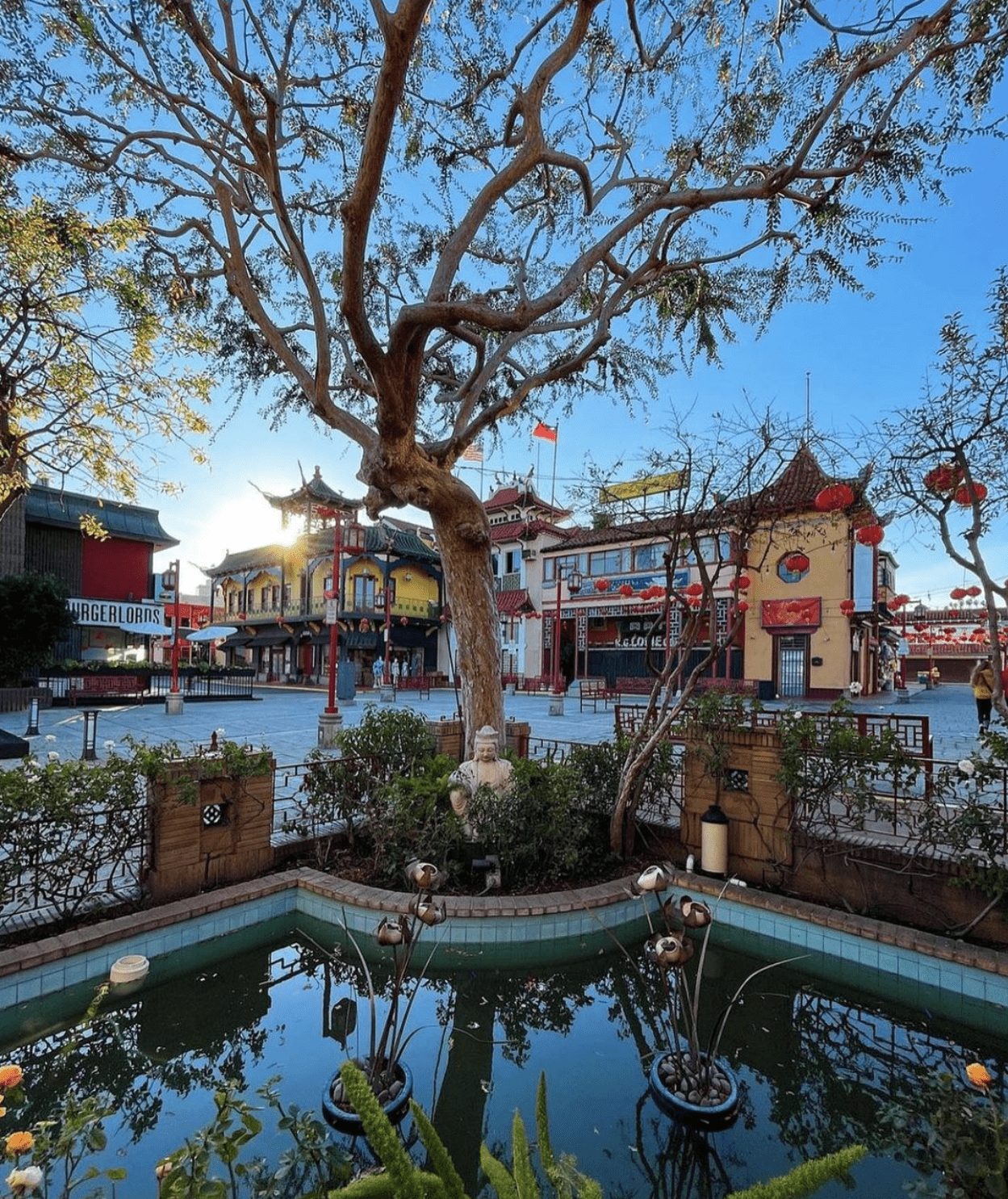 Yes, LA Chinatown is worth visiting!
The neighborhood offers many attractions, a perfect blend of history and modernity, and ample photo opportunities.
Where can I walk in Chinatown, Los Angeles?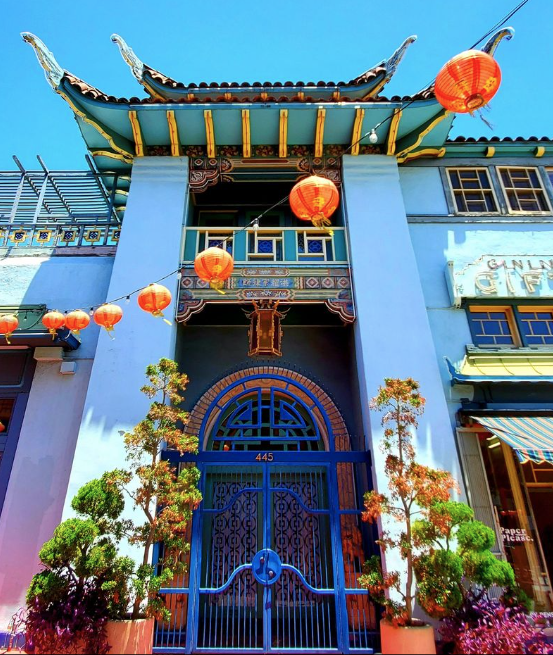 You can walk all over Chinatown, Los Angeles.
In fact, exploring on foot is the best way to fully embrace everything the area has to offer.
If you travel from surrounding neighborhoods for things to do in Chinatown Los Angeles, Los Angeles public transportation is your best bet.
The Gold Line stops at the Chinatown Station on the corner of Spring Street and College Street.
From there, it's a four-minute walk to Chinatown Central Plaza.
Chinatown Central Plaza is considered the heart of Chinatown Los Angeles.
The plaza is beautiful, surrounded by bright, colorful pagoda-style buildings. And it is a quick walk from all the locations in this guide.
If you'd prefer to start your walk from Union Station, travel via the B Line and D Line, depending on where you are in the city.
What time does Chinatown LA open?
Chinatown LA opens at varying times depending on the business.
Most establishments operate between the hours of 10 am and 6 pm.
However, some businesses open earlier, and nightlife attractions are available until roughly 2 am.
What is Chinatown Los Angeles known for?
Chinatown Los Angeles is known for its rich and immersive representations of Chinese culture.
It offers a glimpse into the city's Chinese immigrant history through traditional architecture, authentic eateries, and cultural festivals.
From traditional Chinese street stores to trendy restaurants and art galleries, the neighborhood offers diverse experiences that showcase a deep cultural identity.
Things to Do in Chinatown Los Angeles
Chinese American Museum
The Chinese American Museum offers insights into the Chinese American community's struggles, achievements, and cultural contributions through thoughtfully curated exhibitions and programs.
The museum is established within one of the oldest preserved buildings from Los Angeles' original Chinatown: the historic Garnier Building, which adds to the museum's appeal and importance.
Permanent and temporary exhibitions delve into Chinese American history and culture.
Permanent exhibitions:
Both exhibits narrate Chinese immigration to the United States, emphasizing settlement in Los Angeles.
As of July 2023, the museum is hosting two temporary exhibitions:
425 N. Los Angeles Street, Los Angeles, CA 90012
Thien Hau Temple
The Thien Hau Temple features various shrines where visitors can practice Taoist traditions through worship in a serene and spiritual space.
Mazu Shrine
At the heart of the Thien Hau Temple is the shrine dedicated to Mazu, the Goddess of the Sea.
South-eastern coastal communities in China, Vietnam, Fujian, and Taiwan heavily worship Mazu, as they all have strong cultural traditions revolving around the sea.
People seeking protection and guidance while traveling by sea worship Mazu.
Guan Yu Shrine
As one of China's most historically prominent military generals, Guan Yu is known as the Taoist God of War.
The Guan Yu Shrine honors the God of War as a symbol of unwavering loyalty and righteousness.
Visiting the Guan Yu shrine at the Thien Hau Temple offers insight into the Taoist tradition's values and beliefs.
Fu De Shrine
The Fu De Shrine, dedicated to the God of Wealth, is where devotees seek blessings for prosperity and abundance.
The beliefs and practices surrounding Fu De's worship reflect the Taoist philosophy of harmony, balance, and the pursuit of good fortune.
When visiting Thien Hau Temple, it's important to observe appropriate behavior, dress code, and photography guidelines to respect the sanctity of the space.
756 Yale St, Los Angeles, CA 90012
Chung King Road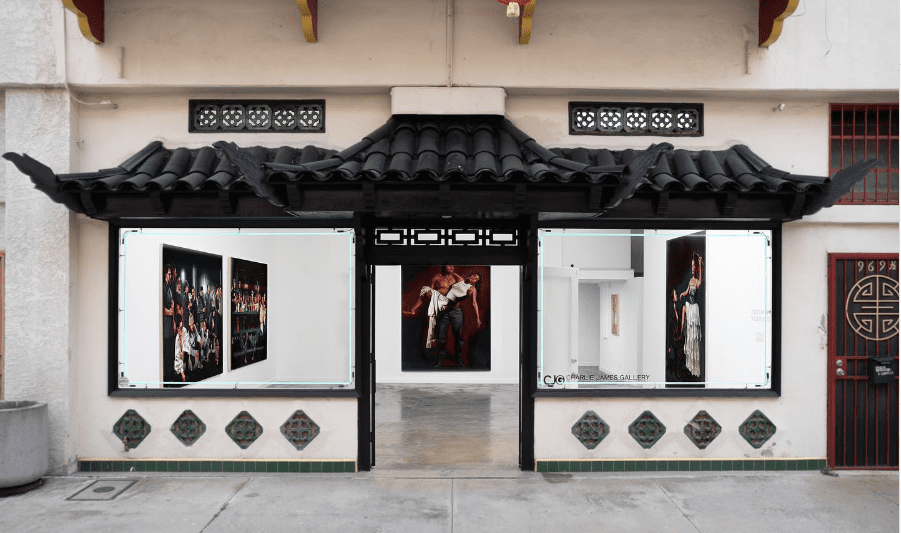 If you appreciate contemporary art, visit the galleries lining Chung King Road in Chinatown Los Angeles.
Some of the most frequented galleries include:
For those seeking an extraordinary encounter with self-taught artists and outsider art, The Good Luck Gallery is an unmissable destination on Chung King Road.
The gallery invites visitors to experience the untamed brilliance of unfiltered creativity by spotlighting artists marginalized or overlooked by conventional art establishments.
945 Chung King Rd, Los Angeles, CA 90012
The Charlie James Gallery is a beacon of artistic expression with a social and political conscience.
The featured artwork often tackles themes like identity, inequality, and environmental concerns to show visitors how art can impact society and generate positive change.
969 Chung King Rd, Los Angeles, CA 90012
Chinatown Los Angeles Shopping Centers
Central Plaza
Established in 1938, the Central Plaza is the oldest part of Chinatown, earning the nickname "Old Chinatown Plaza" as a result.
The plaza is a hub for Chinatown Los Angeles shopping. There are 15 stores housing everything from crafting materials to books and traditional Chinese teas.
Hungry visitors also have seven eateries, a sit-down restaurant, and a couple of bakeries to eat at.
And remember to commemorate your visit with photos beside the statue of Dr. Sun Yat-sen– a revisionist Chinese leader–and a 7-foot-tall statue of Bruce Lee.
943 N Broadway, Los Angeles, CA 90012
Saigon Plaza & Dynasty Center
Saigon Plaza & Dynasty Center is a flea market-style shopping center comprised of small local businesses.
Stalls are set up throughout the plaza, with owners selling everything from clothes, handmade jewelry, and small trinkets to ripe fruit, fresh juices, and traditional Asian street food.
In recent years, gentrification efforts have challenged and disrupted the livelihood of shop owners with stalls at Saigon Plaza.
Despite these challenges, the plaza continues to thrive as a popular Chinatown Los Angeles shopping destination, thanks to the support of the local community and visitors like you.
800 N Broadway, Los Angeles, CA 90012
Best Restaurants in Chinatown LA
Yang Chow Restaurant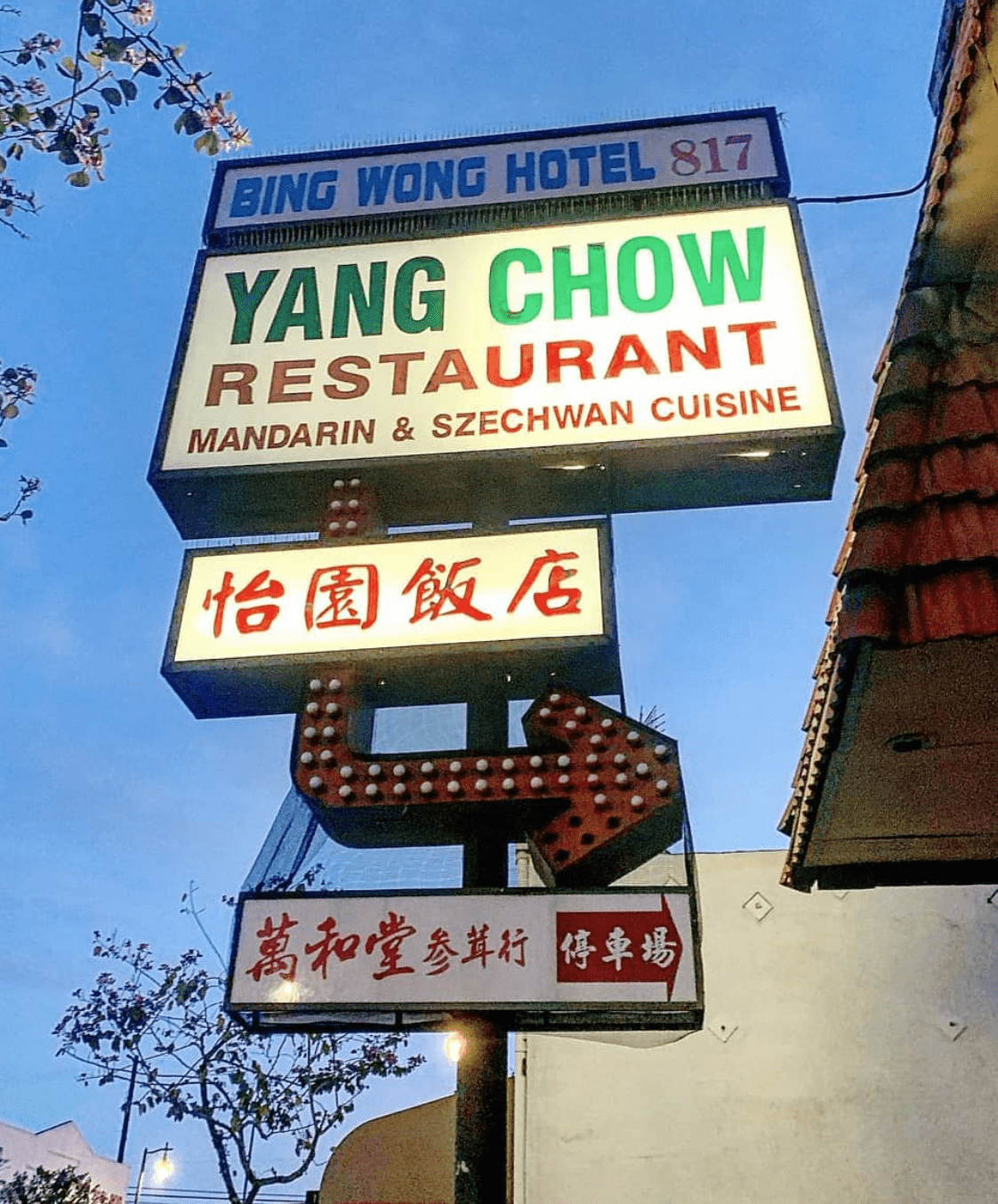 Yang Chow is a family-run establishment that opened its doors in 1977. Over the years, several generations of cooks and restaurateurs have been born into the Yun family.
The family's culinary expertise led to their signature dish: Slippery Shrimp.
With the new menu item skyrocketing in popularity, the 1980s brought Yang Chow Restaurant many diners.
Today, the Slippery Shrimp remains their most-ordered dish, a can't-miss city staple. As a tourist or a Los Angeles resident, Yang Chow is one of the best restaurants in Chinatown LA.
819 N Broadway, Los Angeles, CA 90012
Nick's Cafe
Nick's Cafe has been a prominent diner in Chinatown since the first customers sat at their countertop in 1948.
The vibe is homey and nostalgic, with old pictures of the city scattered across the walls. Like a traditional diner, the meals are hearty and plentiful while remaining affordable.
Whether you have a taste for pastrami-topped chili cheese fries or fluffy pancakes, Nick's Cafe serves every diner food imaginable.
The true star of the show is their ham and eggs. Simple and sweet, regulars and tourists alike are drawn to their specialty dish.
1300 N Spring St, Los Angeles, CA 90012
Far East Plaza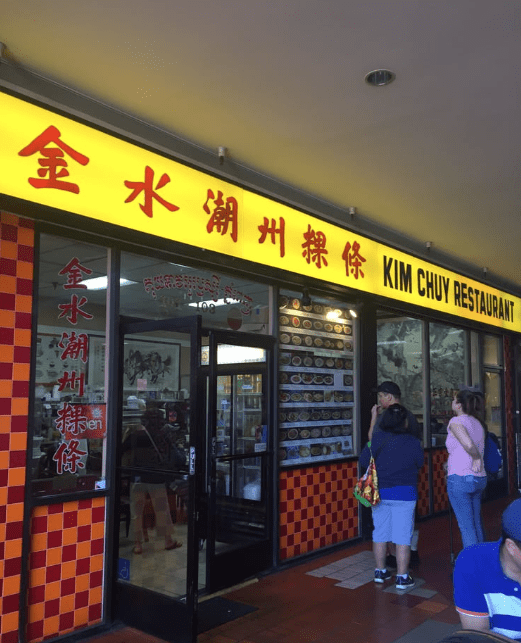 Far East Plaza is an iconic food mall that has left mouths watering since its inception in 1976.
Stop by Endorffeine for a fresh cup of specialty coffee before heading to Kim Chuy for Chinese doughnuts and leek cakes.
Qin West Noodle is worth a visit for decadent noodle-based dishes, and pho fanatics will appreciate Thien Huong, a small establishment with bold flavors.
If you're craving something spicy and have time to spare, Howlin' Ray's Nashville Hot Chicken is a super trendy fried chicken spot at Far East Plaza.
Whether you're a fan of authentic Asian street food or contemporary pop-up eateries, Far East Plaza has a meal everyone in the group will enjoy.
727 N Broadway, Los Angeles, CA 90012
Chinatown Los Angeles at Night
General Lee's Cocktails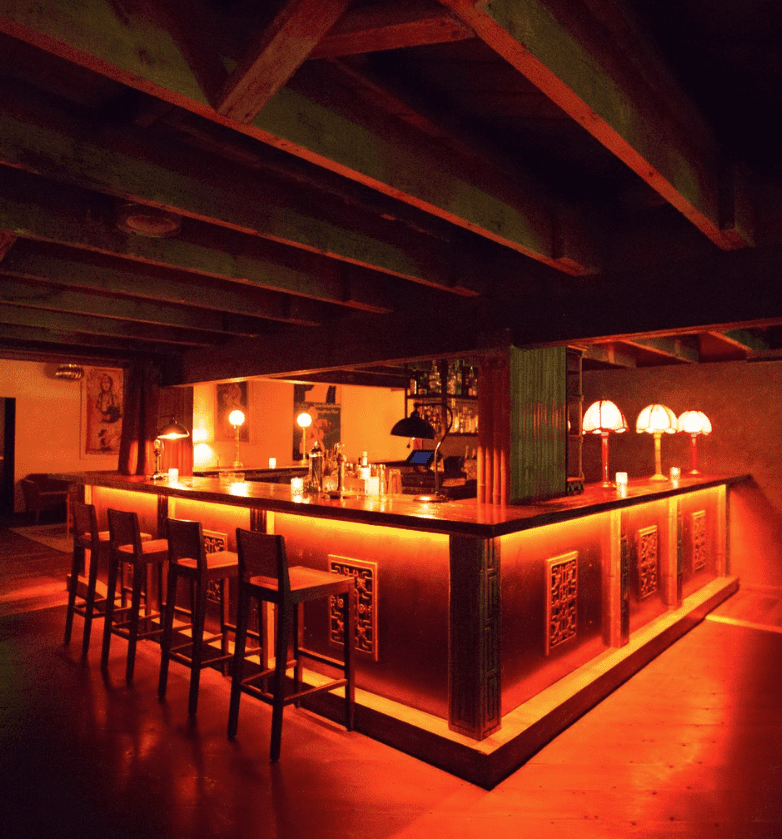 Say hello to Chinatown at night, Los Angeles! You're in for a treat with a night out at General Lee's Cocktails.
General Lee's is a unique cocktail bar that blends ancient culture, classic style, and contemporary seasoning.
The vibe is sophisticated yet warm and welcoming, with residents and tourists regularly visiting the bar.
The cocktail menu at General Lee's offers many options and is a clear testament to the fusion of traditional Asian flavors with modern mixology techniques.
475 Gin Ling Way, Los Angeles, CA 90012
Melody Lounge
If you're eager to experience Chinatown Los Angeles at night, stop by Melody Lounge, a cozy nook in the Chinatown neighborhoods serving an impressive local craft beer collection, plus a growing cocktail and wine menu.
The ambiance at Melody Lounge tends to be mellow, with red lanterns strung across the ceiling and a vinyl record spinning in the background.
However, if you're in the mood for a night of music and laughs, check out the Lounge on Sundays when the space is extra lively for karaoke night!
939 N Hill St, Los Angeles, CA 90012
This article showed you the best things to do in Chinatown Los Angeles.
If you're looking for the best things to do in Chinatown Los Angeles, the neighborhood offers a captivating blend of culture, history, and excitement that you can't pass up.
Whether you're here on vacation or a resident playing tourist, it's always fun to wander the day away in Chinatown, Los Angeles.