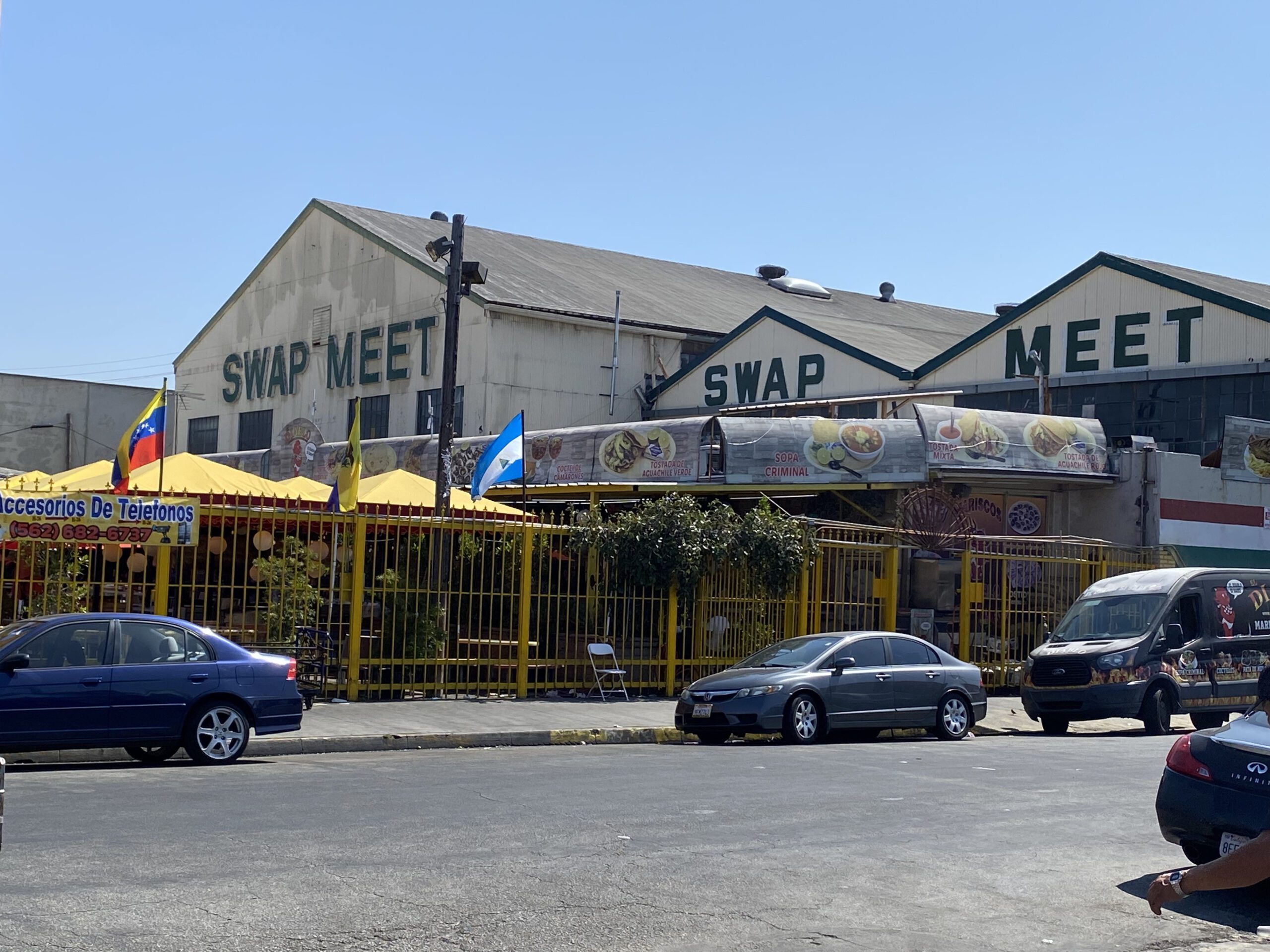 Every city has its share of thrift stores, occasional outdoor markets, and big indoor flea markets. But Los Angeles swap meets are truly a class of their own.
Los Angeles swap meets and flea markets are an important part of the city's culture. No matter where you go throughout the city and county, you're bound to find some type of swap meet tailored to every income bracket, culture, and interest. There are even specialty markets like the Brujita Market, Vegan Playground that focuses on vegan food and goods, and 562 Flea that originated in Long Beach but pops up all over the city for niche vendors selling subcultural art and goods.
On both weekdays and weekends, you can find assortments of used goods for bargain prices or curated selections of unique artisanal creations all the way from the Valley to Long Beach. Outdoor and indoor Los Angeles swap meets connect communities and give small entrepreneurs opportunities to widen their customer bases.
Here's the lowdown on Los Angeles swap meet history and culture, and some popular swap meets and flea markets you can plan a visit to.
What's the Difference Between a Swap Meet and a Flea Market?
According to American Flea Market, swap meets are rather informal, barter is welcomed, and goods are usually pre-owned and from the vendors' personal belongings. Flea markets are defined as large open spaces where you need to pay for goods that were created by the vendors or sourced by them similarly to a retail store.
However, Los Angeles swap meets and flea markets tend to use these terms interchangeably. Some of the swap meets and flea markets are held outdoors but there are also indoor and hybrid events. Flea markets tend to be one-time or recurring events where vendors need to secure booth space every time the event runs. Swap meets can operate in a similar manner, or offer more long-term space rental similar to a traditional brick and mortar store.
The History of Los Angeles Swap Meets
Swap meets and indoor flea markets are one of many unique features to southern California, Los Angeles in particular. In South LA Recap's highlight of Slauson Swap Meet, they note that swap meets really became ubiquitous throughout LA in the 1980s.
Los Angeles swap meets date back to the 1930s with baseball card traders and a burgeoning car culture causing people to trade for auto parts. The swell of flea markets began to take after the tianguis (open-air bazaars) of Mexico and Central America by the 1970s.
Come the 1980s and 1990s, factories were abandoned once manufacturing offshored or smaller companies went out of business. South and central LA in particular faced significant rates of abandoned properties during this time. The large structures were repurposed as indoor swap meets or "discount malls" by immigrant communities, usually Korean and other East Asian vendors.
Widespread deindustrialization throughout the greater Los Angeles area led to a wellspring of indoor swap meets, where the appeal was that you could buy inexpensive electronics or custom-printed T-shirts that you couldn't just pull off the rack at a typical retail store. The emphasis went from used goods to new items that didn't involve a long drive and checkout and might not be readily available at local stores.
Indoor swap meets provided entrepreneurship opportunities for vendors and convenience for shoppers, not to mention a place for people to gather and engage with their communities. From a business perspective, multiple vendors with fixed stall space could try selling a new product or service for significantly less money than opening their own shop while the owners didn't have to rely on just one or two anchor stores to keep the rent paid.
This is why swap meets, discount malls, and flea markets are still thriving in LA today, especially in immigrant and minority communities. They provide a crucial community space that relies on small vendors instead of large corporate chains that were once seen in shopping malls. Renting a stall at an indoor swap meet costs less than starting your own freestanding retail store and also provides more consistency than occasional presence at flea markets and other events.
Types of Los Angeles Swap Meets
The definitions of flea market and swap meet have been muddled in 2020s language. But there are certainly different types of flea markets and swap meets throughout Los Angeles:
Outdoor, indoor, and hybrid markets
Markets focusing mostly on used goods
Markets focusing mostly on high-end or artisanal goods
Food-centric events
Niche markets, like heavy metal and cannabis-themed flea markets
Night markets that purposely subvert the early hours most Los Angeles swap meets and flea markets operate
Location-specific swap meets and flea markets, like Los Feliz Flea and Santa Monica Swap Meet
Floating-location events that constantly change venues, like 562 Flea, or operate between multiple locations like Vegan Playground
Tips for Shopping at Los Angeles Swap Meets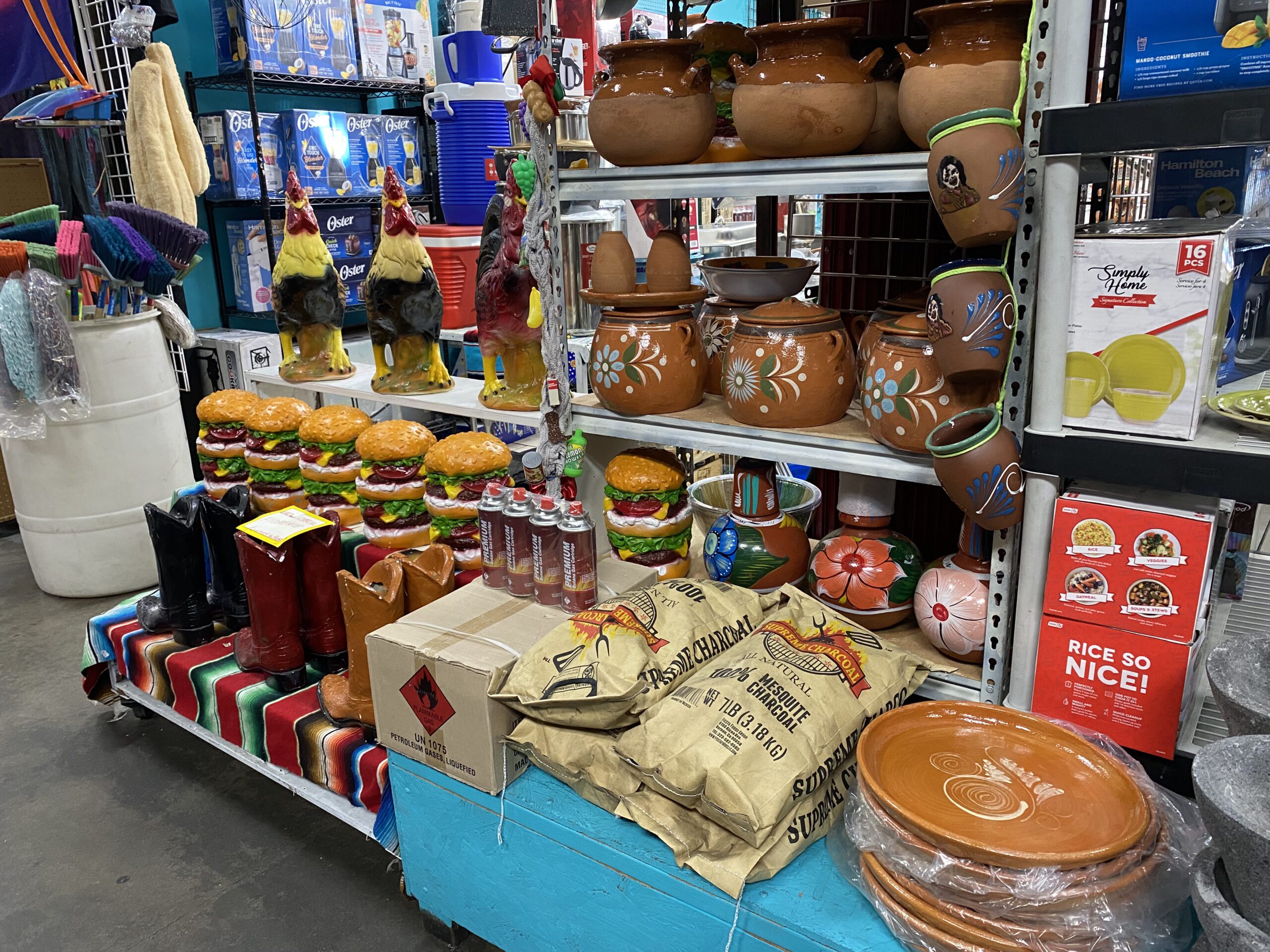 Going to swap meets, flea markets, and other unusual markets is one of the best perks of living in LA! Even if you leave empty-handed, they're always fun to check out and each one can be radically different.
If you've never shopped at a swap meet before, you should come in with an open mind and view it more as an experience. It's a way to people-watch or socialize rather than specifically needing to buy something, unless you're familiar with the event and know what type of vendors to expect.
It's best to research the swap meet you want to attend first. This way, you'll know how to prepare and what types of vendors you're likely to find. Some vendors only accept cash and it can be prudent to bring your own tote bags or keep a foldable wagon in your car in case you spy something heavy you'd like to take home. You can read about the markets we hit below, so you know what to expect!
Tips for Selling at Los Angeles Swap Meets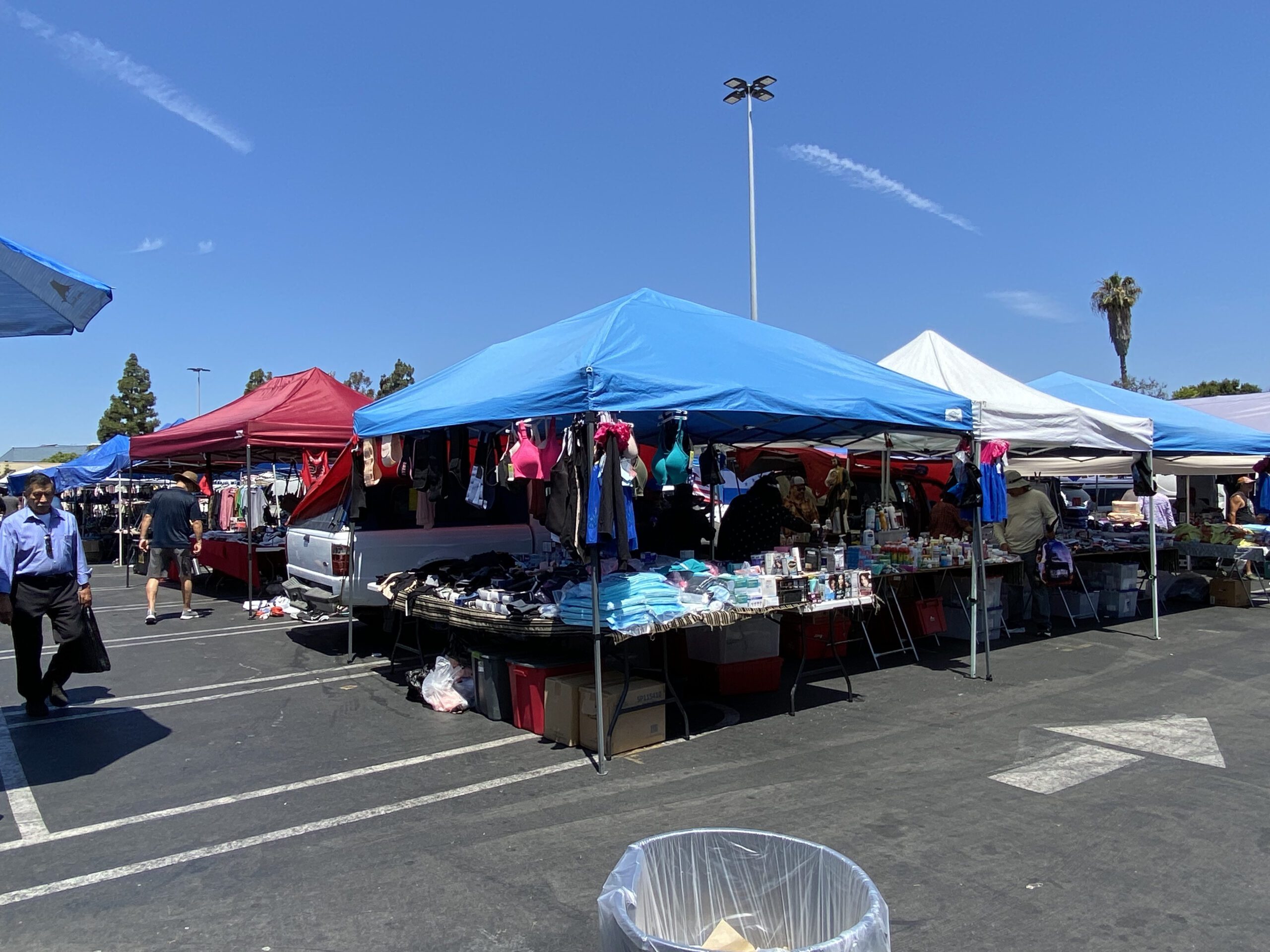 Vending at occasional flea markets and longer-term commitments like discount mall stalls could be a whole separate article. But if you're thinking about selling at these events, it's a good idea to attend them once or twice before you spend the money on booth rental and supplies.
Check out what kinds of goods and services are sold and what the attendees are most excited about. Most of all, what are they actually purchasing? Take note of income brackets and other demographics as it will help you determine what is the best to sell. Is it an event where you should have a polished and curated display of high-priced items, or one where a large pile thrown onto a table is acceptable because you just want to offload some stuff? One where you should have both a card reader and a cash box, or where it's acceptable to go card-only or cash-only?
If you do commit to a booth, talk to the vendors near you. Whether they're doing it the first time or are experienced sellers, you have much to learn from one another!
Roundup of 5 Los Angeles Swap Meets, Flea Markets, and Discount Malls
LACC Swap Meet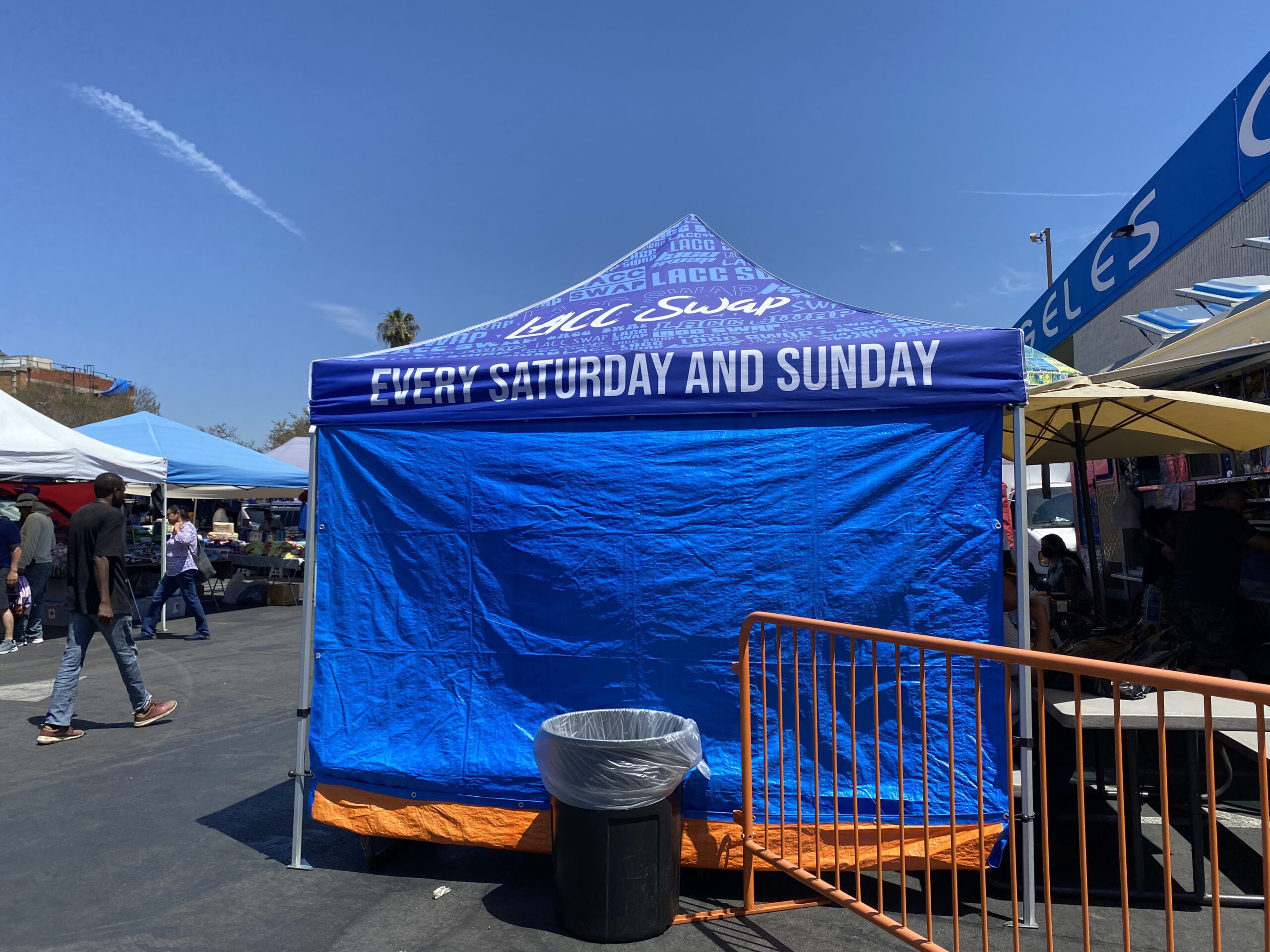 Location: 4133 Marathon Street on Vermont Avenue, entrance is through LACC parking lot
Hours: Saturdays and Sundays 9AM-3PM
Entry Fee: $2
What to Expect: Wide variety of new and thrifted goods including clothes, fashion jewelry, personal care items, car accessories, tools, and food
How to Prepare: Bring tote bags and cash
LACC Swap Meet is a weekend open-air bazaar that is held in LACC's parking lot. It captures the original essence of outdoor swap meets and flea markets in that columns of vendors often feel like one giant thrift store.
Vintage goods from all eras can be found in various states of use and newness on disorganized tables and neat displays alike.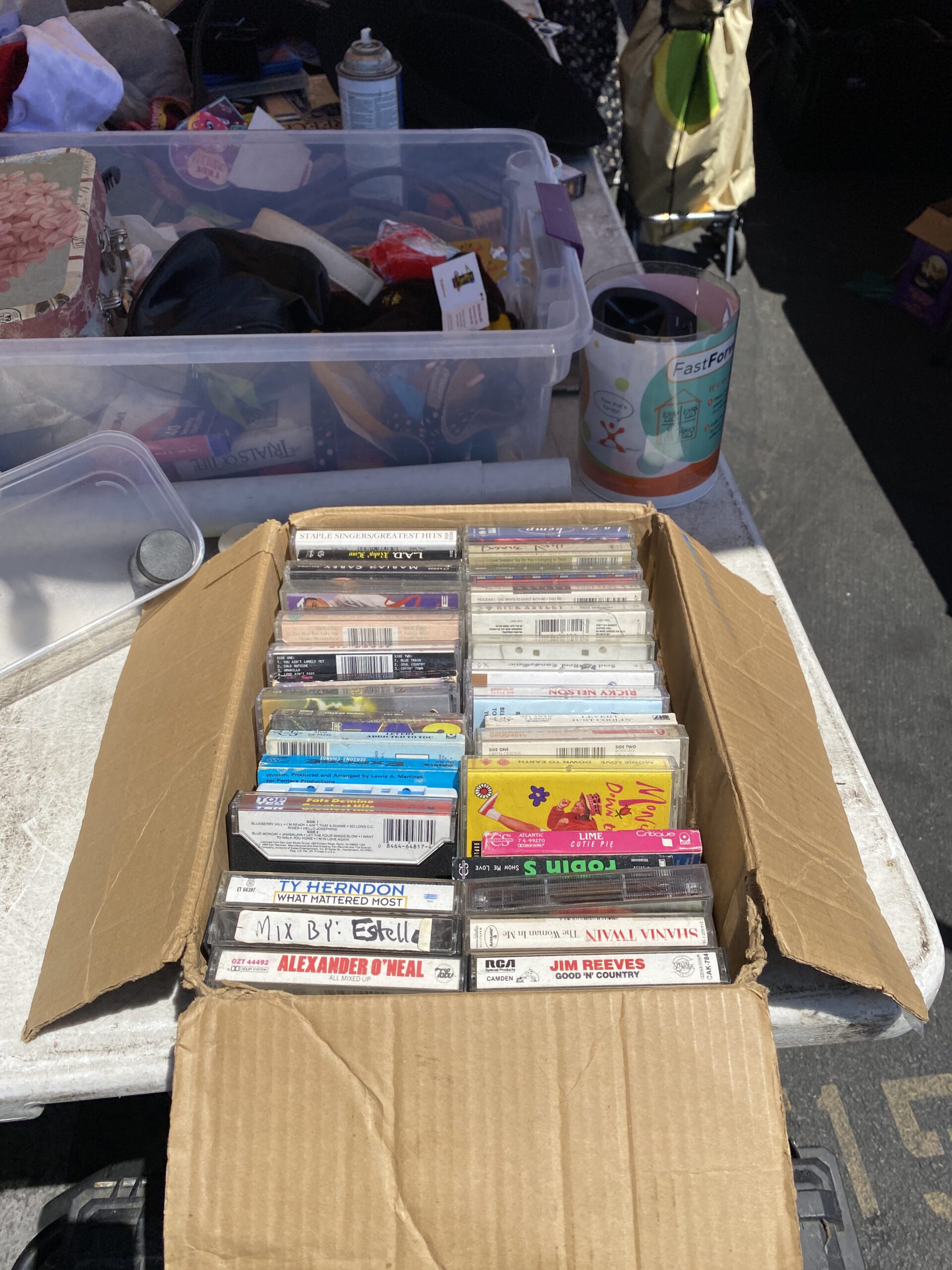 Clothing, jewelry, and accessories ranging from gently used to new items at bargain prices are a common sight at LACC. Some vendors, like this large group of tables full of childrens' shoes, offer both new and used options. Other vendors expressly focus on thrift with items available for as little as $1.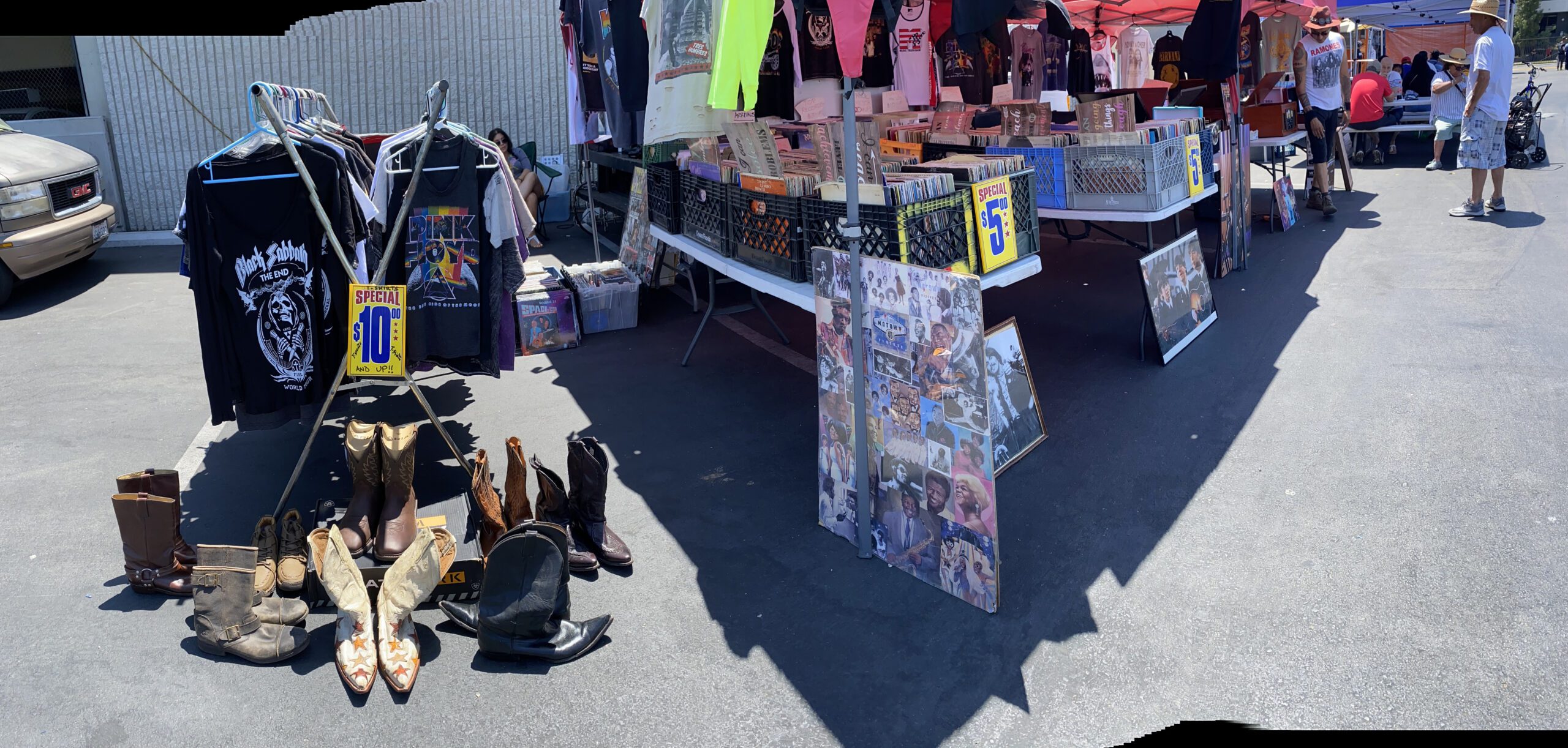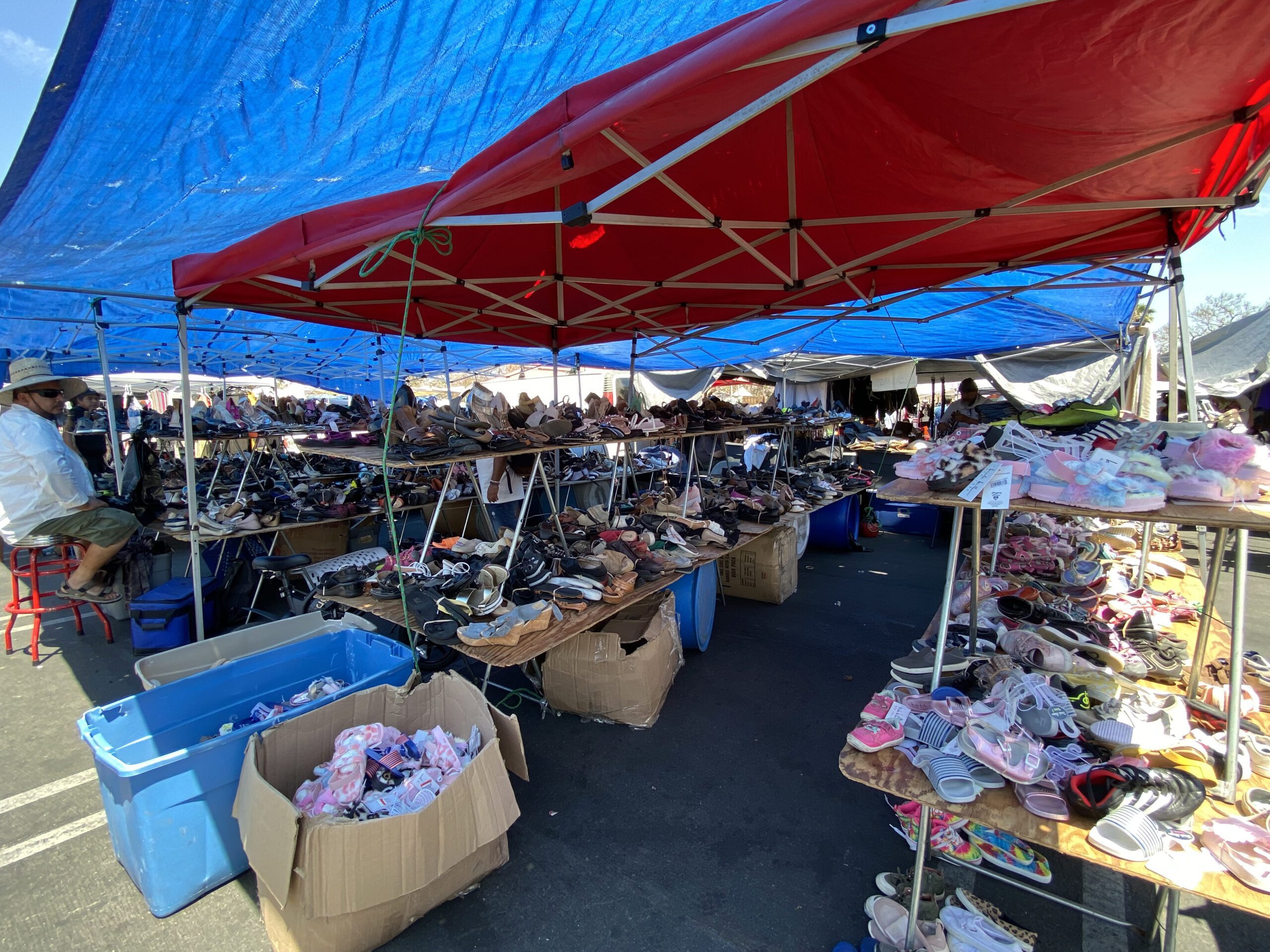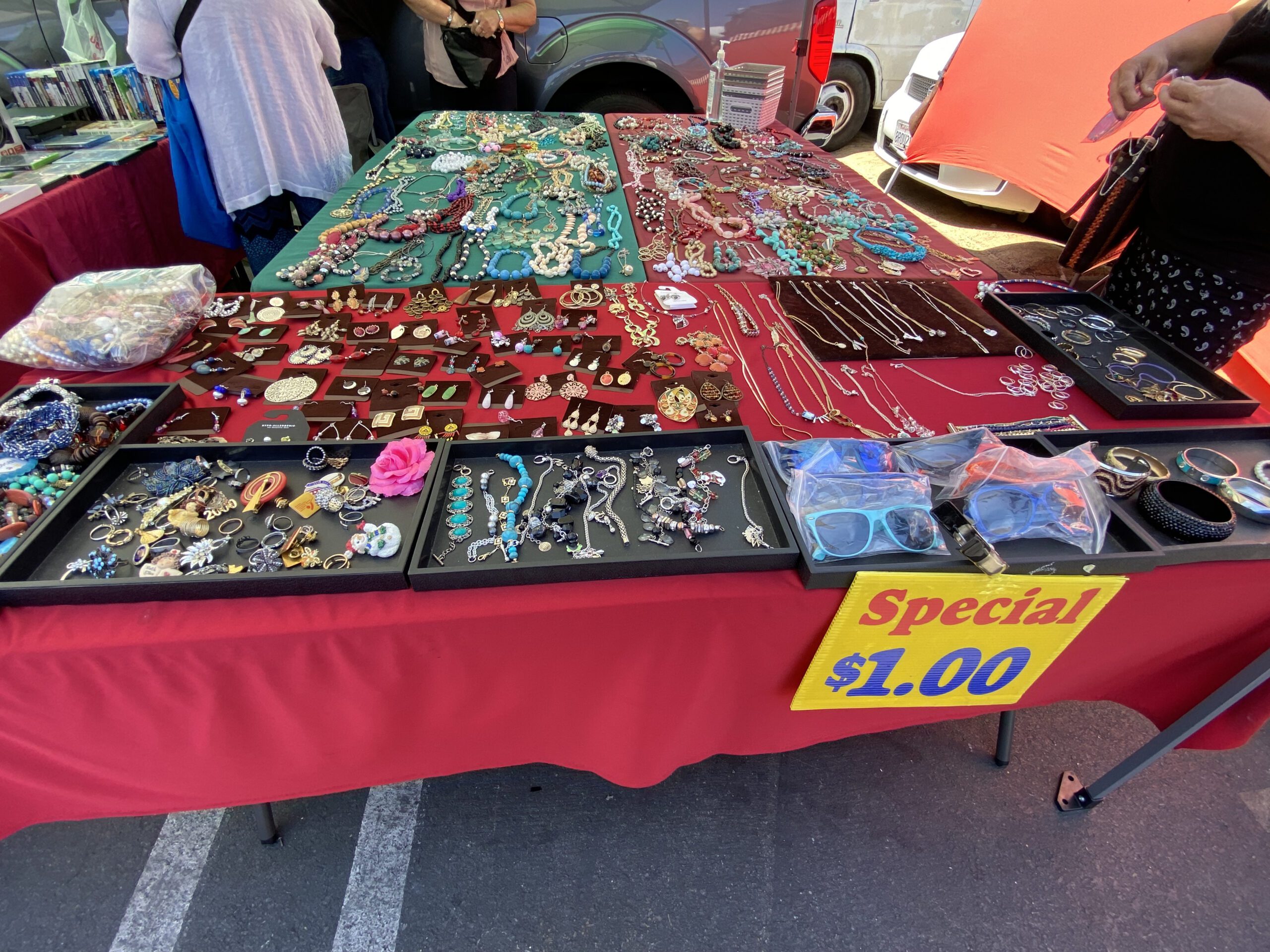 Some vendors offer a wide variety of items, like this random pile of electronics. Others pick something specific to focus on, like this vendor selling used tools.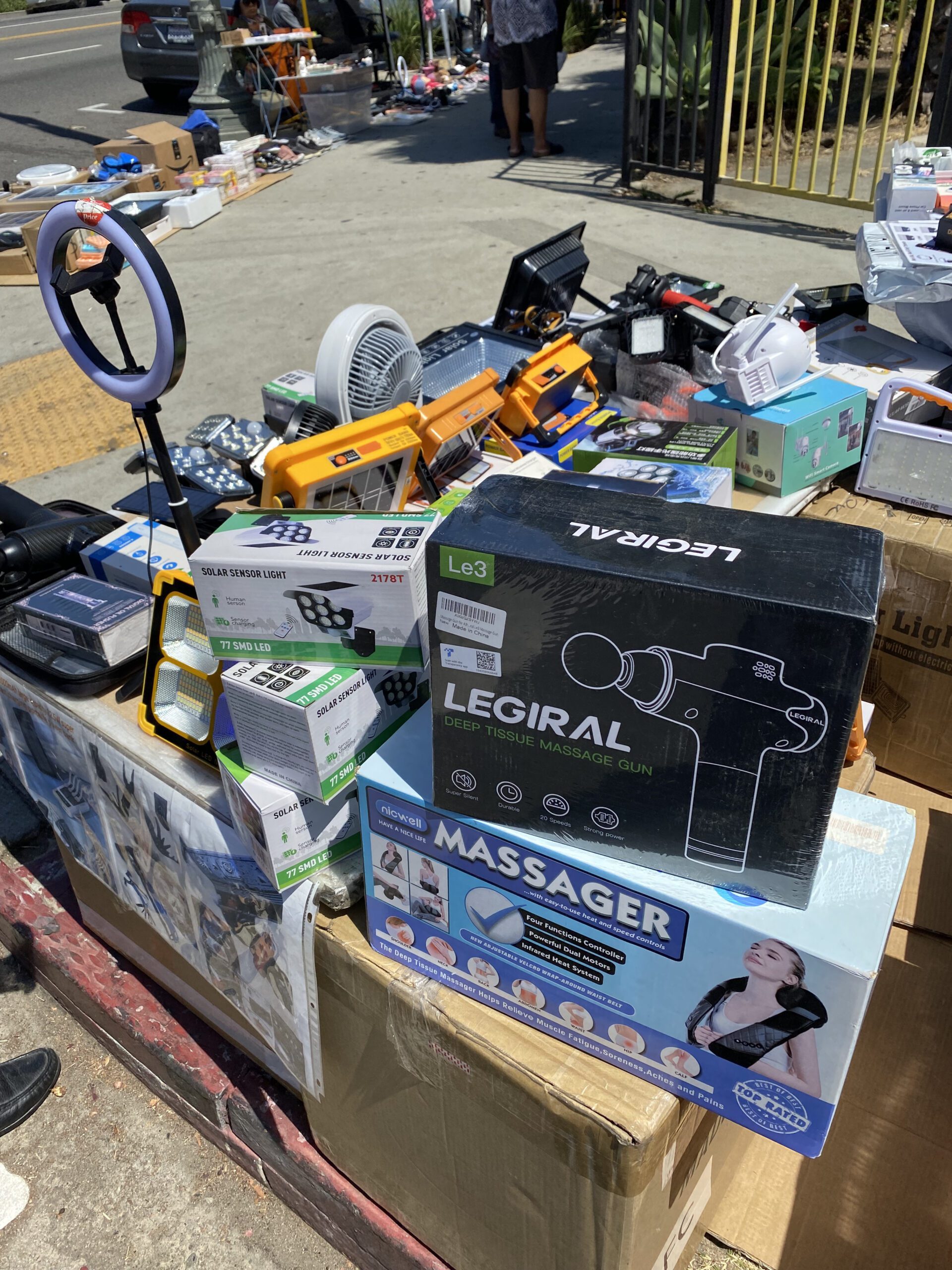 Many LACC Swap Meet vendors are true to the origins of swap meets. They offer thrifted used goods whether they're old business inventory or items from personal collections they just want to offload. With indoor swap meets being a unique cultural microcosm of LA in that they offer convenience, the outdoor one in LACC's parking lot is no exception.
Vendors sell new items like toothpaste and other toiletries. Sales representatives from renowned multi-level marketing companies like Avon and Tupperware reach a wider range of buyers by setting up a table at the swap meet to sell goods in person. A PPE vendor sold masks, robes, gloves, and other items to care workers and the disease-conscious. Brand new protective mats for your car could also be found at a more polished stall laid out like a small retail store.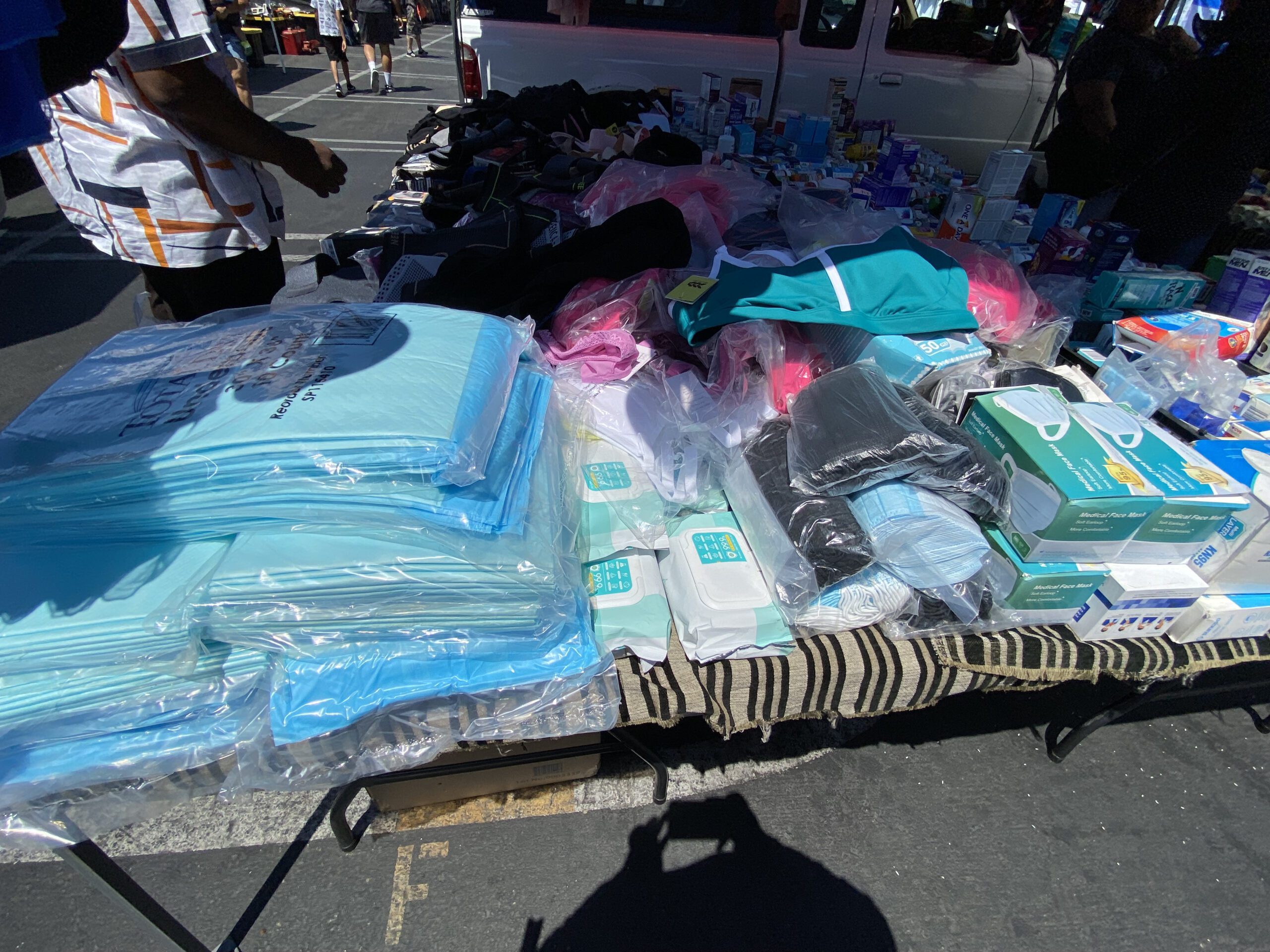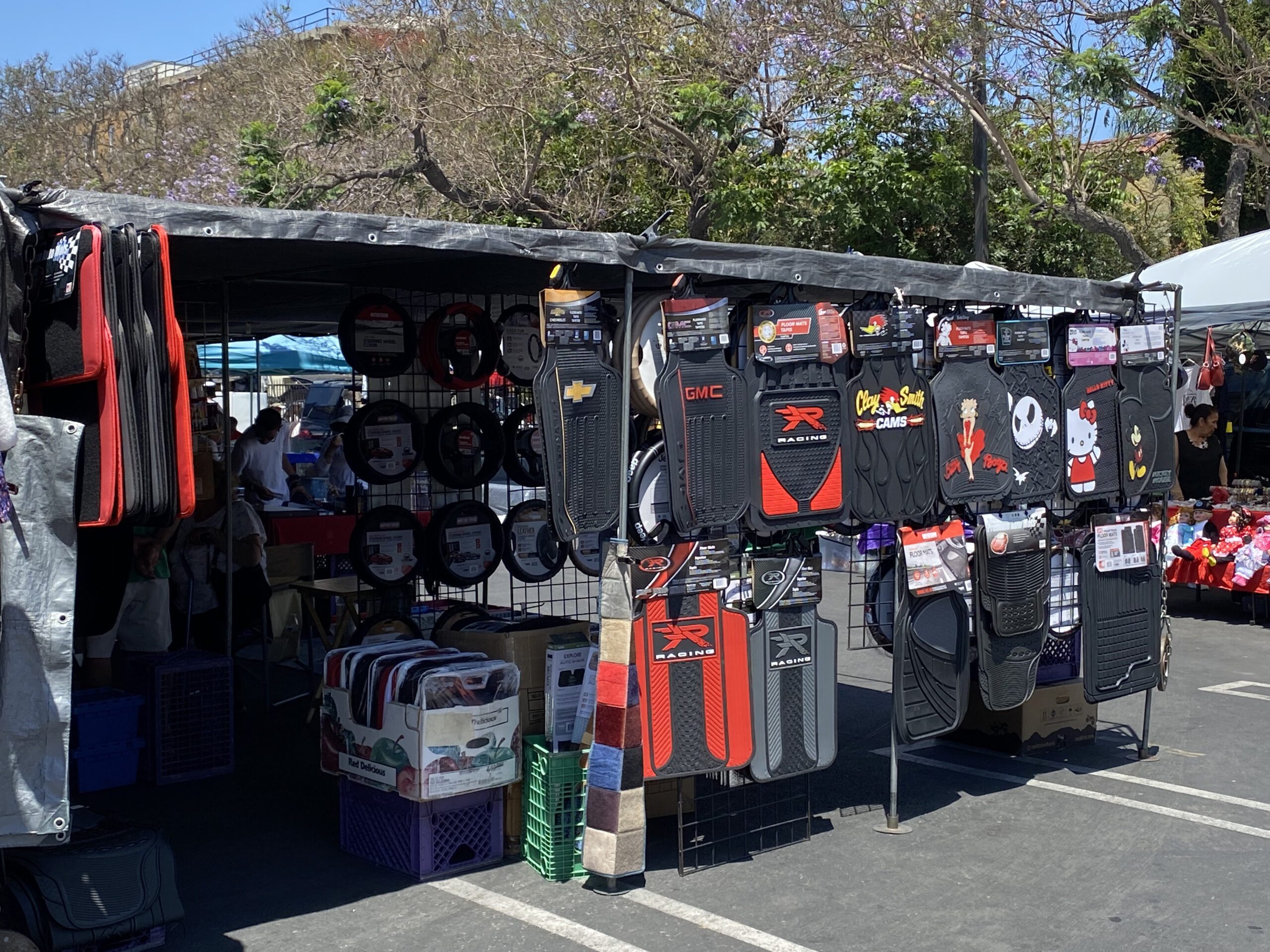 LACC Swap Meet takes comfort into account by offering port-a-johns on the premises, although unfortunately there aren't many places to sit. You can also buy food inside as a few stalls offer snacks and drinks, and a food truck offers Mexican and American classic dishes with some dedicated seating in the shade.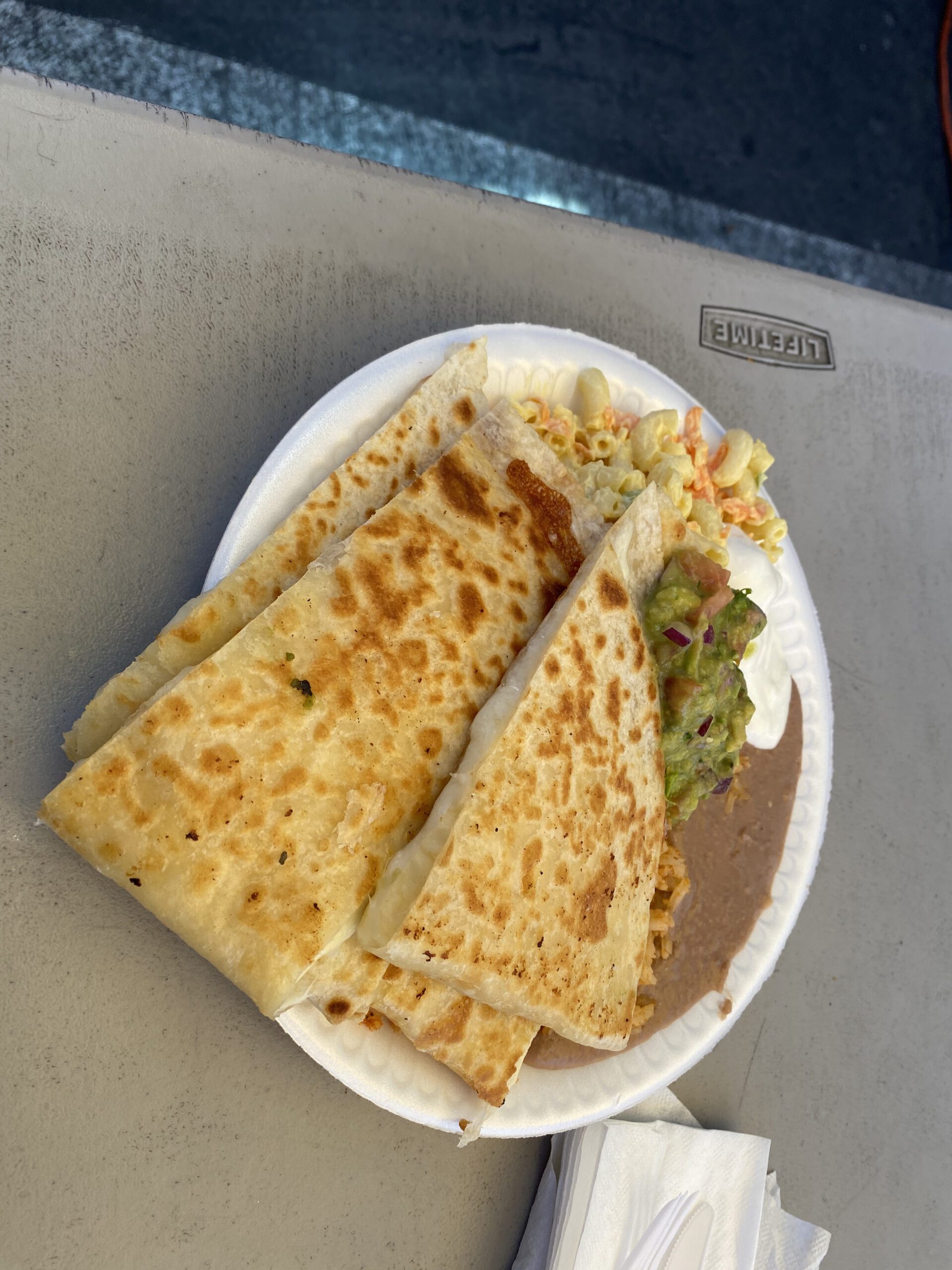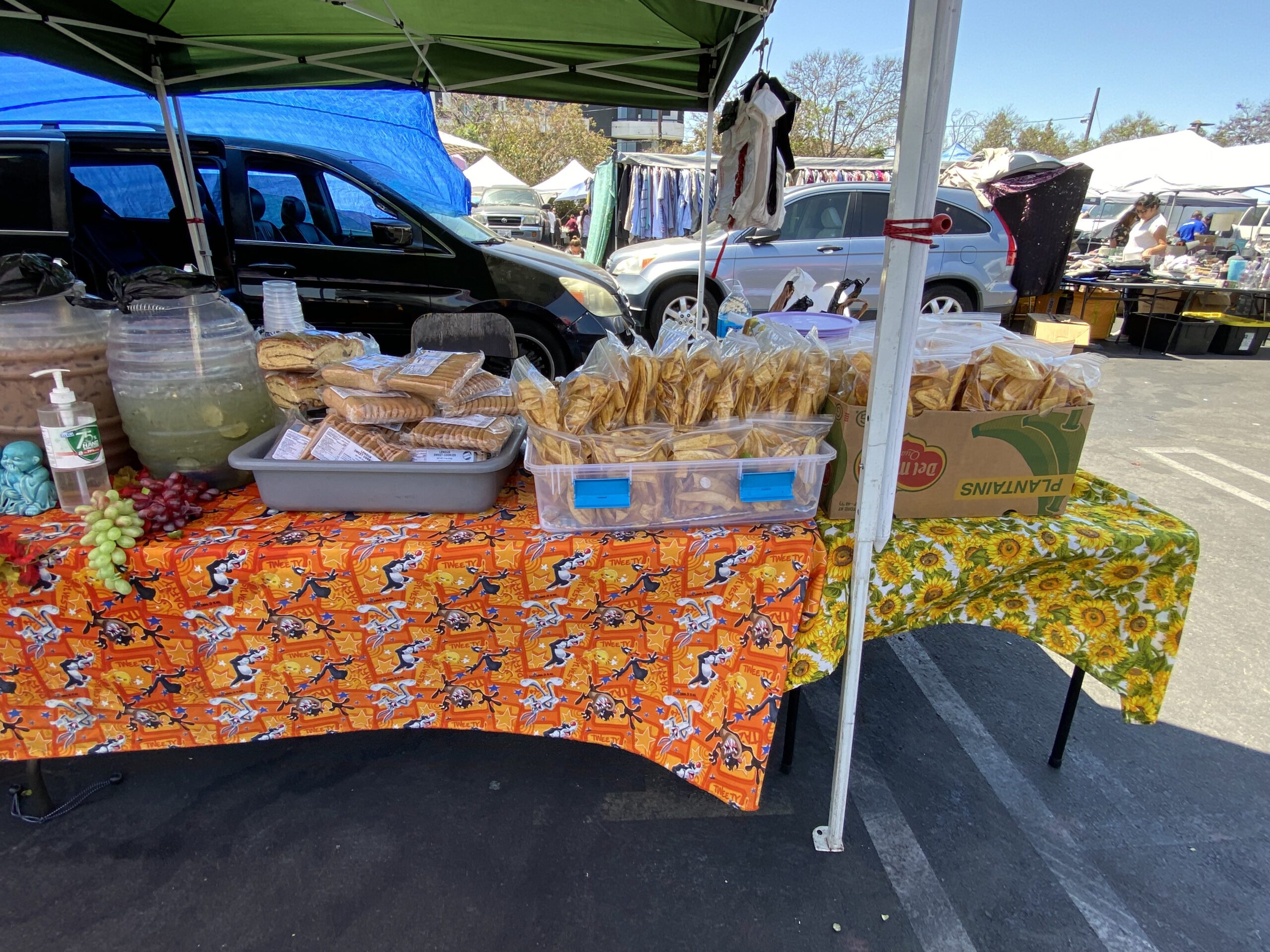 LACC Swap Meet is definitely worth a visit if you're a bargain shopper who loves thrifting. You can also grab a bottle of shampoo or WD-40 on the way out if you need to buy some. Many vendors only accept cash and you also need $2 to enter, so remember to bring cash. Not all vendors offer bags so you should also bring tote bags from home.
As an added bonus, there are many other vendors who set up tables along Vermont Avenue and Marathon Street all the way down to Melrose outside of the official LACC Swap Meet.
Alameda Swap Meet and El Faro Plaza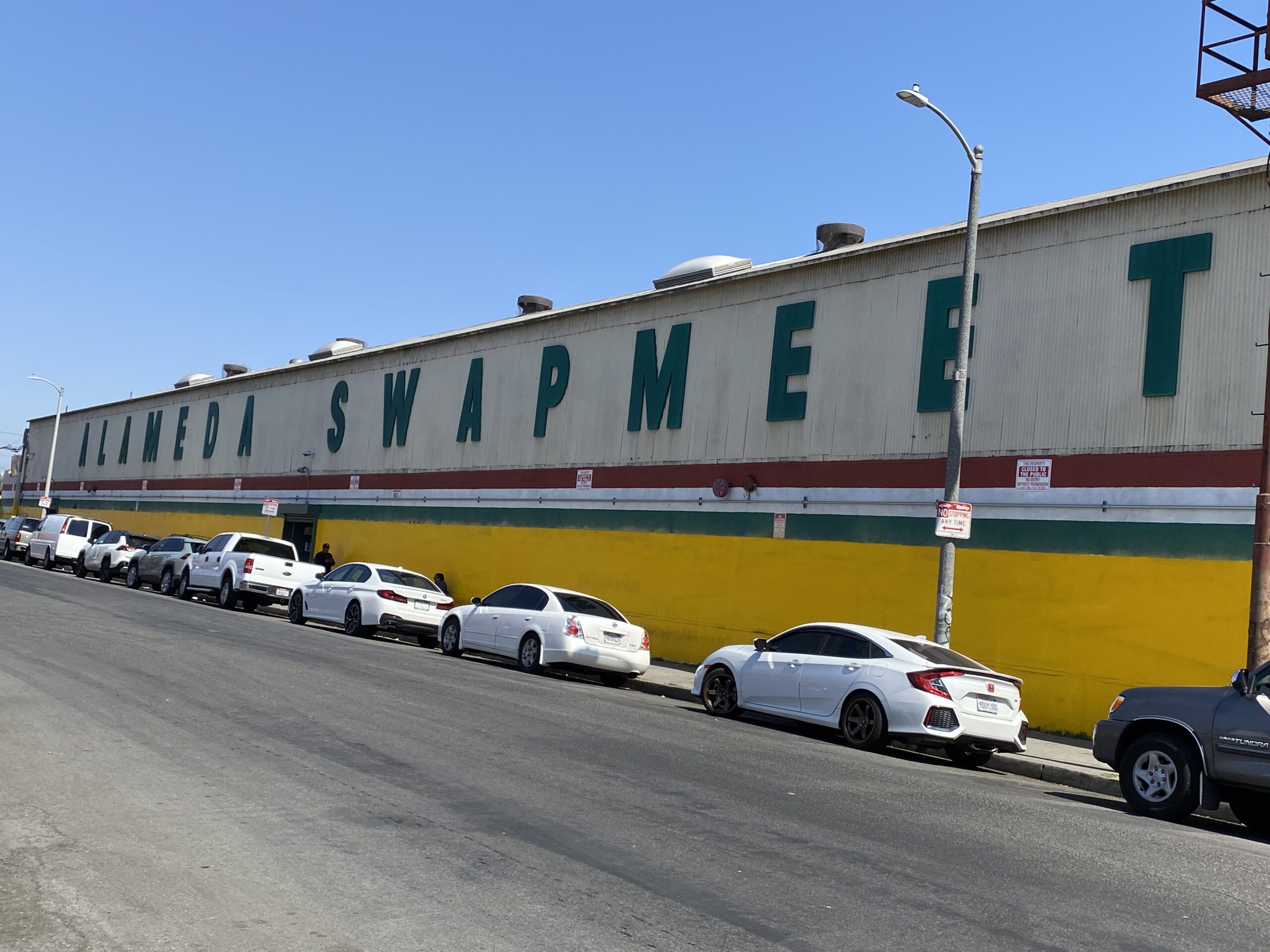 Location: Alameda Swap Meet is on 4501 S Alameda Street, El Faro Plaza is across the street at 4433 S Alameda Street
Hours: El Faro Plaza operates 10AM-7PM every day except they are closed Tuesdays and operate 9AM-7PM Saturday and Sunday. Alameda Swap Meet operates 10AM-7PM every day and is also closed Tuesdays
Entry Fee: Both are free
What to Expect: New goods like clothes, cookware, home goods, and plus fresh food and snacks, and services like tattooists and T-shirt airbrushing
How to Prepare: Bring cash and wear comfortable shoes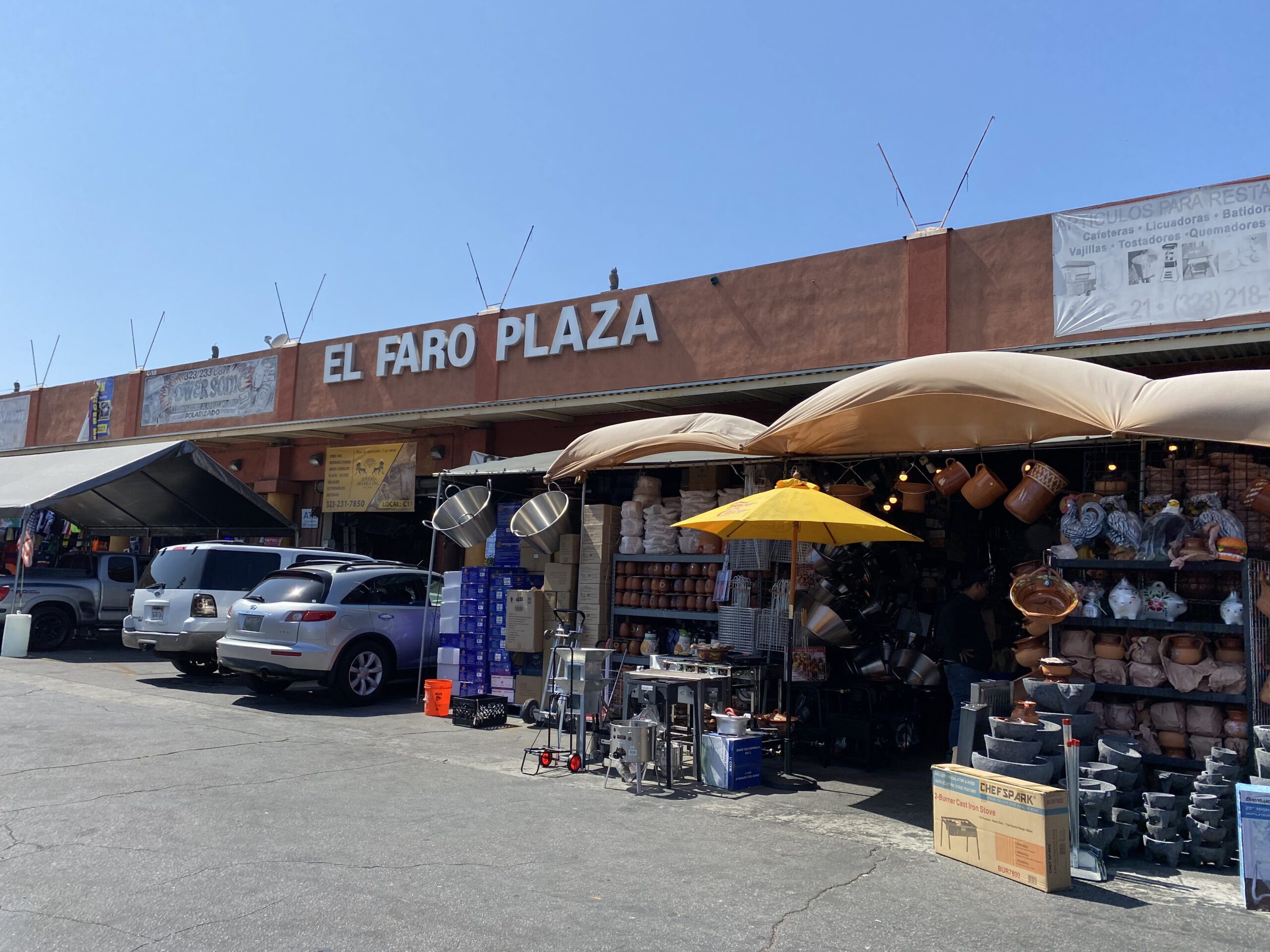 While Alameda Swap Meet and El Faro Plaza are two different indoor swap meets, they often get lumped together because they're literally across the street from one another and have similar operating hours. It's easy to make a day of visiting both places since there's hot food vendors, bathrooms on the premises, and services like tattooing and even an optometrist.
Despite being dubbed a swap meet, Alameda Swap Meet and El Faro Plaza sell mostly new goods from vendors who have a more permanent presence. Unlike temporary booths at flea markets and LACC Swap Meet, Alameda Swap Meet and El Faro Plaza have more mini versions of retail stores spread throughout both complexes.
New clothing, shoes, and accessories can be found at comparable retail prices, but there are bargain bins at select vendors closer to the outdoor swap meet style found throughout Los Angeles. Party supplies, Mexican folk art, and home goods abound.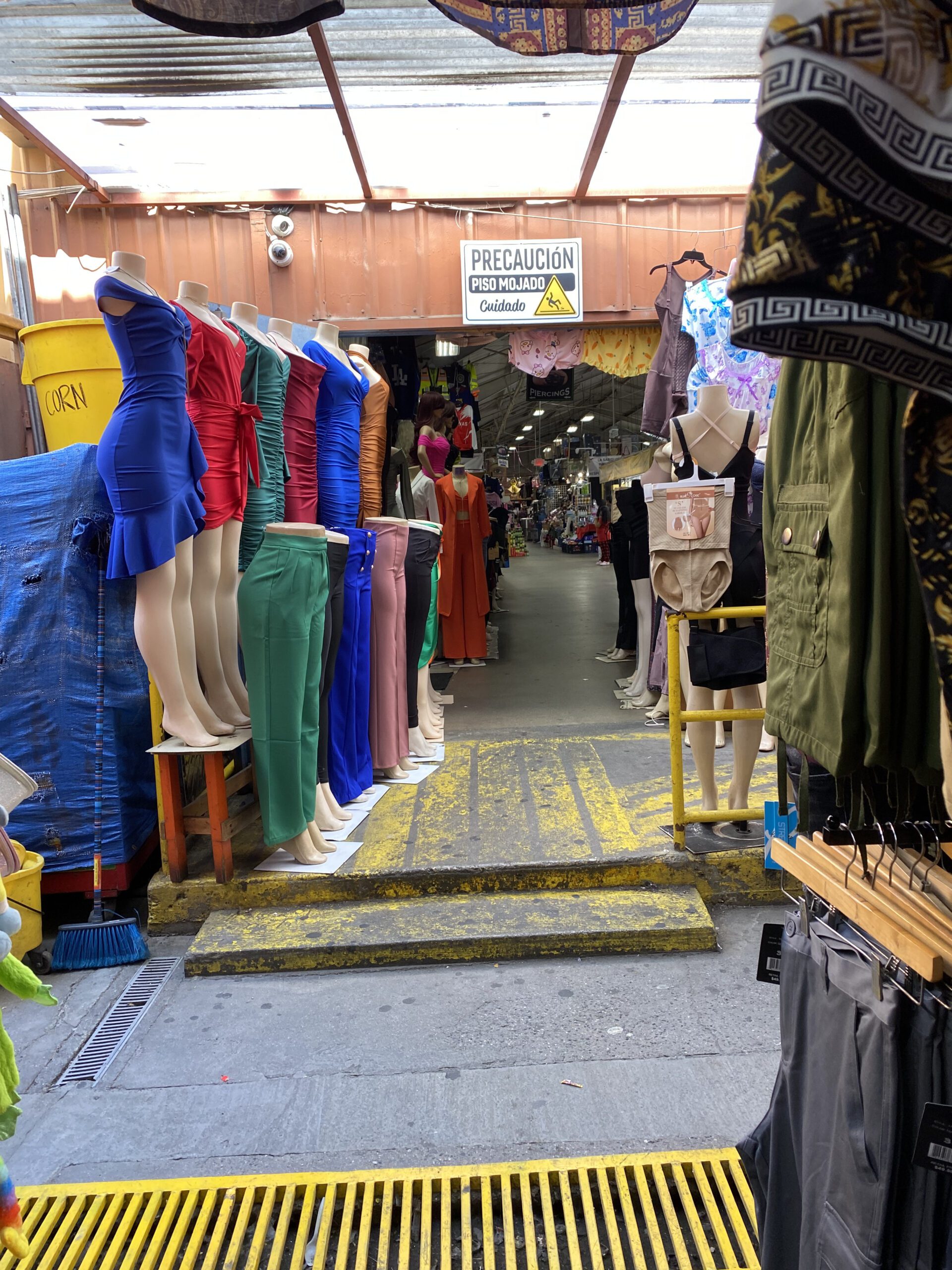 El Faro Plaza is entirely indoors. Alameda Swap Meet is mostly indoor vendors in a discount mall setup rather than a traditional swap meet, but there are also outdoor vendors adjacent to the food court.
The food court alone is worth the trip if you love Mexican food.
Though the hulking behemoths that comprised corporate chain-filled shopping malls throughout America have mostly been dying out, the small swap meet and discount mall model is thriving in south LA.
Many visitors come for the incredible food court and stay to shop, especially since Alameda Swap Meet and El Faro Plaza are incredibly close to the Vernon Metro station along the Long Beach-Azusa line.
If you'd like to check out both swap meets, prepare to do a lot of walking. Both buildings are colossal and don't offer many places to sit until you get to the food court outside Alameda Swap Meet. A few vendors and food court stalls accept credit cards but a vast majority only accept cash, remember to bring cash for your visit.
Gardena Swap Meet (International Discount Outlet)
Location: 2040 Rosecrans Avenue
Hours: 10AM-6PM every day except Tuesday when they're closed
Entry Fee: Free
What to Expect: New clothes (mostly T-shirts), services like nail salon and tailoring, video game and mobile phone sales booths
How to Prepare: Bring cash
This market is officially named Gardena Discount Mall and International Discount Outlet but is mostly referred to as the Gardena Swap Meet. Gardena Swap Meet operates more like a tiny mall serving its community rather than a flea market style setup. All vendors have a more permanent presence to save money on their own retail space.
Many different services under the same roof provide convenience to the patrons without needing to make an entire day of it like going to a typical American shopping mall.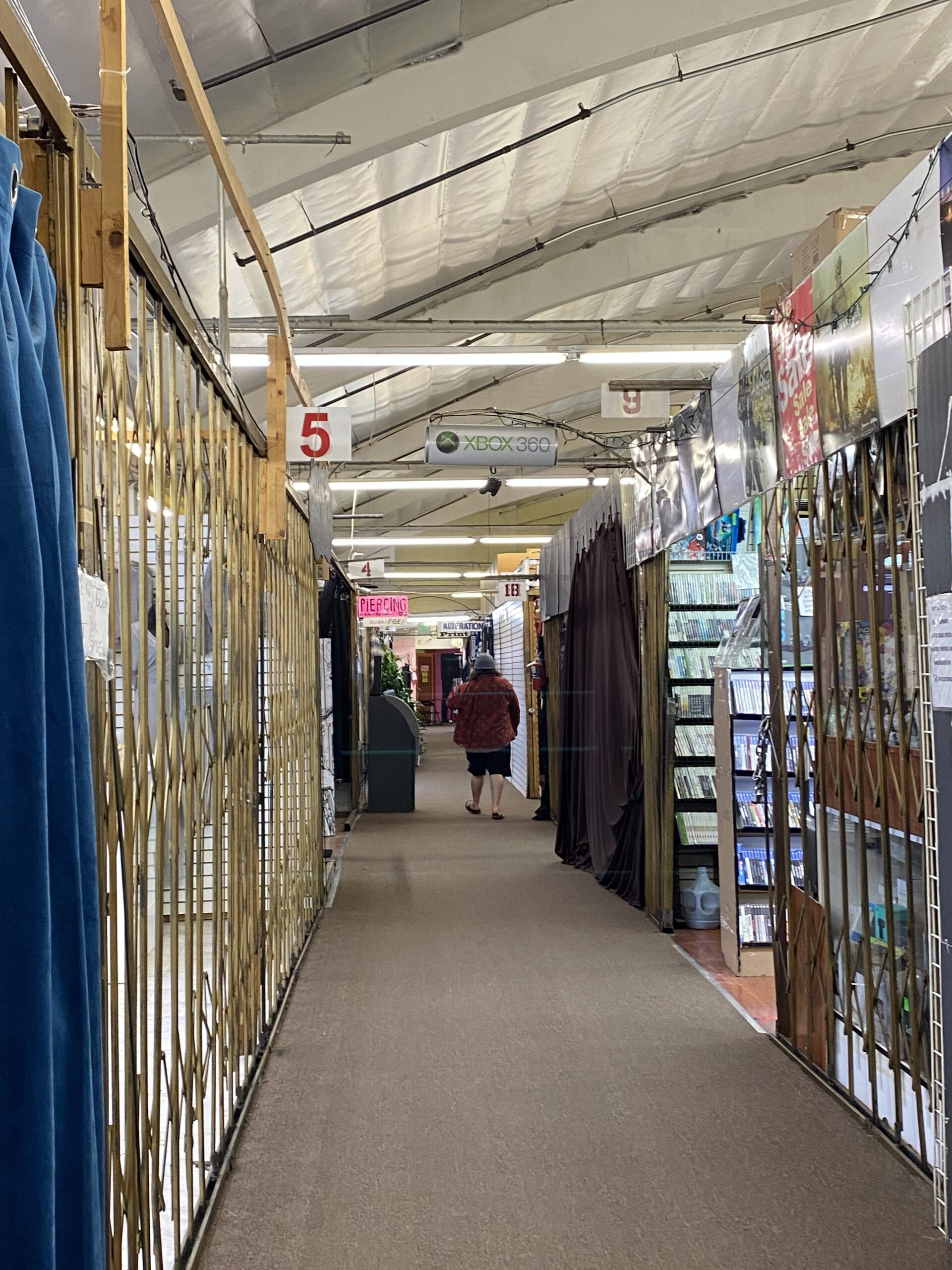 A phone repair shop was closed when I stopped in. A nail salon in the back and a massage table obscured by a curtain in the front were doing steady business. A tailoring and alterations stall was well-stocked with different types of thread and fabrics. It was located near the clothing vendors in case any new clothes you purchased needed tailoring, or you brought your own garments in.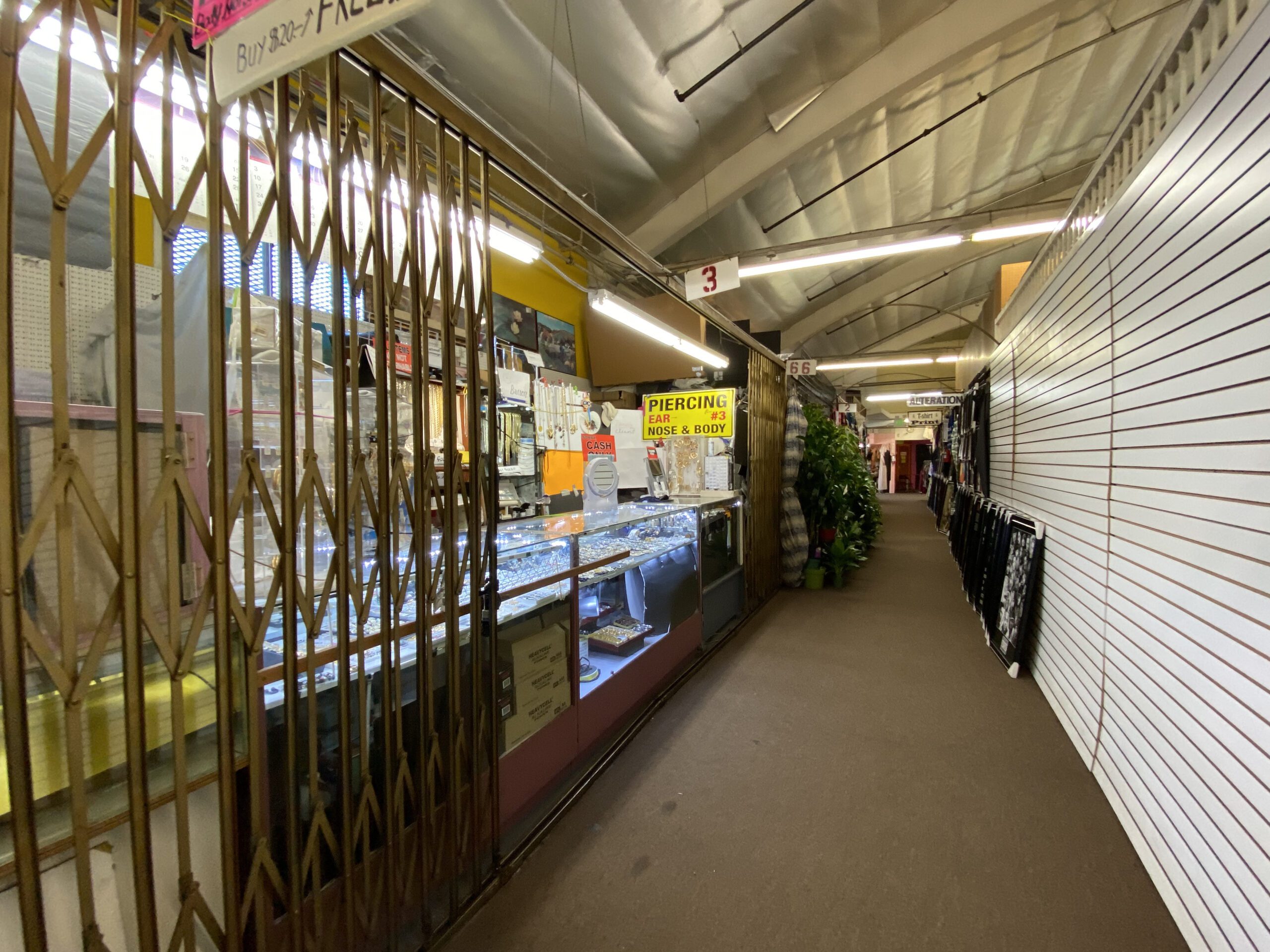 Roughly half the stalls were for service businesses, far more than what I observed at the significantly larger El Faro Plaza. A small nail salon provided very personal service in the back and a mobile barber shop was set up outdoors. Most of the stalls selling goods that were open on Saturday afternoon were clothing and accessories shops, with the exception of the smoke shop. Many sold T-shirts as-is or that could be customized.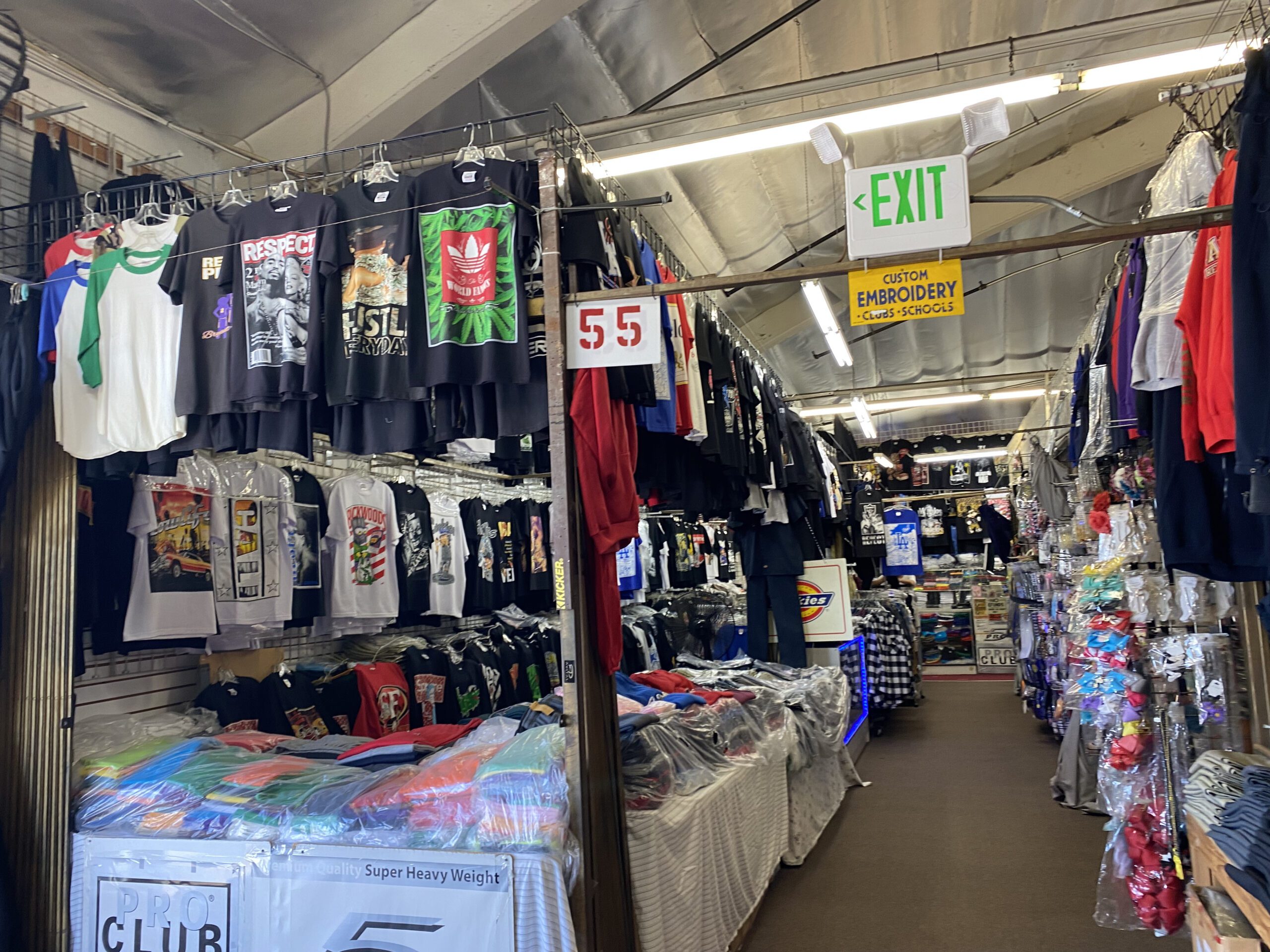 The small indoor swap meet has a pleasant community vibe. It's not a large maze like some of some other Los Angeles swap meets and many of the vendors have been there for a long time. A downside of its small size and most of the space going to stalls and walkways is that there's no bathrooms, and there isn't much in the way of food. It's less of an all-day plan and more a place that one stops in to get a dress tailored or jewelry repaired.
But it's worth noting that there is a tiny food court with just one table next to the nail salon, where you can purchase snacks or have some ramen heated up.
While some vendors accept credit cards, a majority are cash-only and have signs posted saying so.
Los Feliz Flea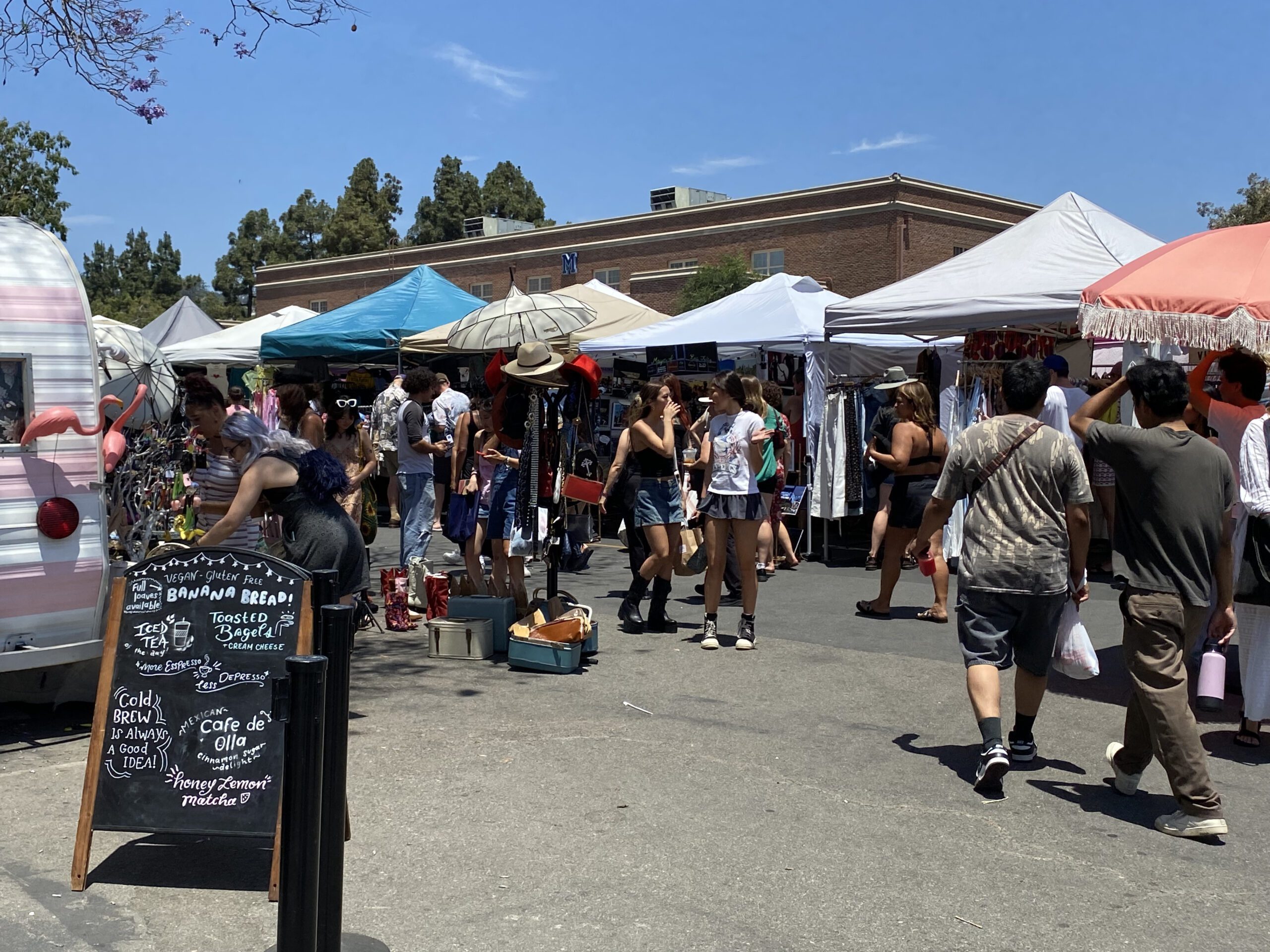 Location: 3939 Tracy Street, John Marshall High School parking lot
Hours: Saturdays 11AM-5PM
Entry Fee: Free
What to Expect: Vintage clothes, art, high-end jewelry, curated vintage collections, food to take home and eat on the premises
How to Prepare: Wear comfortable shoes and plenty of sunscreen, provide booties for your dog if it's over 78 degrees out
Hosted by The Odd Market which organizes both Los Feliz Flea and Odd Nights at The Autry, Los Feliz Flea is held every Saturday afternoon in the parking lot of John Marshall High School. Swarms of stalls, food trucks, and shoppers completely transform the parking lot into a bustling open air market.
Los Feliz Flea is definitely not a bargain bin type of swap meet or flea market. It draws a rather upmarket crowd with highly-curated collections of vintage clothing and home goods, vegan and macrobiotic food vendors, and crystal vendors selling semi-precious stones and carvings at different price points.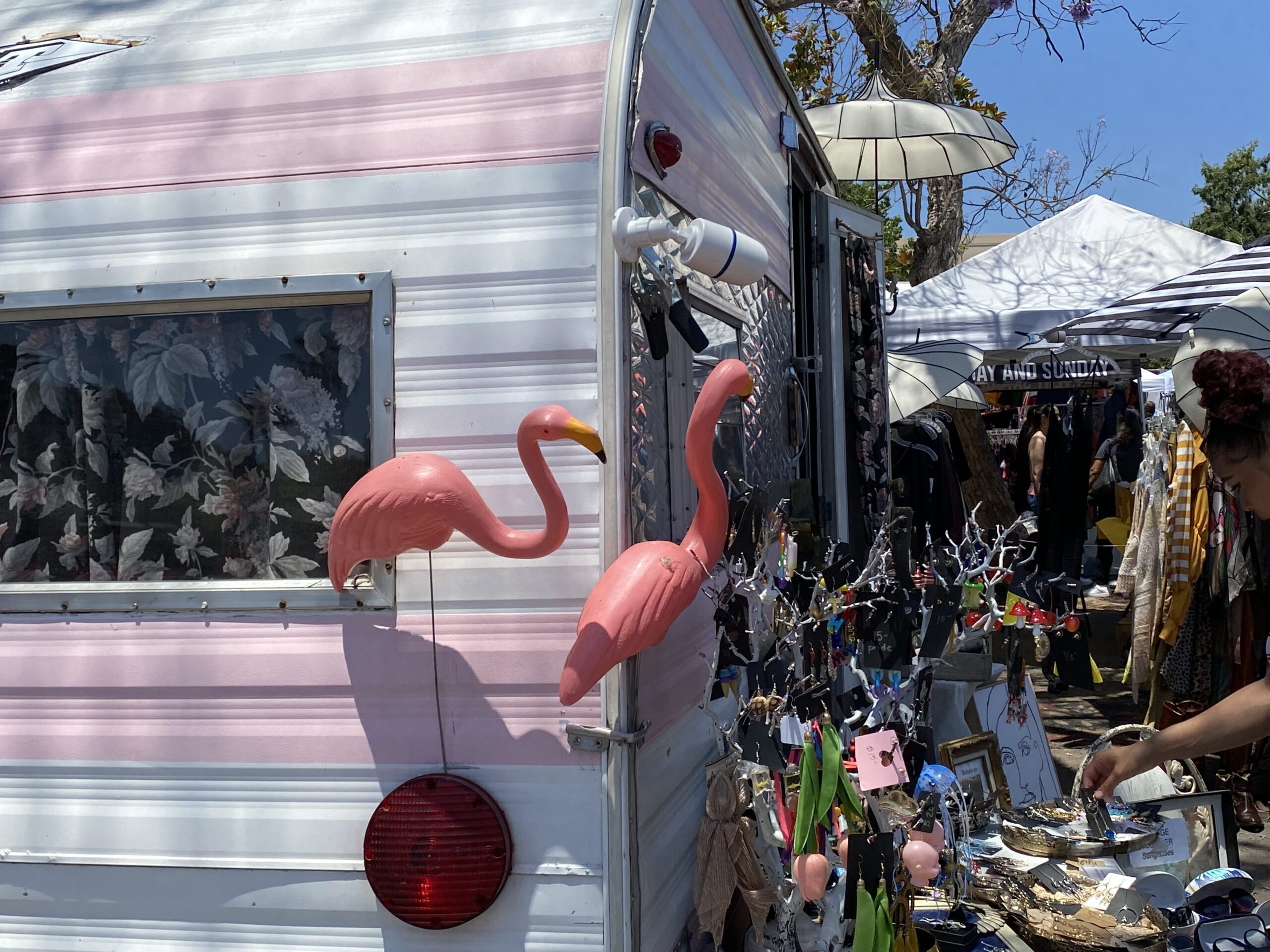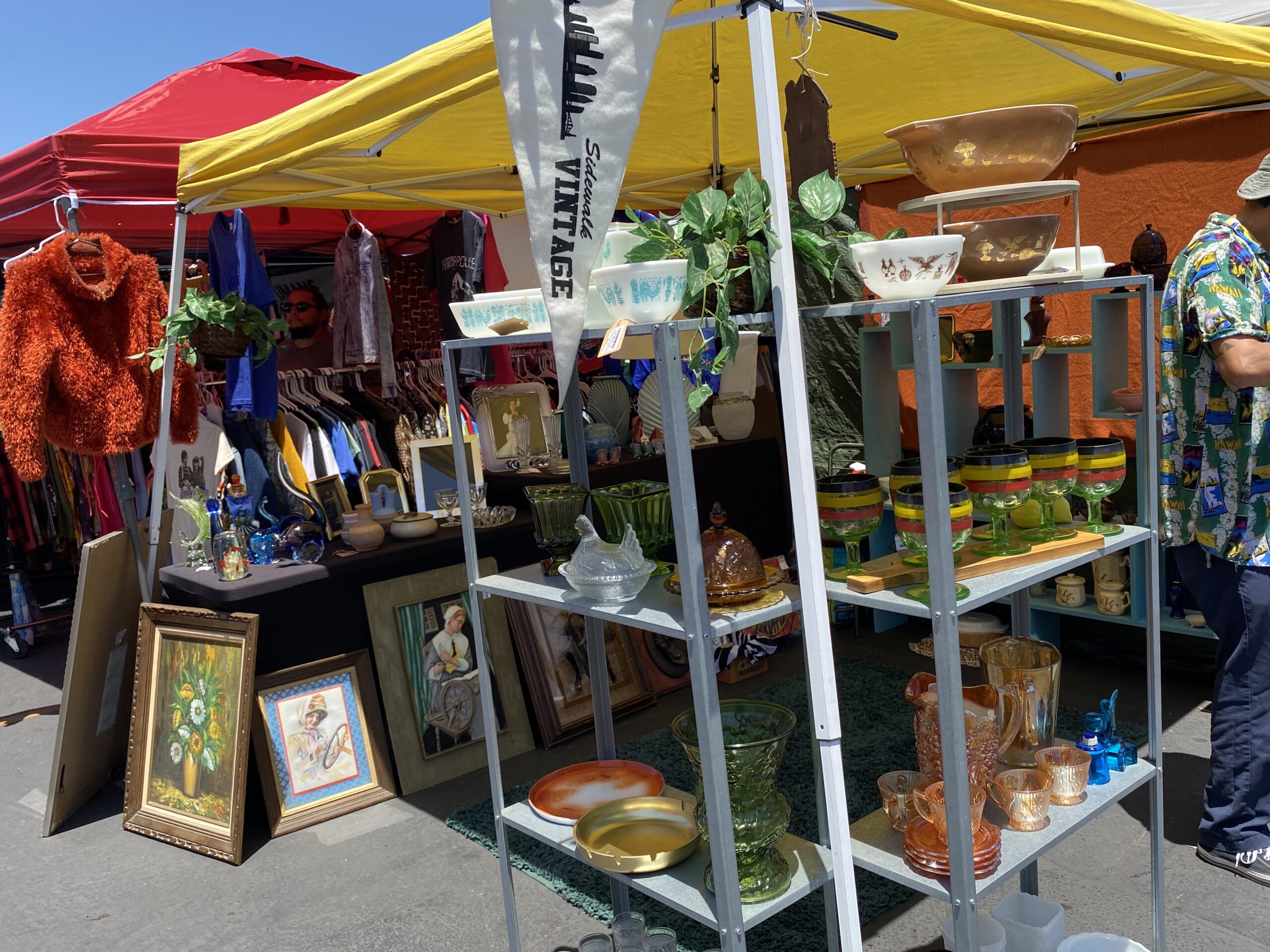 The vibe of Los Feliz Flea isn't just curated and high-end. It's extremely vintage, yet also modern. Vintage clothing has a large presence at Los Feliz Flea but home goods and curiosities abound. Booths are elaborately set up to be as neat and minimalist as possible while also conveying that they're bursting with inventory, no small feat in a typical 10×10 outdoor tent.
Some booths have a simple setup but many have additional decorations that are not for sale, like wall colorings and rugs, that add to the overall feel of the booth.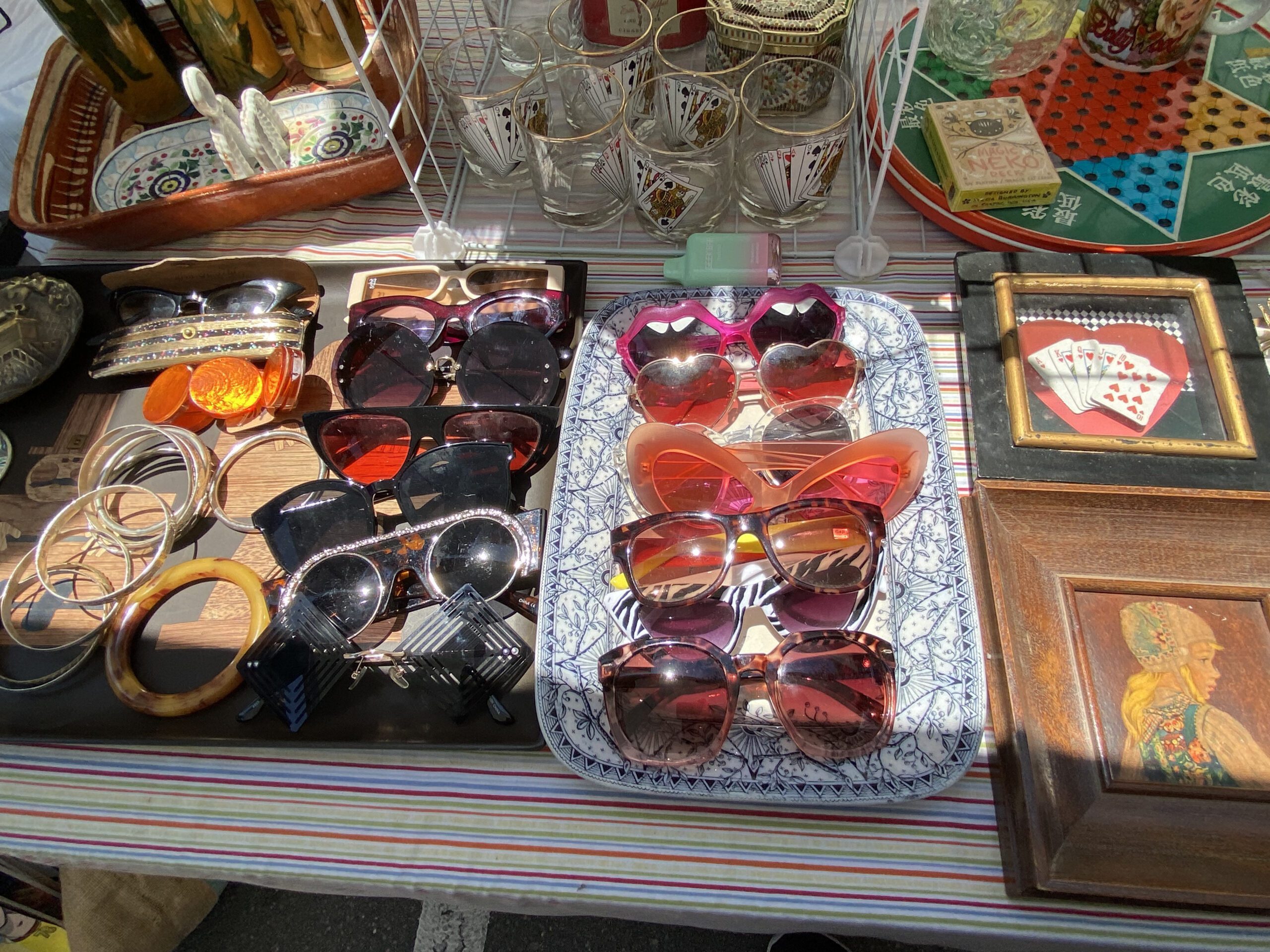 Rather than pawing through a massive pile of costume jewelry on a table for a few dollars apiece at LACC Swap Meet and other thrift-oriented events, Los Feliz Flea is for buyers willing and able to pay for artisanal quality. Uniqueness is highlighted, like the jewelry maker who uses real fruit in their creations.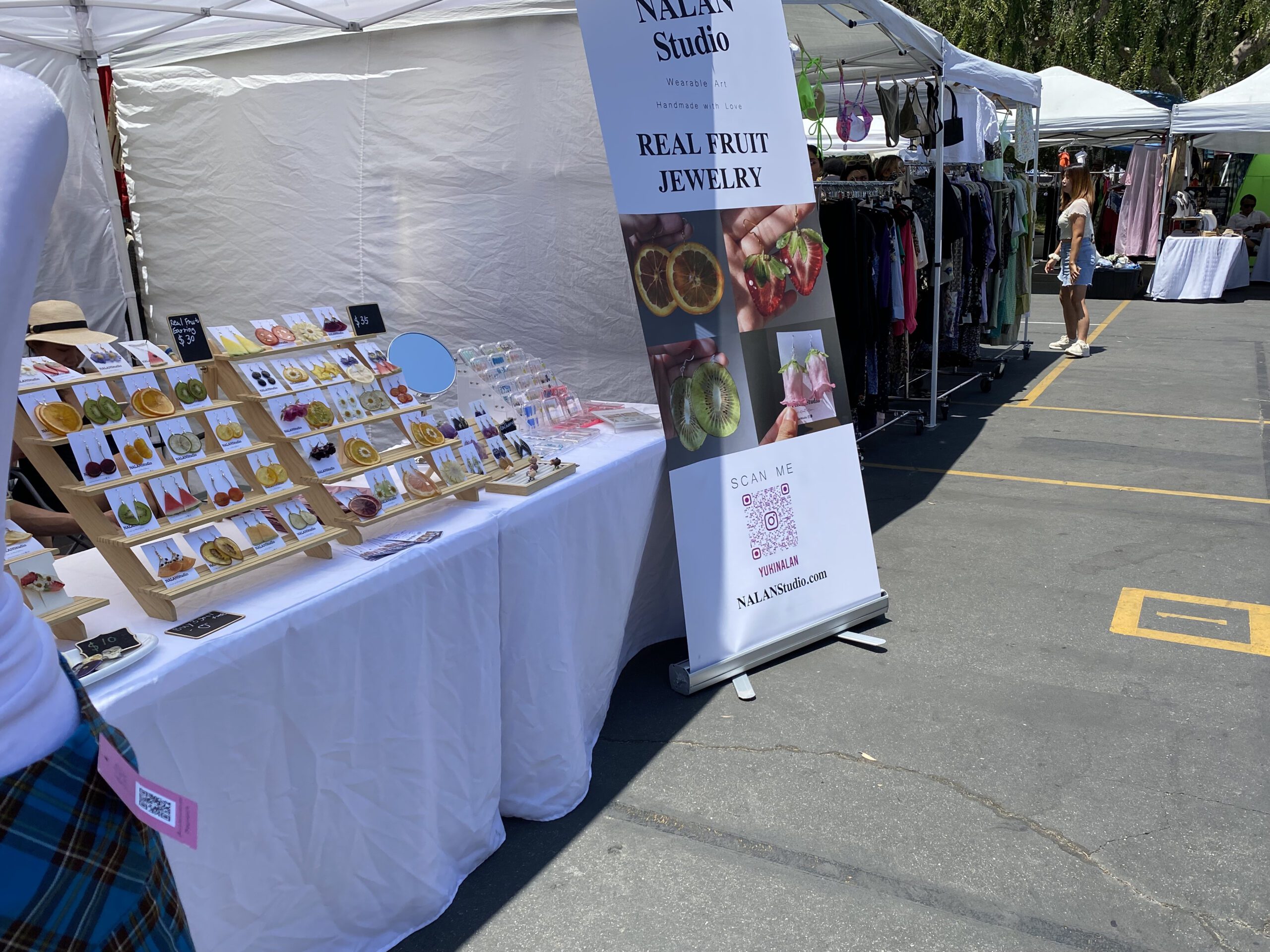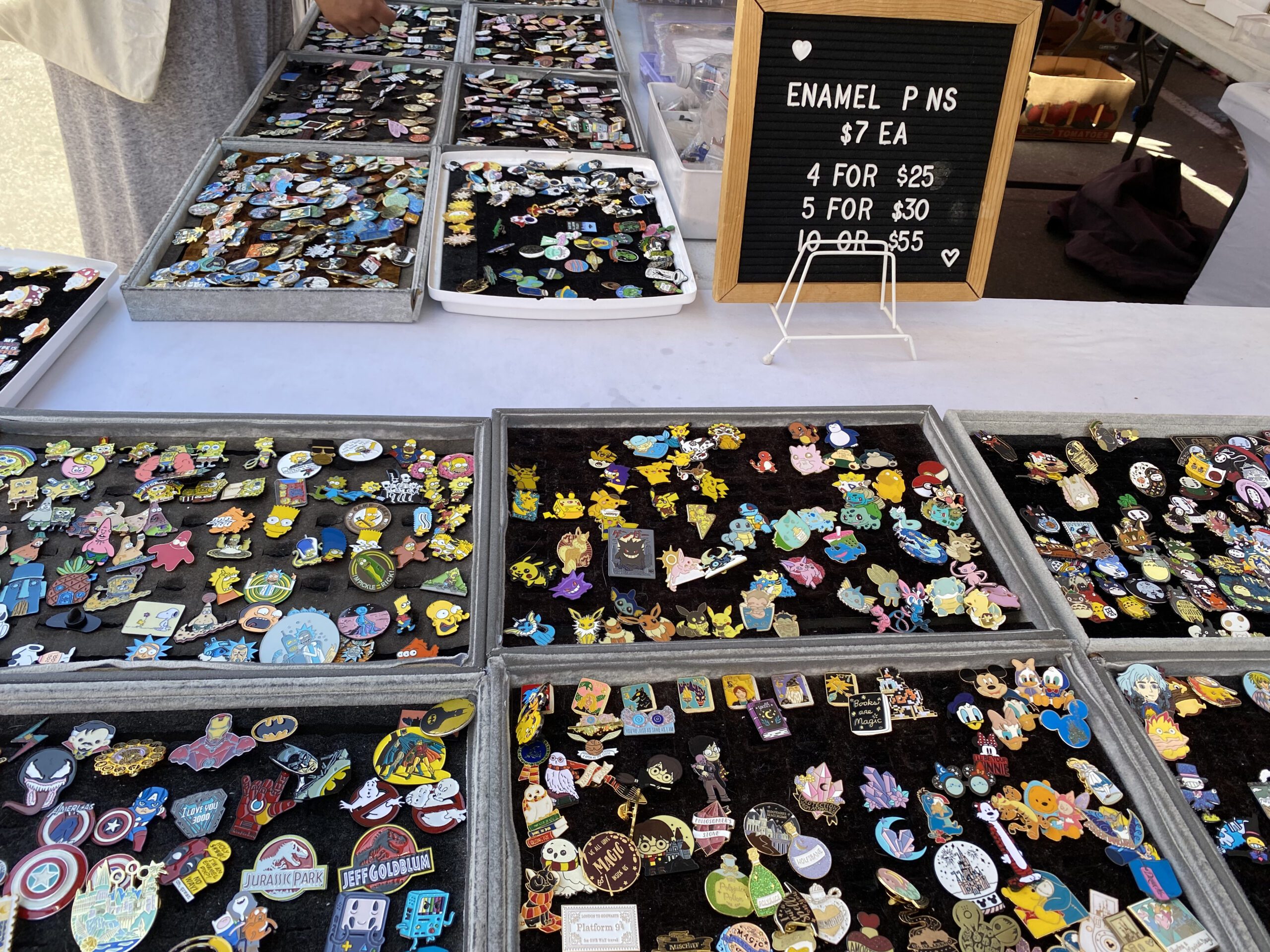 Vintage goods are carefully selected for buyers who value odd treasures that won't be easily found at just any old thrift store or estate sale without hours of digging. While there were a few vintage clothing sellers who just set up a few racks for buyers to peruse, many carefully highlighted items that would grab attention from the mass of other booths.
Los Feliz Flea is an outdoor event that can be easily made into an all-day outing with so many booths to explore. Since it's set up in a high school parking lot, there's not only a lot of space but also plenty of areas that can be adapted for seating. Portapotties are available at the back of the event but the school's restrooms can also be accessed.
Multiple food trucks sit out front offering hot food and cold drinks that you can eat by sitting on the steps or stone seats in the school's courtyard. A few stalls sell food and fresh smoothies or lemonade.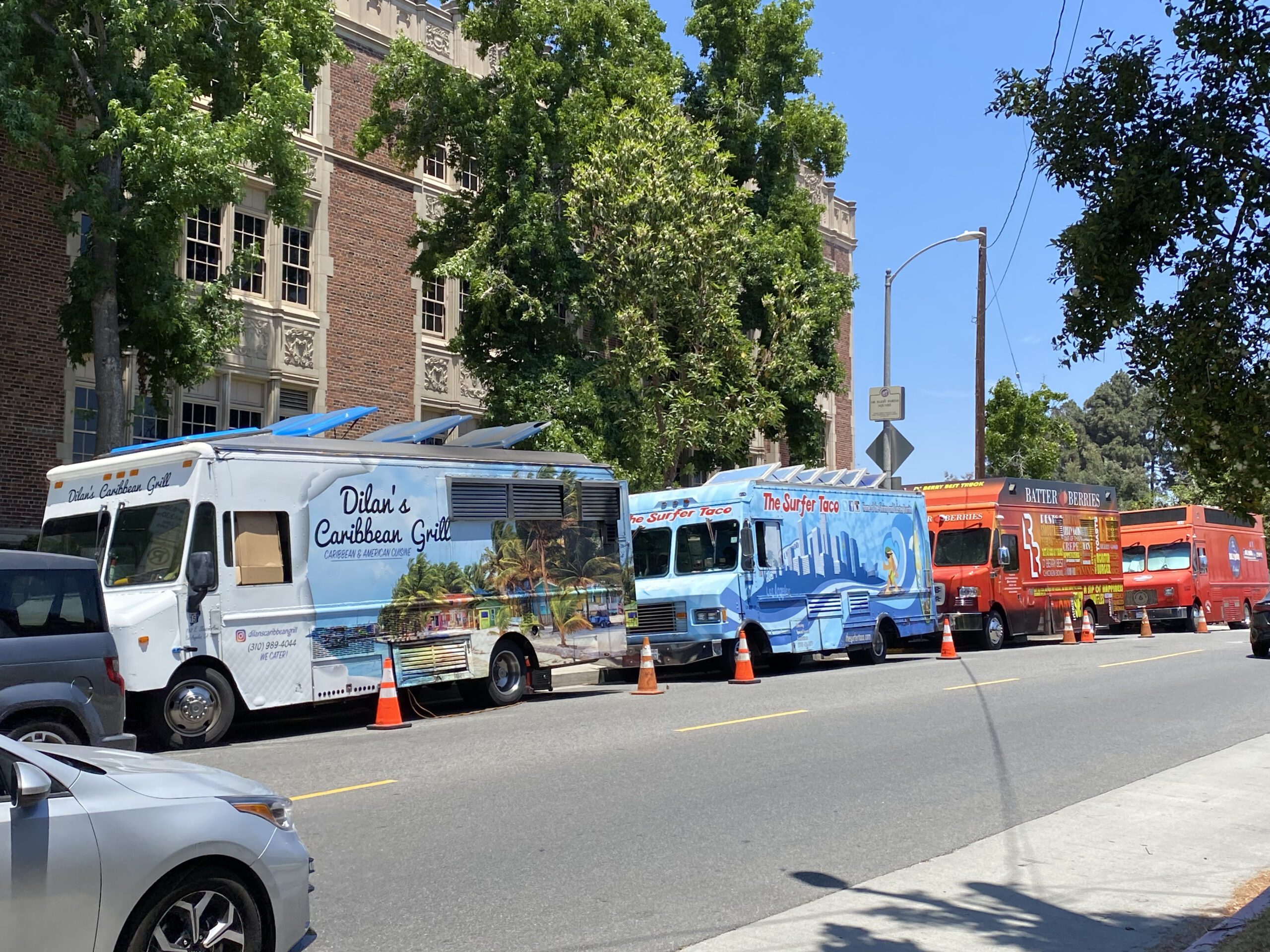 Sponsors sometimes set up a booth at Los Feliz Flea. When I attended, Vitamin Water had a booth and had coolers full of free Vitamin Water!
Most of the Los Feliz vendors sell vintage clothing, home goods, and other curiosities from bygone eras. But there are also food and drink stalls selling specialty items that are handmade. I can personally vouch for the deliciousness of Ooh La La Toffee.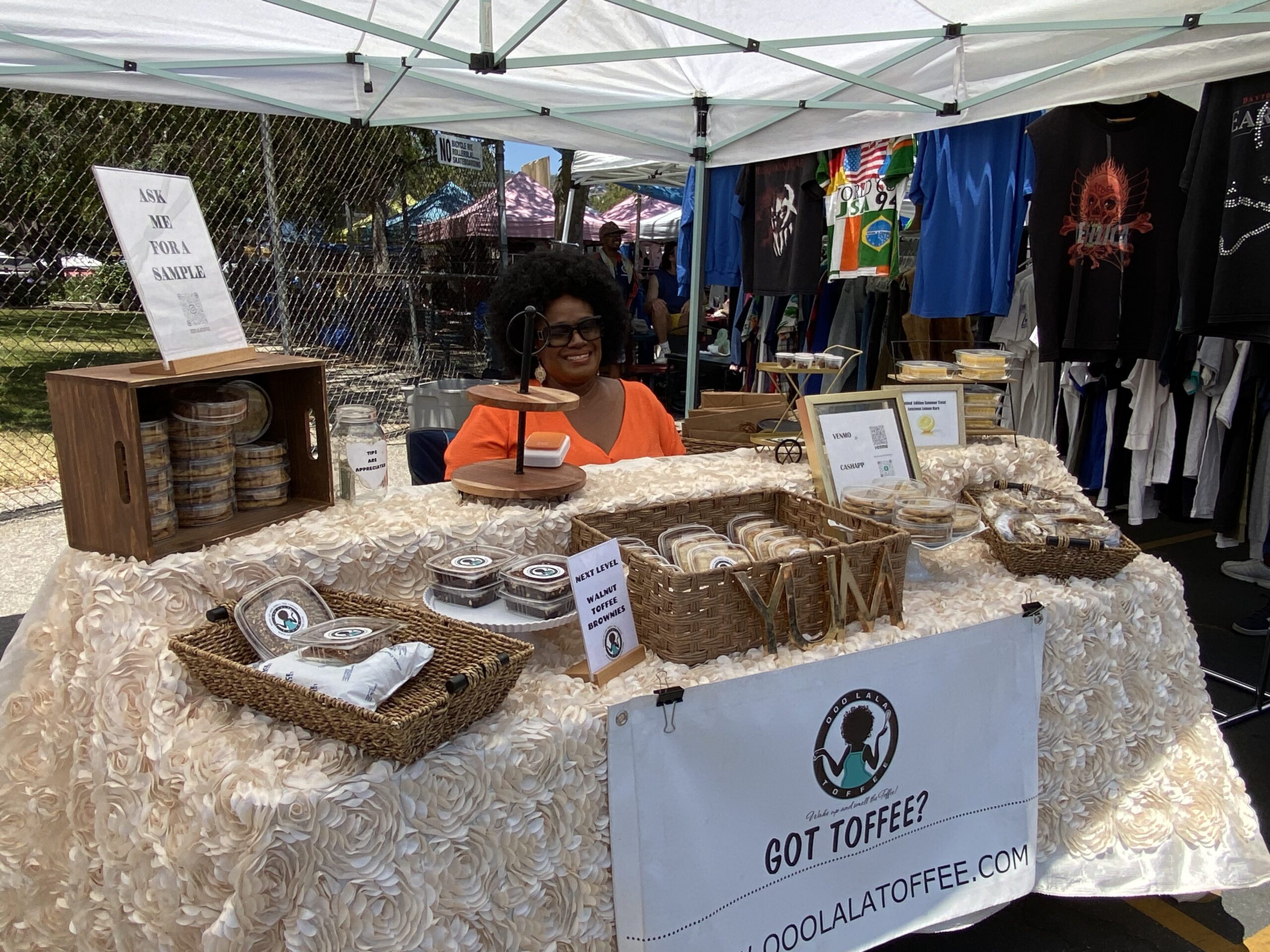 All in all, Los Feliz Flea is a fun and family-friendly event although it's definitely more upmarket and curated than a swap meet that focuses on thrift and quickly offloading used goods. While you'd need to take the basic precautions you would at any outdoor market during peak afternoon sun, there is very little shade in the area and not many places to go for respite. Bring plenty of water, sunscreen, and consider taking a sun hat or umbrella.
Most vendors only accept credit cards or contactless payment like Apple Pay and Venmo. Some will accept cash.
Dogs are welcome but the event organizers require you to place booties on your dog's feet. The blacktop gets incredibly hot. If you don't have dog booties, a vendor sells them there.
Silverlake Flea Market
Location: 1911 Sunset Boulevard
Hours: Saturdays 9AM-4PM, Sundays 10AM-4PM
Entry Fee: Free
What to Expect: Mostly vintage clothes, some fine jewelry, collectors' items like records and cameras
How to Prepare: Wear something you can easily change in and out of
Silverlake Flea is mostly vintage clothing-oriented. While a handful of vendors sell jewelry, art, candles, or other vintage goods, the main draw of Silverlake Flea is scads of vintage clothing. If you plan on shopping for vintage clothes, definitely wear something you can easily change in and out of since many vendors offer a changing booth to try on clothes
While not as upmarket as Los Feliz Flea, Silverlake Flea strives for a similar customer base. Vintage clothing dominates and sellers compete with funky displays meant to grab attention. Collections are more curated to appeal to nostalgia and certain aesthetics. But there are still options for bargain shoppers, with some vendors offering bargain bins of items they want to offload faster.
Even though vintage clothing is primarily what draws shoppers and vendors to Silverlake Flea, creators of all types are welcomed. Jewelry is the next most common vendor spotted, but vendors selling vintage cameras and handmade press-on nails also had booths.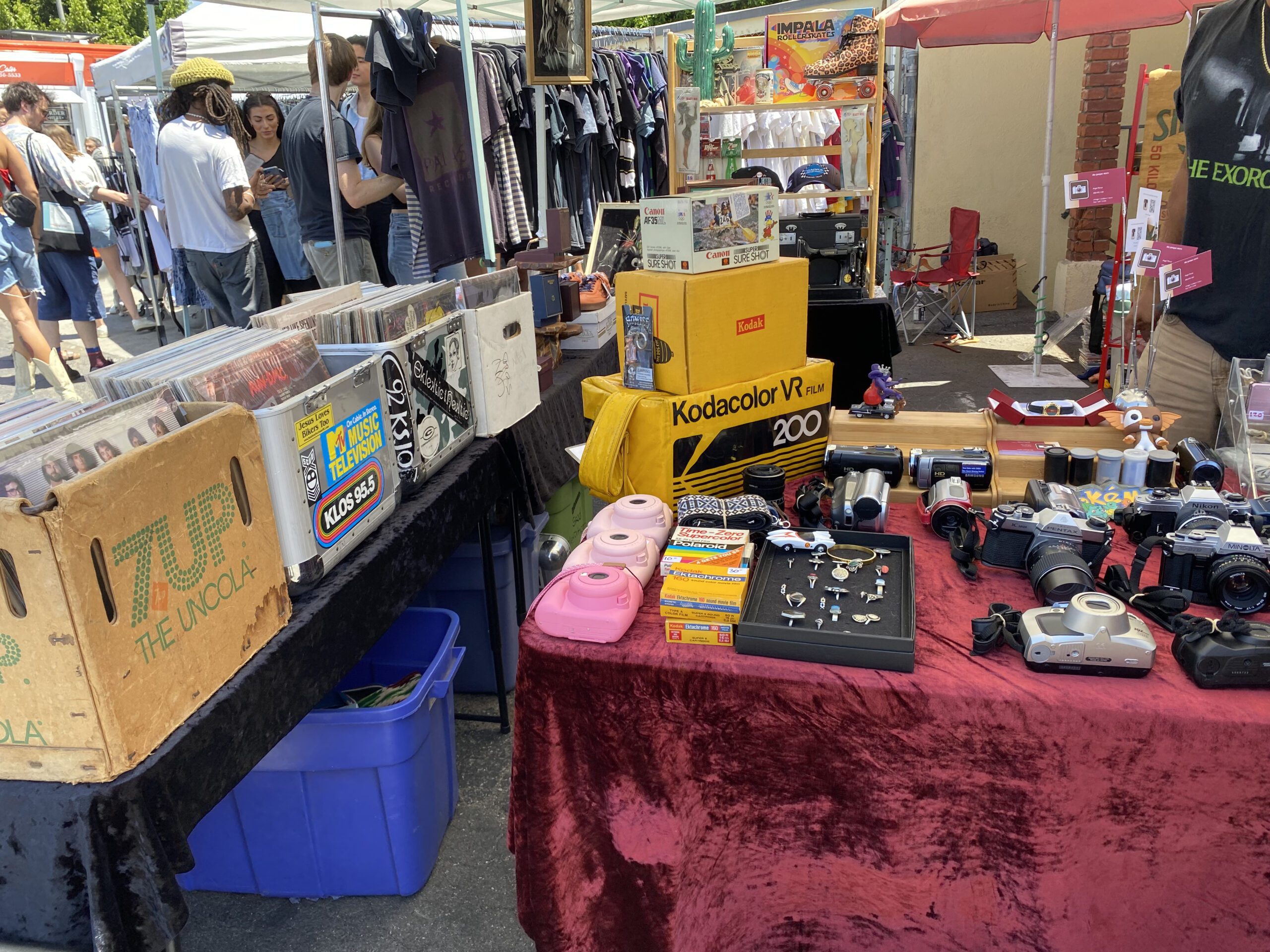 A few food trucks can be found in the back along with portapotties if you plan to spend a long time shopping for clothes at Silverlake Flea.
Most Silverlake Flea vendors prefer credit cards and contactless payments, but they tend to be more amenable to cash than Los Feliz Flea vendors.
These markets barely scratch the surface of the incredible variety of Los Angeles swap meets, flea markets, and specialty markets that pop up on a regular basis. If you're thinking about selling at one, always check it out first as a buyer and research the type of customers attracted. But if you're going there to shop and see what it has to offer, keep an open mind and be prepared for untold treasures.