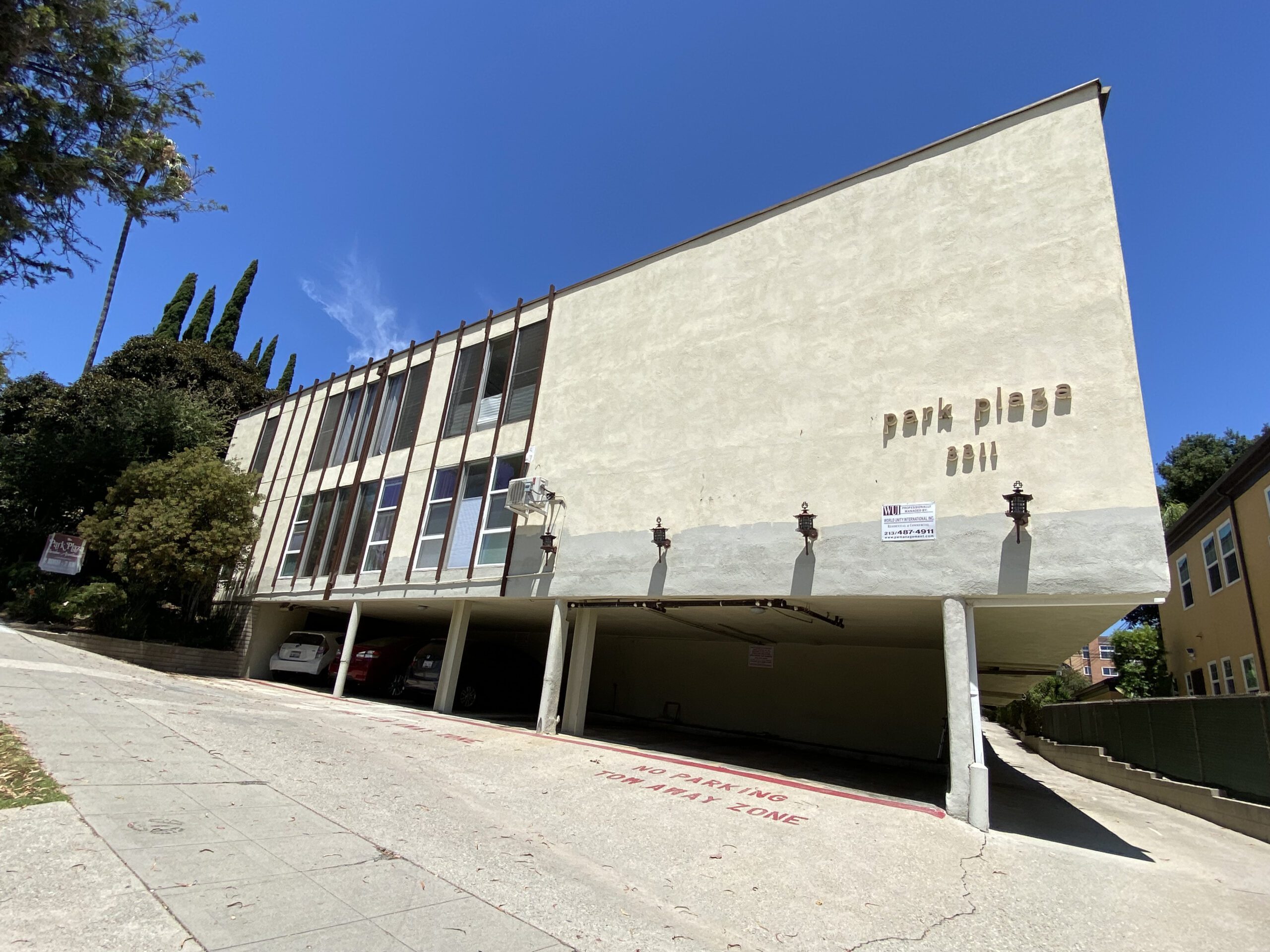 This article is all about Los Angeles dingbat apartments – one of our favorite architectural styles.
The dingbat apartment is an interesting architectural style that is totally unique to the greater Los Angeles area. You simply won't find them outside of southern California but they are mostly clustered in and near LA.
From a distance, Los Angeles dingbat apartments might resemble a slightly more aesthetic Baba Yaga hut since the structure rises from the ground but with strong supports in lieu of giant chicken legs. Shaded by built-in carports that protect vehicles from a desert climate that gets oppressive in the summer months and fire season, this quintessential Los Angeles architecture style screams retro sensibility yet also feels modern.
While Los Angeles dingbat apartments can be found in other parts of southern California, they are purely an LA invention. How did the dingbat come to be, and are they still being built today?
Los Angeles Dingbat Apartments History
Los Angeles dingbat apartments represent a specific microcosm of American history when the city, and southern California as a whole, experienced a dire housing shortage in the postwar era.
As suburban development boomed around the freeway system to the point that it eradicated the streetcar system that once ran all the way from DTLA to San Bernandino, it didn't lessen the need for simple and affordable apartments within and near the city. The entertainment, aerospace, and service industries needed housing for their workers and Americans still flocked west in search of the California dream.
Large apartment towers take time to construct. Converting small lots to contain a handful of apartments proved to be a speedier endeavor in the effort to provide as much housing in as little time as possible. Thus, dingbat apartments were born.
Key Features to Dingbat Architecture
The chief purpose of Los Angeles dingbat apartments was utility. By converting single-family lots into multi-family homes, single-family dwellings could now house multiple households and still provide parking space.
But they had their aesthetic purposes as well. Namely, dingbat apartments are multi-family units that happen to fit in perfectly with single-family homes around them. Large apartment buildings are harder to fit in and around single-family lots due to zoning restrictions and residents fearing reduction in property values.
Dingbat apartments aren't nearly as tall as small apartment buildings, let alone high-rise apartments. This makes them easier to blend in with single-family homes throughout Los Angeles.
One of the key features of dingbat architecture is that carved-out parking space under the apartments themselves, which is called soft story parking. Many of the dingbat apartments in Los Feliz have both front and rear parking tucked under the building, but many in Palms and Culver City have the frequent problem of parked cars obstructing sidewalks.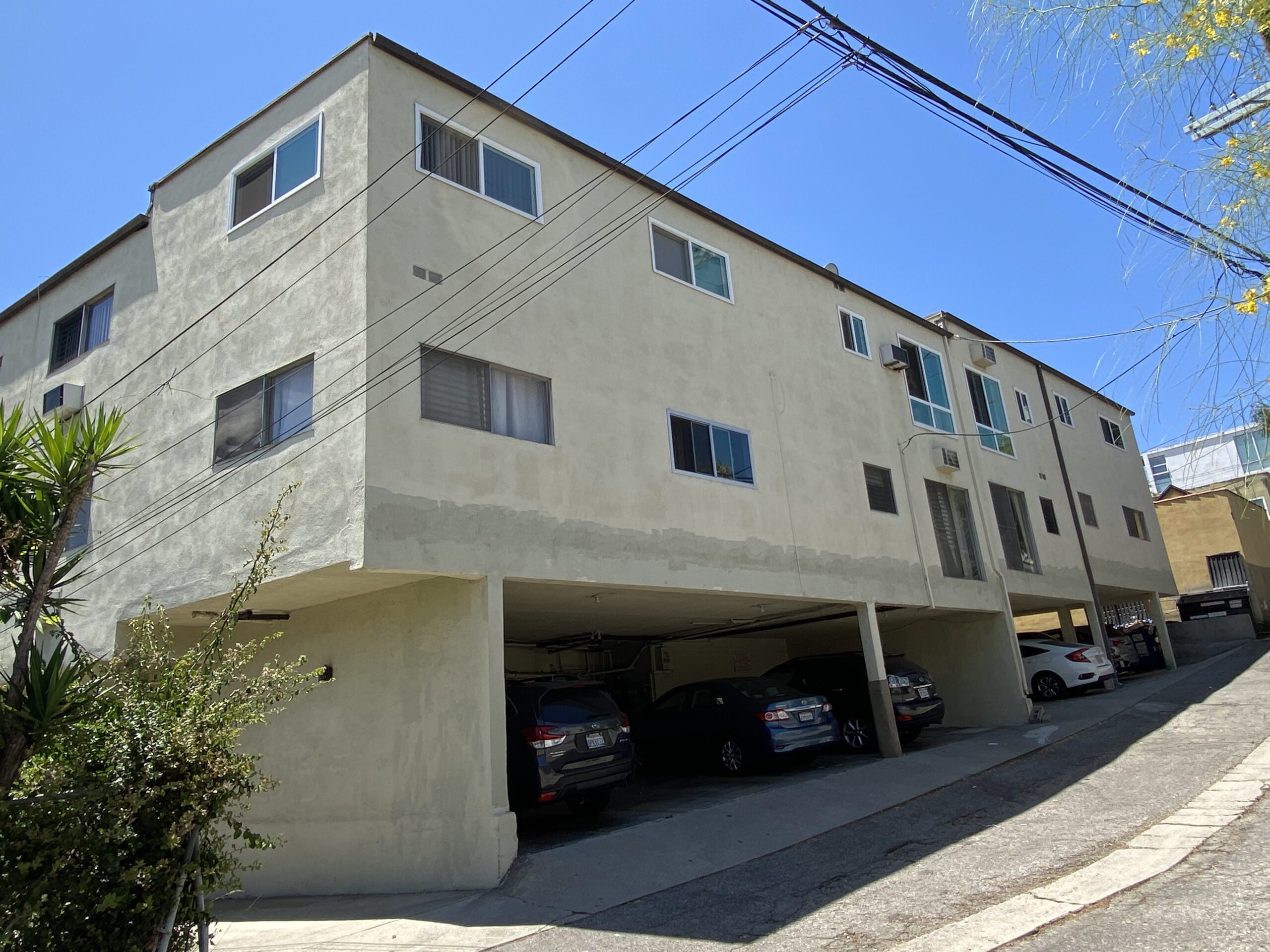 Los Angeles dingbat apartments got the name "dingbat apartments" because the term "dingbat" refers to symbols used in typography that aren't numbers or letters. Dingbat apartments were created with utility in mind but their exteriors could be just as eye-catching and aesthetically pleasing as upscale modern high-rises and stately vintage bungalows. The developments were often given names and a symbol, like a sunburst, geometric shape, animal, or plant.
The flat box top is a defining feature of Los Angeles dingbat apartments but they usually have adornments like bespoke light fixtures or relief designs. Exterior walls could be brightly-colored or have murals and abstract art featured on one side. Other dingbat buildings have plainly-colored siding but use catchy and kitschy vintage lettering.
View this post on Instagram
You'll frequently find 1950s and 1960s style dingbat signage in Los Angeles as a relic from the building boom of this era. Dingbat units gave new residents something to be excited about because they weren't as dense and crowded as comparable large cities like New York and Chicago, and the bright colors or little icons were bright beacons on moving day or just coming home from work. Your little space was accompanied by a starburst or flamingo.
Because the apartments are not on the ground level, you usually access a dingbat apartment through an outdoor stairwell located on the side of the development. This usually makes dingbat apartments a less attractive option for disabled people and people who frequently use strollers, carts, and other heavy devices with wheels.
When dingbat apartment developments cropped up en masse in neighborhoods like Palms, builders used the absolute minimum clearance between each building which was only about five feet. Today, zoning restrictions mandate that such apartments need to be spaced farther apart. However, the layout and feel of some neighborhoods' residential blocks has been shaped by these policy and development decisions. If you've ever felt a little too close to your next door neighbor just by having the window open, 1950s dingbat developers are to blame.
Subtypes of Dingbat Architecture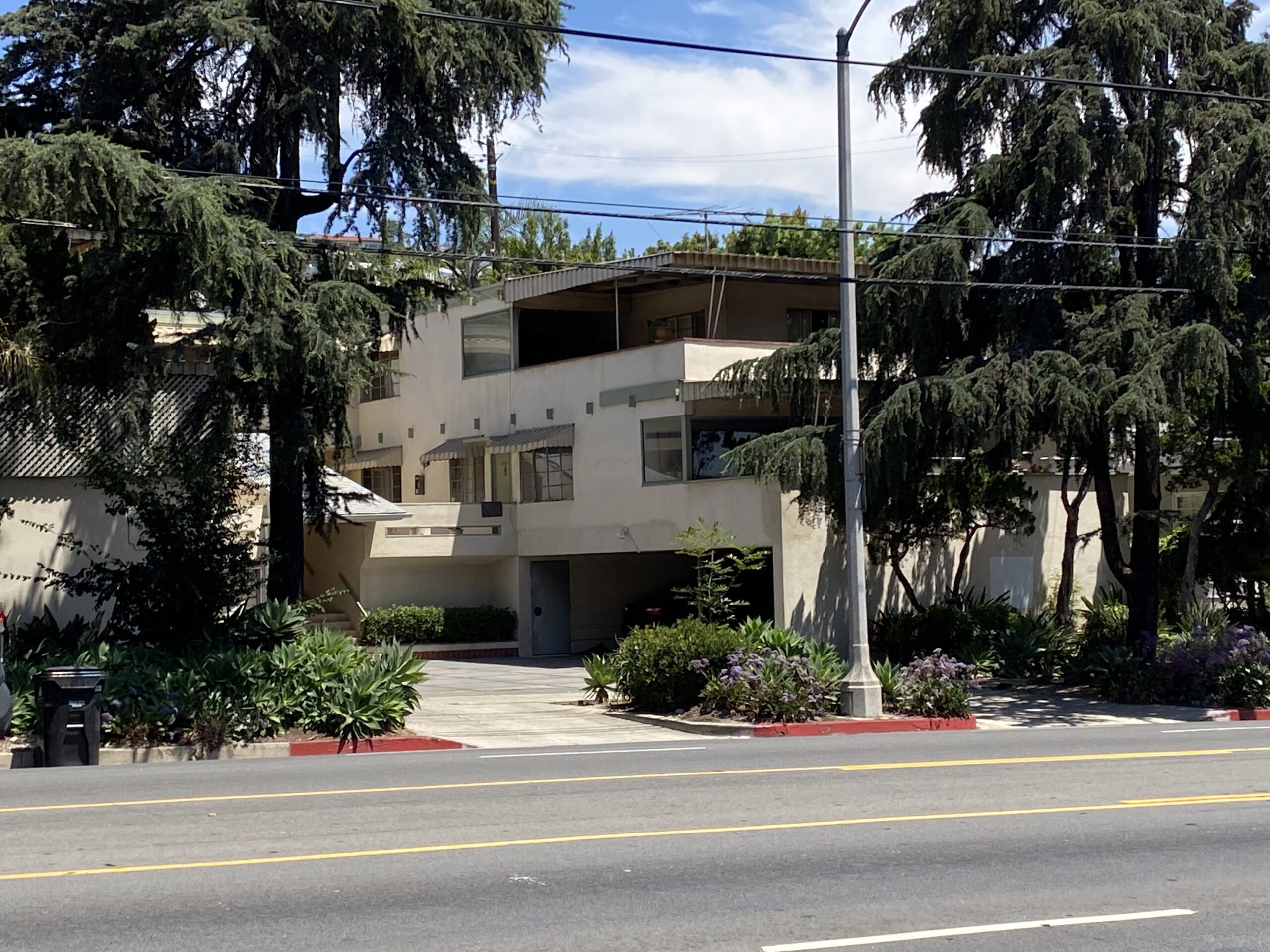 Los Angeles dingbat apartments all have a distinct style to them that is so unique to the area, but there are different variations of the classic dingbat that separate them from just any small apartment development. While the main features of dingbats are apartments on small stilts that have a flat box top roof accompanied by bright colors and/or kitschy lettering and designs, there are a few different types of dingbat apartments.
The most common type is called the 6-pack or 12-pack based on standard LA lot size. As the name implies, a 6-pack sits on one lot with six apartments. A 12-pack would essentially look like "double" the same building with two parallel buildings on the same lot or an adjacent half-lot, or the same layout as a 6-pack but stretched into a bigger lot.
Dingbats can fall into multiple categories of subtypes:
Halfbat: The halfbat only looks smaller at first glance because there is usually parking in the back such as the Park Plaza pictured throughout this article. This relieves the congestion in the front and minimizes the soft story parking there. This allows the yard area to have more space for gardens, signage, or other even whole apartments. While the halfbat uses less of the front lot space for parking, they often have more units than a 6-pack but less than a 12-pack because they have more ground space to utilize for apartments.
Drivebat: Drivebat developments have the carport on the side instead of the front, making them deceptively blend in with single-family homes.
Dumbbat: Has parking on BOTH sides, often due to a more remote location or extremely large lot size.
Hillbat: Dingbats built into a steep sloping hill.
Twinbat: More common with 12-packs, two dingbat buildings adjoining each other in the same lot make a twinbat.
Where to Find Dingbat Apartments in Los Angeles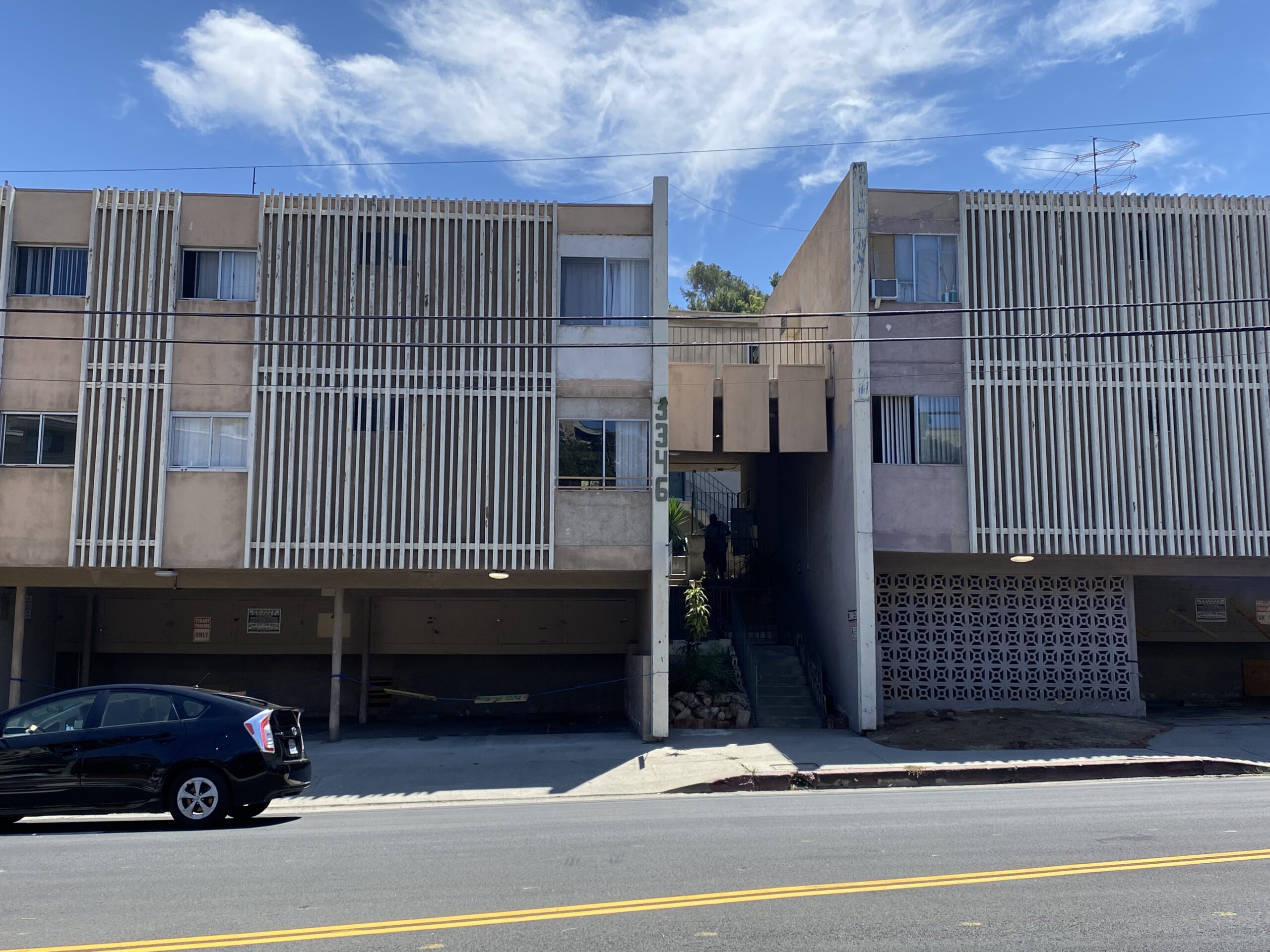 Dingbats dominate entire blocks in some neighborhoods while they randomly pop up in others, like Oakwood and Los Feliz. Dingbats proliferated in West Hollywood and Mid City, where many were placed in adjacent lots to quickly accommodate crew members and other workers in the entertainment industry during Hollywood's golden age.
The odd dingbat sticking out from single-family homes and larger apartment buildings is a common sight in Los Feliz. The neighborhood is home to all types of housing ranging from classic southern California single-family homes in California bungalow and Mission Revival styles to jaw-dropping mansions like the famous Ennis House. But with so many single-family lots in the area, some were inevitably turned into dingbat apartments as it became a popular neighborhood for film and TV workers who loved and needed the proximity to Hollywood and downtown but wanted a quiet leafy hideaway they could call home.
Culver City and Palms are two areas of southwest Los Angeles where one can easily find dozens of colorful boxy dingbats. In Burbank, Reseda, and other cities in the San Fernando Valley, dingbat apartments are plentiful in between larger apartment complexes and single-family homes.
View this post on Instagram
Dingbat apartments are a special relic of a bygone era unique to Los Angeles, although there has been renewed interest in building more dingbat-style units in recent years. As California faces a housing crisis where pressure is placed on both renters and homebuyers, residents want to see more options and there are many lessons about land use that one can glean from the rise of the dingbat.
While Los Angeles dingbat apartments were created with a utilitarian purpose, they also didn't neglect aesthetics. Although dingbats can't offer some of the amenities as large high-rise apartment buildings and complexes, they can still have courtyards or even pools.
Dingbat apartments are often just one or two bedrooms and usually have L-shape layouts to accommodate the carports. This makes them more affordable for people who'd prefer a quiet block of houses instead of a large apartment building and doesn't limit the lot use to just one household, creating more homes for people who need them.
The next iteration of the dingbat may incorporate more inclusive and accessible universal design, or seek to create more outdoor and communal space for residents.