Check out the nine best neighborhoods in Los Angeles to visit on your LA vacay.
In 2022, more than 46 million tourists came to Los Angeles for vacation. And as of 2023, over 10 million people call Los Angeles home.
So, what keeps tourists coming back, and what turns visitors into LA residents?
The answer is simple:
In a city this big and bustling, there is always a park to walk through, unique restaurants to try, concerts to see, sports games to catch, galleries to wander, and new people to meet.
Whether you're on vacation or exploring neighborhoods to set roots in, Los Angeles has something to offer everyone.
Let's dive into the nine best neighborhoods in Los Angeles to visit so you can make the most of your time in LA.
1. Venice Beach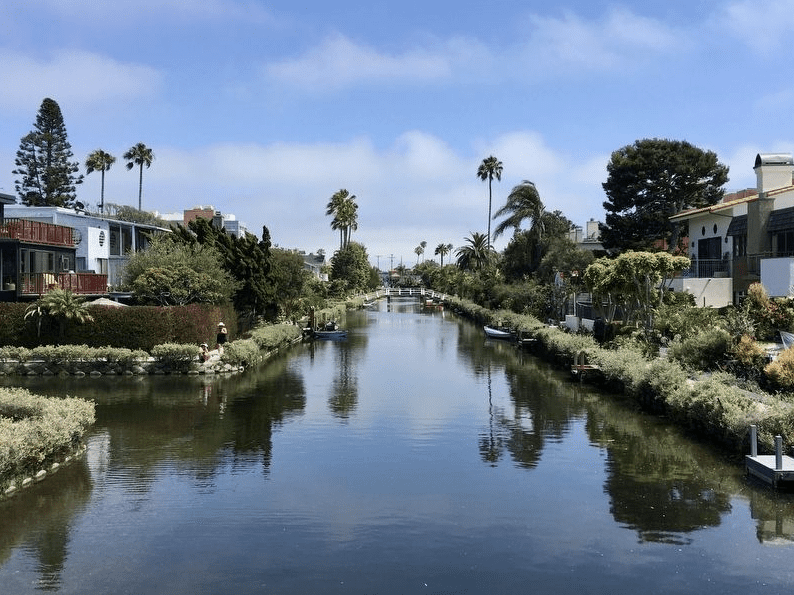 Venice Beach has a rich history and an eclectic culture.
One of the most well-known Venice Beach landmarks is the Venice Canals. The Canals were built in 1906 and designed to be reminiscent of the canals in Venice, Italy.
Today, visitors can walk the nearly two-mile-long canals, crossing nine short bridges and passing hundreds of stunning Venice Beach homes, with ample photo opportunities.
While in Venice Beach, also walk down Abbot Kinney Boulevard. There are over a mile of small beachy boutiques, vintage shops, trendy restaurants, vibrant murals, and galleries featuring local and imported art.
The Canals and Abbott Kinney Boulevard are a 12-minute walk apart.
Both are about a twenty-minute walk to the Venice Beach Boardwalk, where you will find street performers and artists, skateboarders, local restaurants, and touristy shops.
If you are interested in a structured event, attend a Venice Art Crawl or the annual Venice Beach Music Festival to celebrate the art and entertainment culture in Venice Beach.
Pro Tip:
Use the Metro Trip Planner for public transportation options.
2. Griffith Park
If you're an outdoor enthusiast, an animal lover, or traveling with kids, Griffith Park is one of the best neighborhoods in Los Angeles to visit.
The Griffith Park neighborhood is unique because it offers few homes. Instead of expansive homes, Griffith Observatory, the Hollywood Sign, and hiking trails throughout Griffith Park are the area's most prominent features.
Griffith Observatory provides stunning panoramic views of Los Angeles, and the hike up to the Observatory includes a clear shot of the Hollywood Sign.
The Los Angeles Zoo and Botanical Gardens are also situated in Griffith Park and are worth visiting, especially if you're vacationing with the whole family.
Soak in the sunshine and city sights, and remember to snap a few pictures along the way.
3. Los Feliz
Los Feliz is most notably known for its historic architecture and role in the early entertainment industry, making landmarks like the Ennis House a must-see.
The Ennis House was designed by Frank Lloyd Wright–a renowned architect who created four Los Angeles homes in the Mayan Revival style, with the Ennis House becoming his most famous "textile block" build.
The home is visually striking and featured in over 80 shows and movies, solidifying its position as a Los Feliz monument.
It's also worth mentioning that Walt Disney's success began in the garage of his uncle's Los Feliz home and eventually led to the founding of the original Walt Disney Studios.
If you're a Disney fanatic, the Los Feliz Improvement Association is hosting a Social Toast on October 16th to honor the 100th anniversary of the Los Feliz Walt Disney Studio opening.
Stop by if you're in town!
Travel Tip:
Los Feliz borders Griffith Park and offers easy access to surrounding neighborhoods via Metro B and E lines, plus several bus routes.
If you have a rental car, Interstate 5 leads to east LA, and the 101 travels west.
4. Silver Lake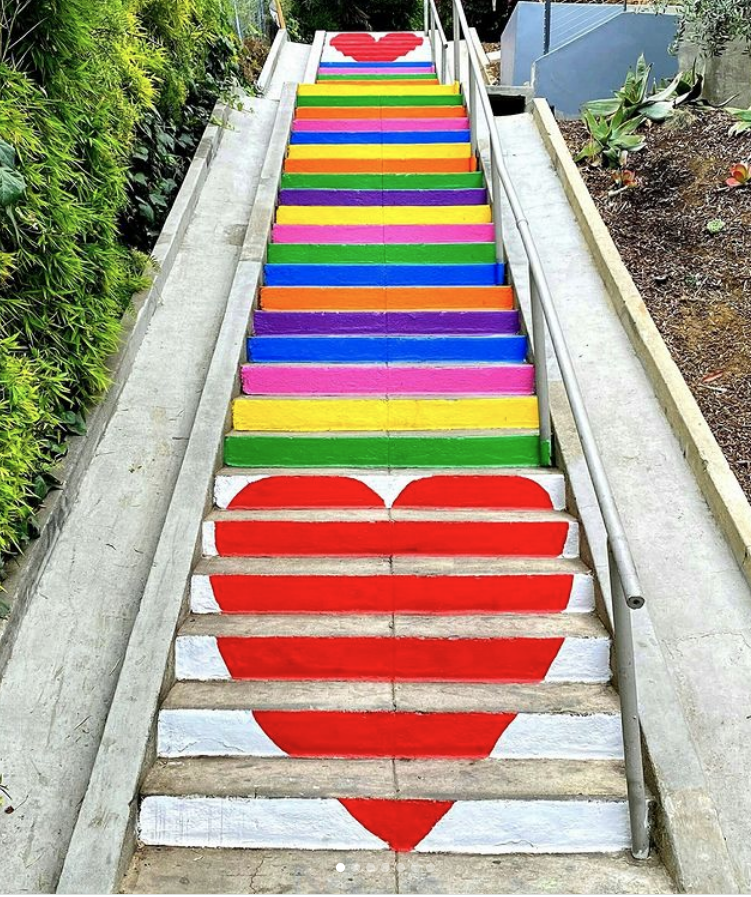 Los Angeles is known for car culture, but hidden staircases are scattered throughout the LA hillsides, serving as historical reminders of times before cars zoomed through the city.
If you're eager to experience LA history and exercise after feasting on delicious LA cuisine, trek up the Micheltorena Stairs in Silver Lake.
But if walking up 177 steps isn't your ideal vacay activity, here's some incentive: the staircase is covered in rainbow paint and big red hearts, so you'll have the promise of aesthetic LA photos to keep you going.
For our LGBT friends, consider stopping by The Black Cat Tavern for drinks and dinner on the "catio" overlooking Sunset Boulevard.
The Black Cat Tavern became the location of the first-ever public protest by the LGBTQ community in February of 1967.
Today, Los Angeles County recognizes the Silver Lake restaurant and bar as a Historic-Cultural Monument.
Whether you appreciate history or enjoy drinks and good grub with friends, a night at The Black Cat Tavern will be a highlight of your trip to LA.
5. West Hollywood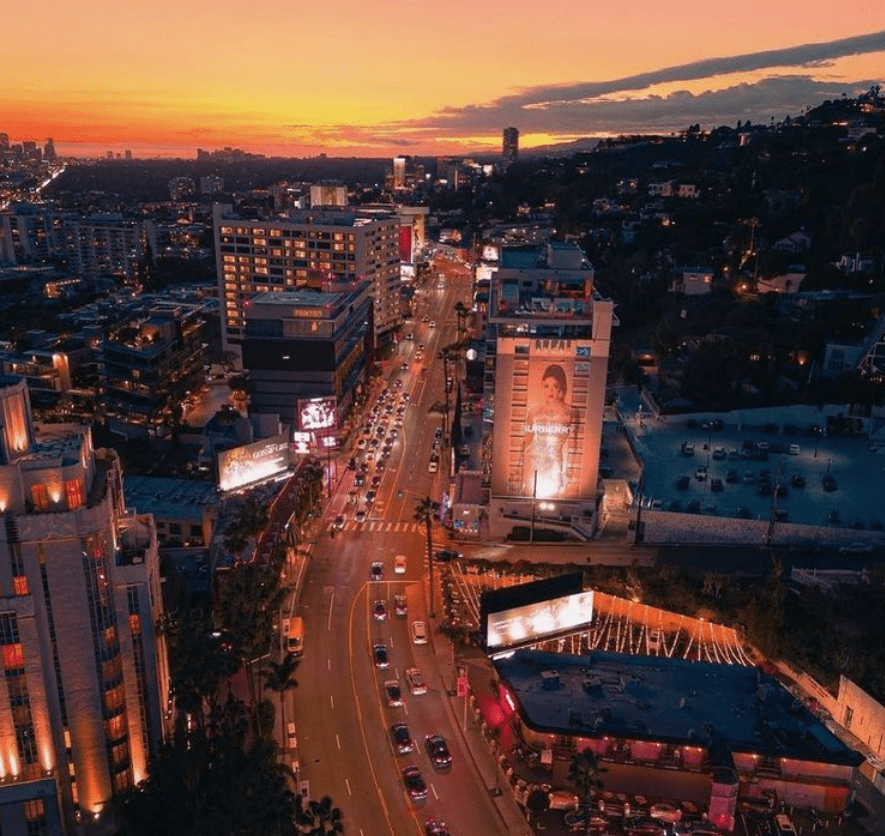 With a walk score of 91, West Hollywood is one of the best neighborhoods in Los Angeles to visit if you're vacationing without a car.
Since West Hollywood is so walkable, the neighborhood is best known for the Sunset Strip: a nearly two-mile-long street of restaurants, live entertainment, and spectacular nightlife.
Whether bull-riding at Saddle Ranch Chop House, laughing at The Comedy Store, or bar-crawling your way from one end of the Strip to the other, a night in West Hollywood is a peak Los Angeles experience, so don't miss out!
For those who appreciate daytime tourism and an early night's sleep, spend the day in the West Hollywood Design District, admiring the street art and passing through the different showrooms and galleries.
You can also attend annual West Hollywood cultural events depending on when you visit.
May brings the WeHo Mishka Festival, an event held to celebrate Russian culture and spread awareness to surrounding communities.
June is Pride Month, and WeHo Pride hosts festivals, fairs, marches, and a parade. A month-long WeHo Pride Arts Festival also supports the LGBTQ community and artists.
6. Downtown Los Angeles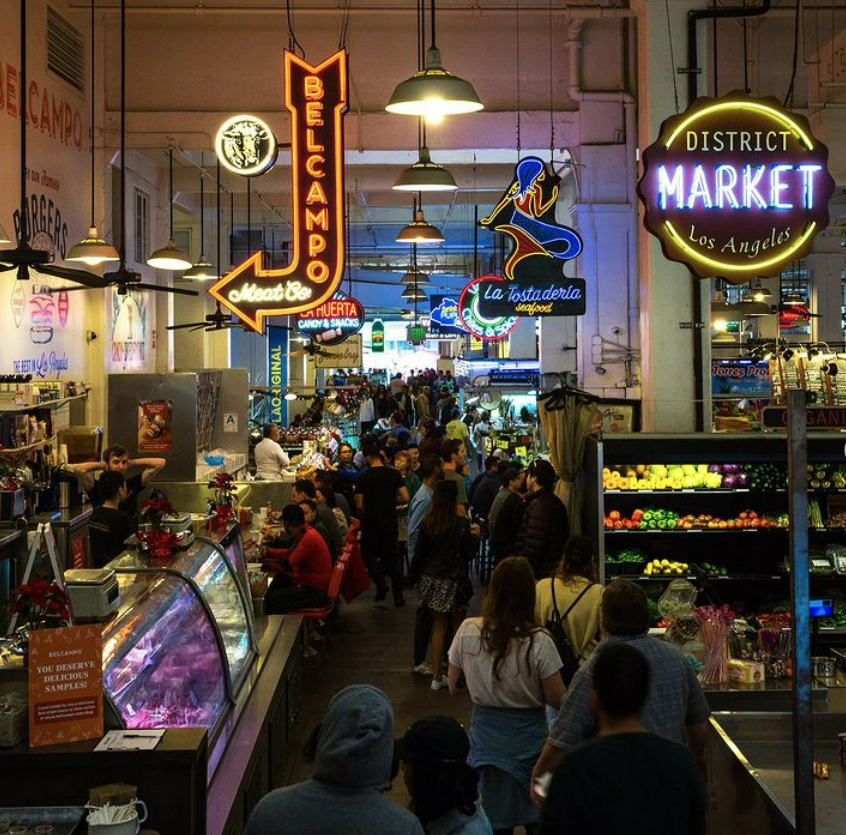 Downtown Los Angeles is an ideal location for tourists, with a walk score of 93 and a transit score of 98.
With quick Metro access to Santa Monica, Culver City, Burbank, and Long Beach, plus theme parks like Universal Studios Hollywood and Six Flags Magic Mountain, you'll experience many parts of the city without the added expense of a rental car.
But if you're content with touring one neighborhood, the constant activity in DTLA means that you can stay local without getting bored.
You can buy tickets for major events and head to Crypto.Com Arena to watch a Los Angeles Lakers game or see your favorite artists perform on their world tours.
DTLA is also a fashion hub, with shops selling everything from designer handbags to thrifted clothing and vintage jewelry.
And this neighborhood has all the foodies covered, too. DTLA has hundreds of cafes, restaurants, and bars to choose from, but for the whole LA experience, a meal at Grand Central Market is a must.
Vendors at Grand Central Market sell a variety of foods to ease every craving, so this is an ideal dining spot for tourists traveling in groups.
7. Culver City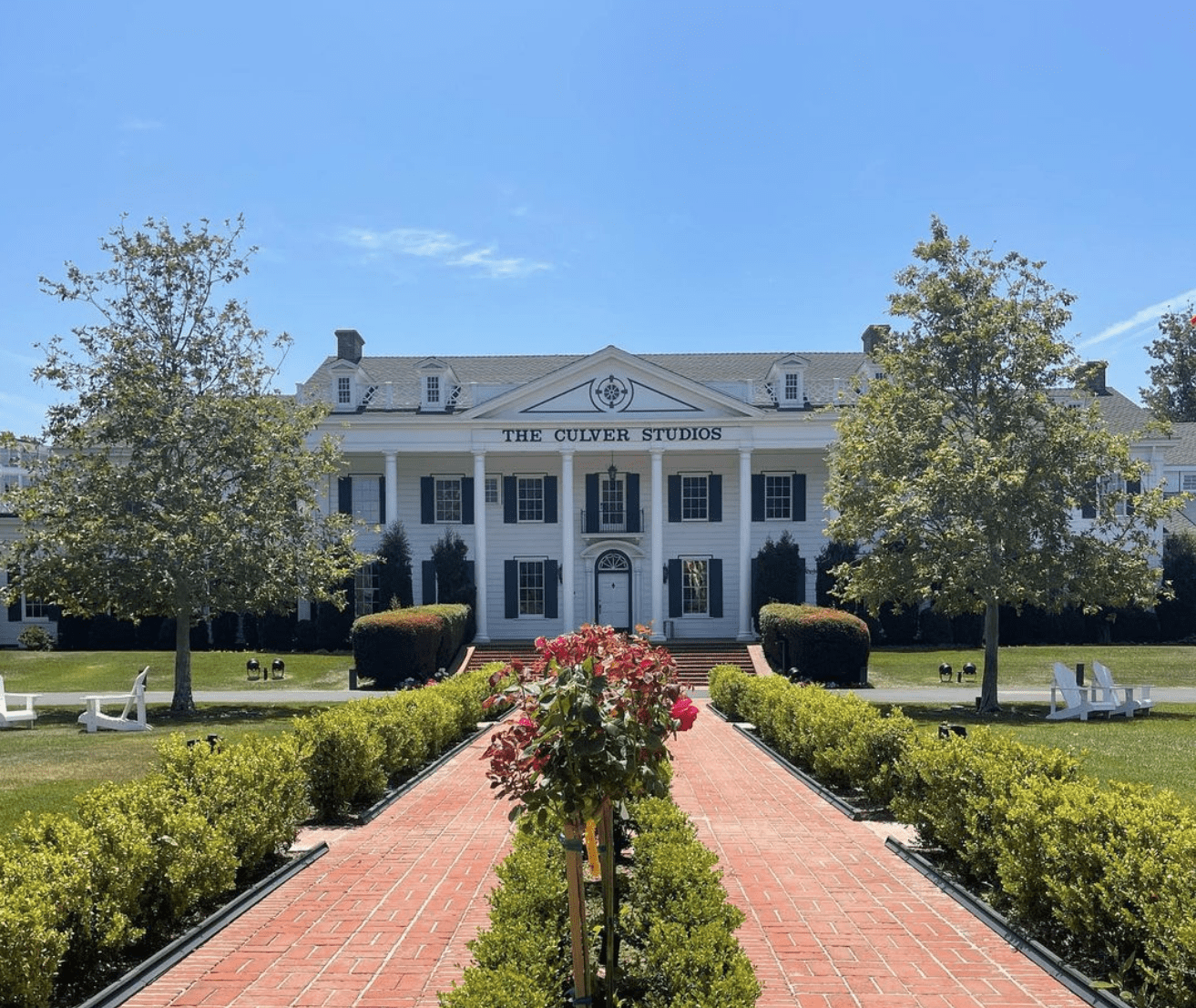 Culver City has long-standing ties to the film industry and houses several production studios, including The Culver Studios, Sony Pictures Studios, and Amazon Studios.
Many neighborhoods across Los Angeles have played key roles in the rise of the entertainment industry, but Culver City is especially worth the visit because of its location.
Booking your stay in Culver City means you'll experience the "Hollywood" appeal of Los Angeles without missing out on the beach culture: you can take a studio tour in the morning and tan on the beach until sunset.
You can easily dine at great restaurants in Culver City, and a 20-minute bus ride will get you to Marina del Rey for more restaurant options.
As a bonus, once you're in Marina del Rey, you'll also be within walking distance of Abbott Kinney Boulevard!
8. Little Tokyo
Little Tokyo has been officially recognized as one of three historic Japantowns since 1995 when the neighborhood was deemed a National Historic Landmark District by the State of California.
With the Japanese American Cultural & Community Center and the Japanese American National Museum, a stay in Little Tokyo provides many opportunities to explore the local history and culture.
For a short escape from the hustle and bustle of the city, take time to walk through the small James Irvine Japanese Garden at the JACCC.
For anyone staying in Little Tokyo between August 12th and 20th, check out the Nisei Week Japanese Festival to celebrate and learn about Japanese culture through exhibits, performances, music, and Japanese cuisine.
9. Manhattan Beach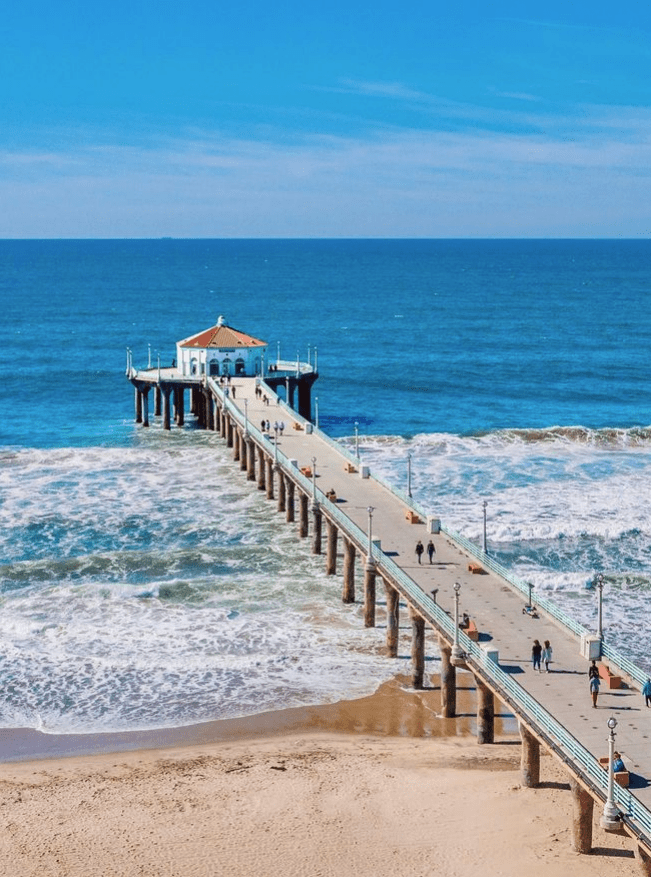 Manhattan Beach is an incredibly picturesque Los Angeles neighborhood and a popular destination for tourists wanting a relaxing vacation.
The area is upscale, with many fine-dining restaurants overlooking the ocean and luxurious locally-owned boutiques.
But don't worry if you're planning a family vacation to Manhattan Beach—there are many fun activities for the whole family to enjoy.
Make a reservation and head to Sand Dune Park for a fun roll down the 100-foot dune. The excitement will give the kids a nice adrenaline boost, so the park at the bottom is perfect for running off that extra energy.
Walking down the Manhattan Beach Pier is another fun option. The ocean views make for great family photos, and the Roundhouse Aquarium Teaching Center at the end of the pier will keep the kids entertained long enough for you to decide on dinner plans.
This article showed you the 9 best neighborhoods in Los Angeles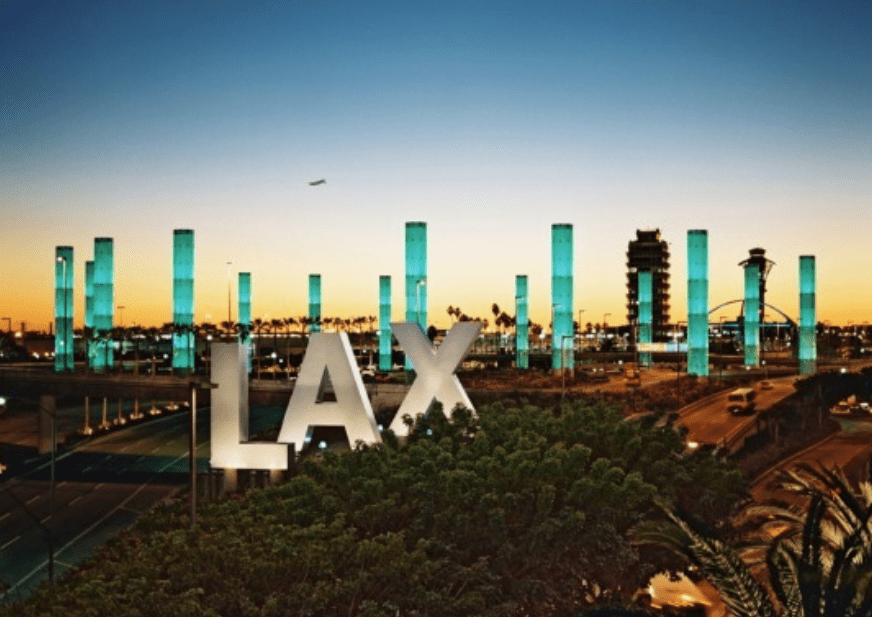 There you have it: the nine best neighborhoods in Los Angeles to visit!
Whether you're planning your next vacation or a permanent stay, we hope you have the best time in LA.