Take a peek inside the highly anticipated reconstruction "Constellation 167." This innovative residence was designed by visionary Eric Owen Moss. As his first foray into residential design, this property is one-of-a-kind. Its geometric structure is immediately recognizable, and Moss' commitment to natural design is evident in every detail.
After being meticulously restored to its former glory (and then some), the home is a stunning tribute to an experimental, imaginative concept. 167 S Westgate Ave is listed for $11,995,000 by Sally Forster Jones at Compass.

The exterior of this residence is as striking as the interior. The geometric design is otherworldly and the flow is effortless. The futuristic appearance was far ahead of its time, and the modern upgrades further identify this property as a study of timeless originality. The outer facade of the residence is embellished with elegantly sculpted lines and curves, building up to the dome that stretches toward the sunny Los Angeles sky.

The geometric elements are even more spectacular from the inside of the property. The spiral steel outdoor staircase leads to all three levels, and the open floor plan is bold and bright. With an unorthodox combination of wood, metal, and concrete accents, the mix of materials appears wholly contemporary.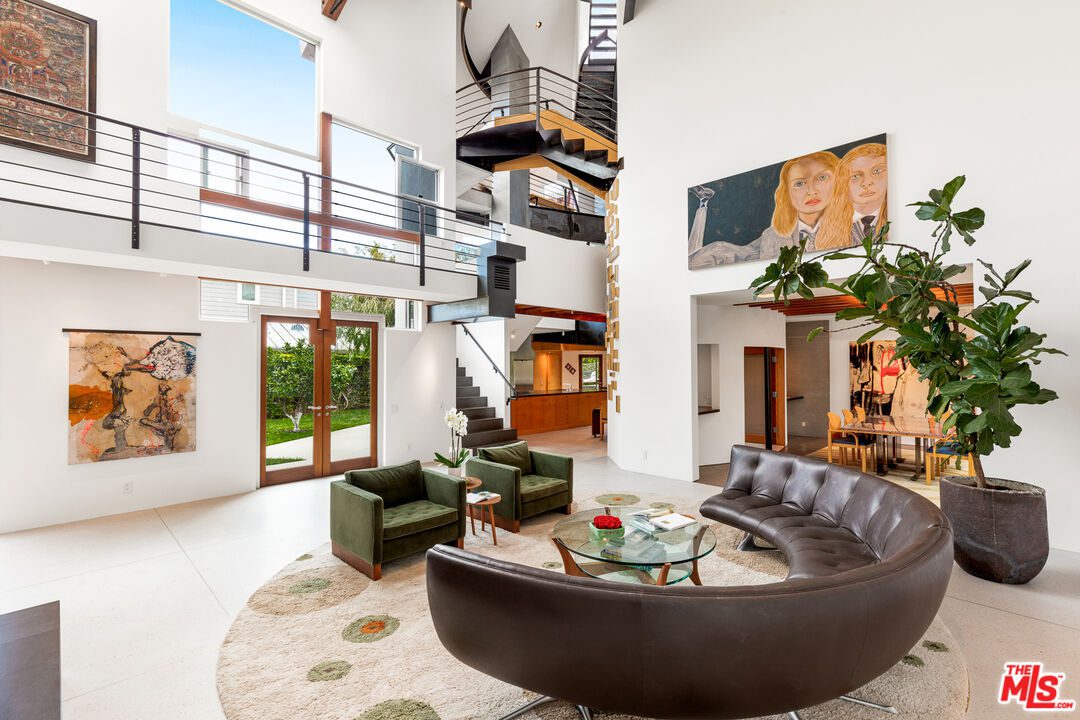 The previous owner purchased the home in 2011 and painstakingly rebuilt every detail. The renovations remain true to Moss' original vision, with the addition of luxurious amenities for modern comfort. The industrial space is graced by a beautiful display of natural light, which delicately weaves patterns across all surfaces, from the lavish terrazzo flooring to the burnished steel and opulent mahogany accents.

This architectural marvel is located in the prestigious heart of Brentwood. The property covers 0.29 acres, or approximately 12,600 square feet of land. Spread over two stories, the house offers a total of 5,400 square feet. Inside, you'll find four bedrooms and four and a half bathrooms, providing ample room for both comfort and functionality.

The outdoor space of the property has been transformed into an oasis-like haven. It features a Moss-inspired lagoon that adds a touch of serenity and sophistication to the landscape. The lagoon is complemented by a state-of-the-art water drainage and pumping system, ensuring its maintenance and functionality. Additionally, a serene lap pool enhances the overall ambience of this tranquil outdoor retreat, creating a blend of natural beauty and modern convenience.

Additional amenities include an open-air workout space, a built-in office, and several viewpoints. Central air conditioning, a fully-equipped chef's kitchen, and several expansive en-suites make up this unforgettable property.

More than a home, this estate is one of the benchmarks of innovative Los Angeles architecture. "Constellation 167" stands as a remarkable testament to the fusion of visionary design and meticulous restoration. Eric Owen Moss' debut in residential architecture has yielded a masterpiece that marries futuristic aesthetics with timeless appeal.
Listing: 167 S Westgate Avenue, Los Angeles, CA 90049 [Compass]