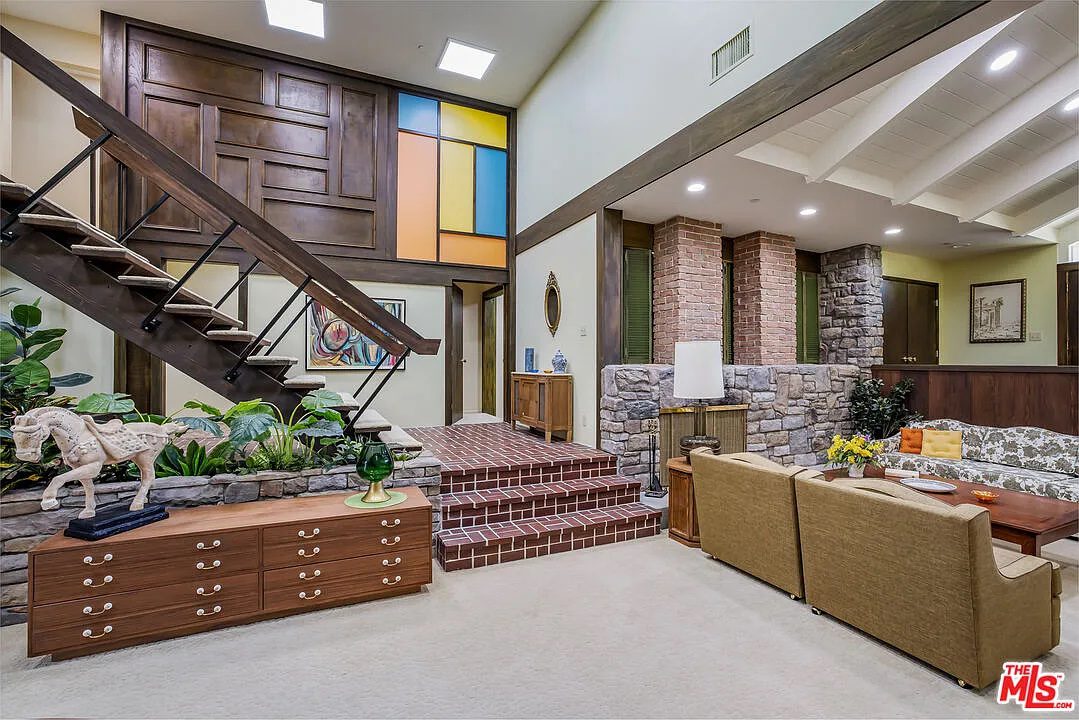 One of the most photographed homes in the world just hit the market. To say this property is cinematic would be an understatement. 11222 Dilling St. is a room-by-room replica of "The Brady Bunch" set. A true 1970s time capsule, this quirky property has one-of-a-kind details inside and out. Five bedrooms and five bathrooms make up this 5,140-square-foot single-family home.
Located in North Hollywood, "The Brady Bunch House" is listed by Daniel Brown at Compass.
The exterior of 11222 Dilling St. is the actual home that appeared in "The Brady Bunch." In 2018, HGTV purchased and remodeled the interior to match the set of the iconic sitcom. Six actors from the original program were consulted during the remodel process to ensure it looked and felt exactly like the 70s soundstage. 2,000 square feet were added to the original property and $1.9 million was invested in its transformation. The home will be sold as-is with every decorative detail intact.
The living room is a peek into pop culture history. Fans of the classic sitcom will immediately recognize the floating staircase and retro paneling. The ranch-style interior is complimented by the handpicked furniture and stone fireplace.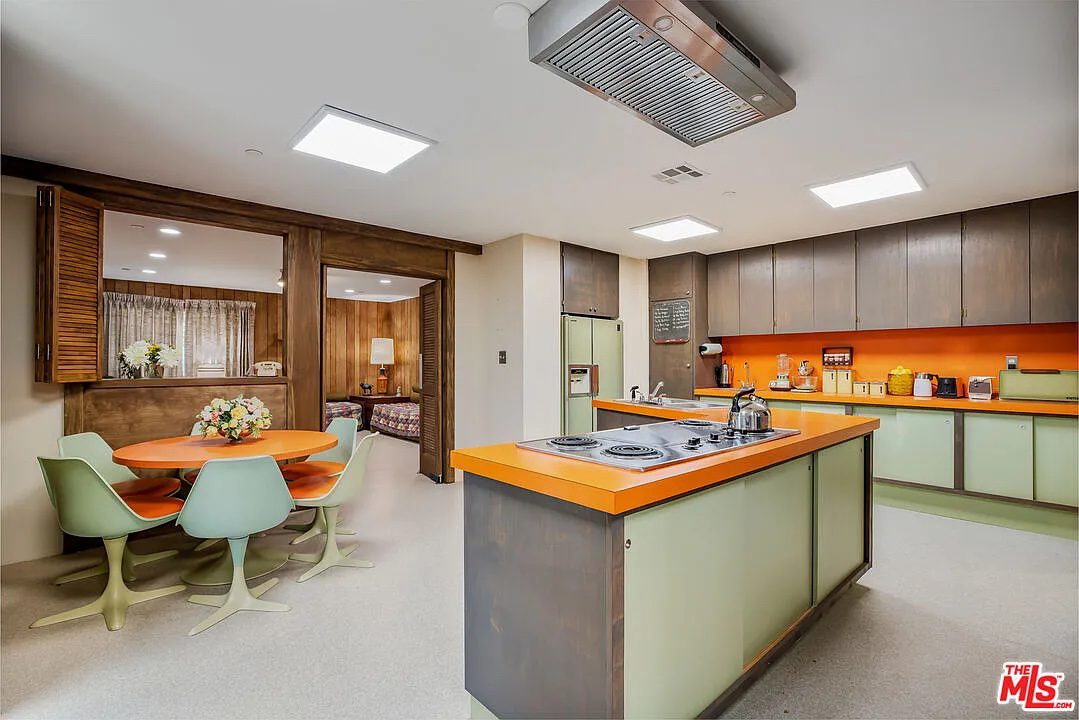 One of the most memorable rooms in the home is the orange and green kitchen. The avocado-green hue that covers the lower cabinets and refrigerator was handpicked by Eve Plum (Jan Brady). With bright orange Formica countertops, this cooking space is full of character and charm.
The family room has also been designed to match the laid-back lounge from the TV series. 70s-style wood paneling wraps around two walls and the sliding glass doors offer direct access to the lush backyard. The former living room, hallway, and kitchen were converted into Mike Brady's den. This unforgettable man cave was reimagined from top to bottom.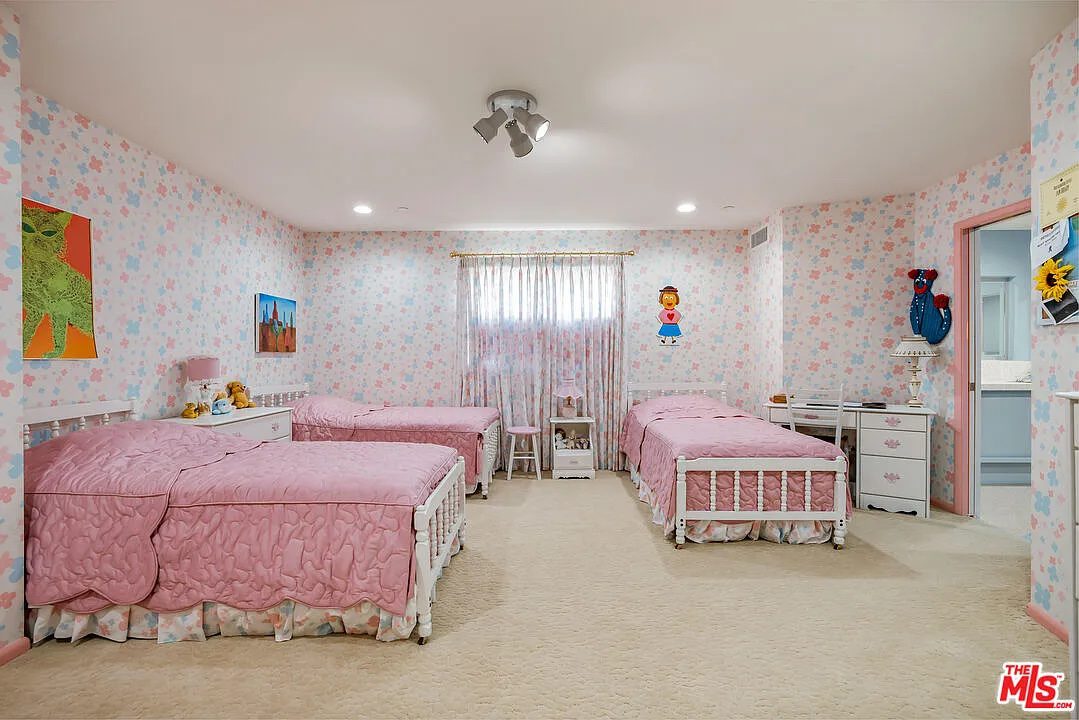 The girls' room is pretty, pink, and legendary. With plush, feminine details, it's easy to recognize this signature set. The bed frames were built from scratch and the wallpaper is entirely custom. The two children's rooms are connected by a powder blue Jack and Jill bathroom. One of the only contemporary additions was a modern showerhead for enhanced livability.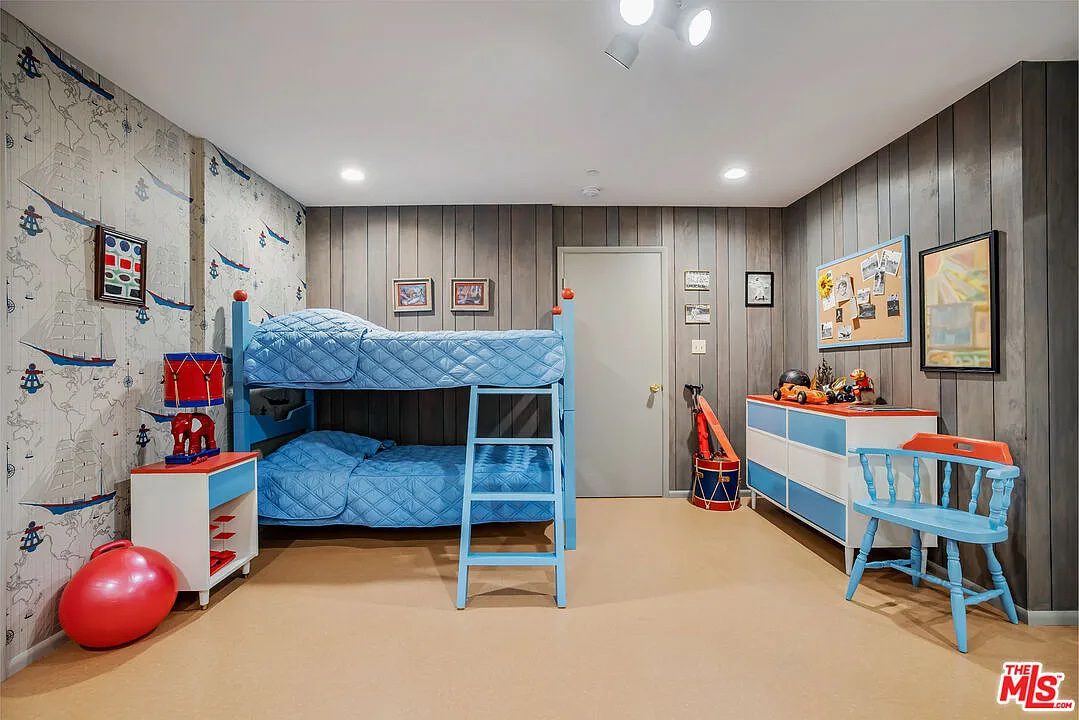 Several pieces in the boys' room were thrifted. The wallpaper and wood paneling were installed to perfectly replicate the original bedroom. The home also includes Greg's Groovy Attic, Mike and Carol's bedroom, and Alice's yellow and green room.
Beyond the interior, the backyard includes a swing set, teeter-totter, and Tiger's dog house. The property is also lined with lush citrus trees. Listed for $5,500,000, the entire lot spans .29 acres. This two-story home is filled with Hollywood history and exceptional characteristics. "The Brady Bunch House" is a unique blend of nostalgia and contemporary comfort.
Listing: 11222 Dilling St., North Hollywood, CA 91602 [Compass]