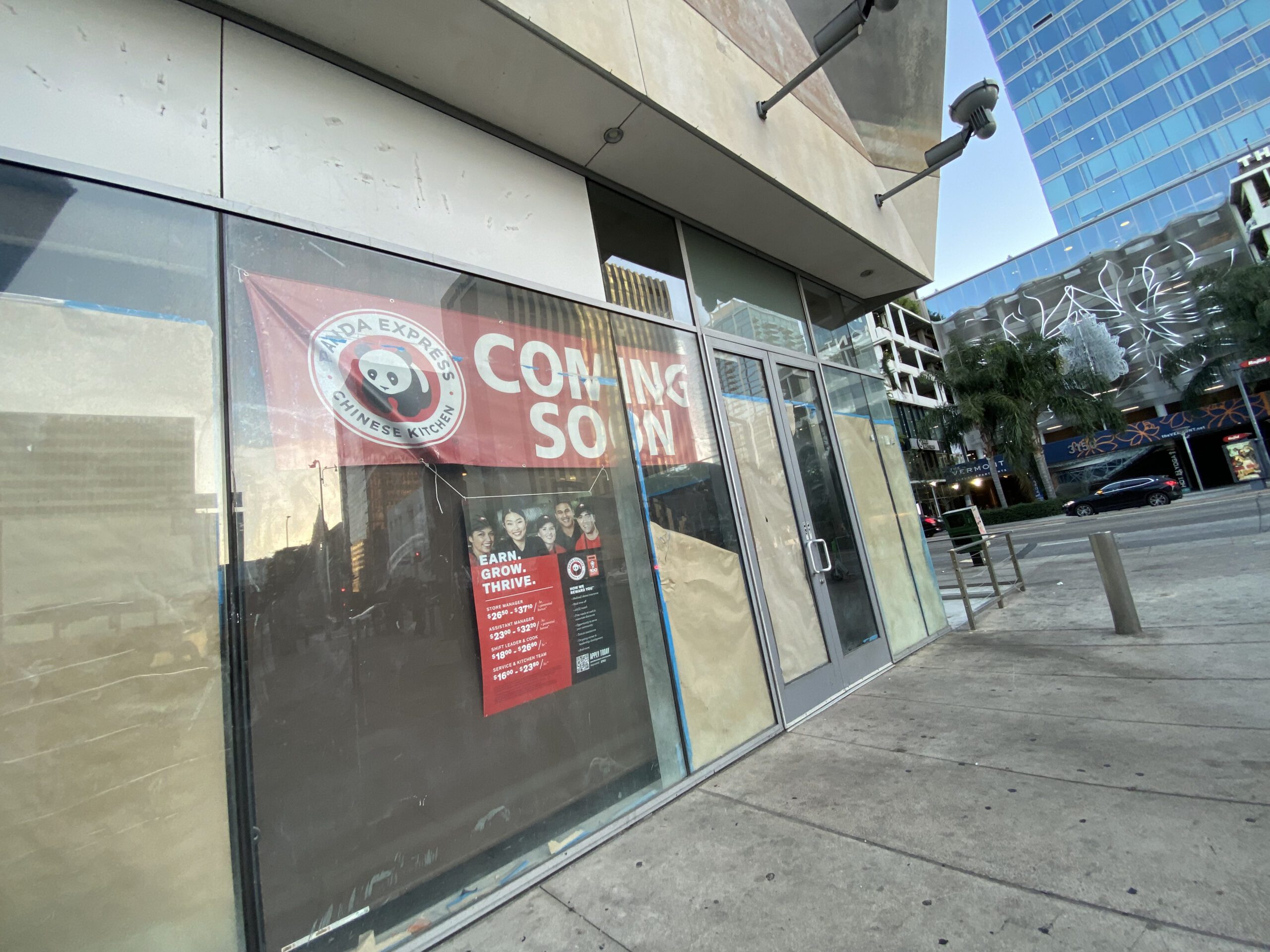 American Chinese fast-food restaurant chain Panda Express is coming to Koreatown in 2024. The new location, at 3183 Wilshire Blvd, will be conveniently placed in the Wilshire Vermont Station mixed-use plaza. The plaza houses a 449-unit apartment complex, the Wilshire Vermont Metro station with red and purple line access, several bus lines, and businesses such as the UPS Store, Palace Beauty, and GameStop.
The other restaurants in the Wilshire Vermont public courtyard and street level are also chains: Chipotle, Subway, Roll Call, and Yogurtland. The new Panda Express is entering the space that coffee shop chain Coffee Bean and Tea Leaf occupied pre-pandemic.
Mixed-use developments are on the rise throughout Los Angeles. This is especially true in Koreatown with the incoming 3100 Wilshire project at the historic Wilshire Bullocks building site and numerous other developments throughout the neighborhood in the planning and construction stages. Many of these Koreatown projects are subsidized by the City of Los Angeles' Transit-Oriented Communities program in a bid to decrease the number of cars on the road and increase Metro ridership, which recently reached pre-pandemic ridership levels.
Despite this shift towards a more pedestrian and transit-friendly city and rising ridership rates, which can only be expected to increase in light of the 10 being closed in DTLA until 2024, most of the commercial spaces in Wilshire Vermont Station have been empty since 2021.
Chase Bank closed its Wilshire Vermont branch in October 2022, and Shiloh Accessories next door vacated around the same time. The spaces they occupied on the west side of the courtyard are still vacant at the time of writing, as are the two restaurant spaces next to the Metro Fresh convenience store and Metro customer service center on the north side.
Commercial real estate brokerage and information service CBRE reports that about 60,000 cars and 15,000 pedestrians pass the plaza daily not including the residents in the apartments above. With such a large space that happens to be adjacent to the bus stop and elevator into Wilshire Vermont's garage just footsteps away from two Metro lines,
Panda Express could attract more commercial tenants if this location proves successful. Panda Express originated in Pasadena in 1973 as a more formal version called Panda Inn. In the 1980s, founders Andrew and Peggy Cherng created a fast food version at the Glendale Galleria mall, which has grown to 2,200 locations worldwide since. Nearly 30 locations are in the city of Los Angeles, including multiple University of California campuses and LAX terminals.
Panda Express did not respond to requests for more information about the potential opening date for Wilshire Vermont Station, but it appears to be spring 2024.