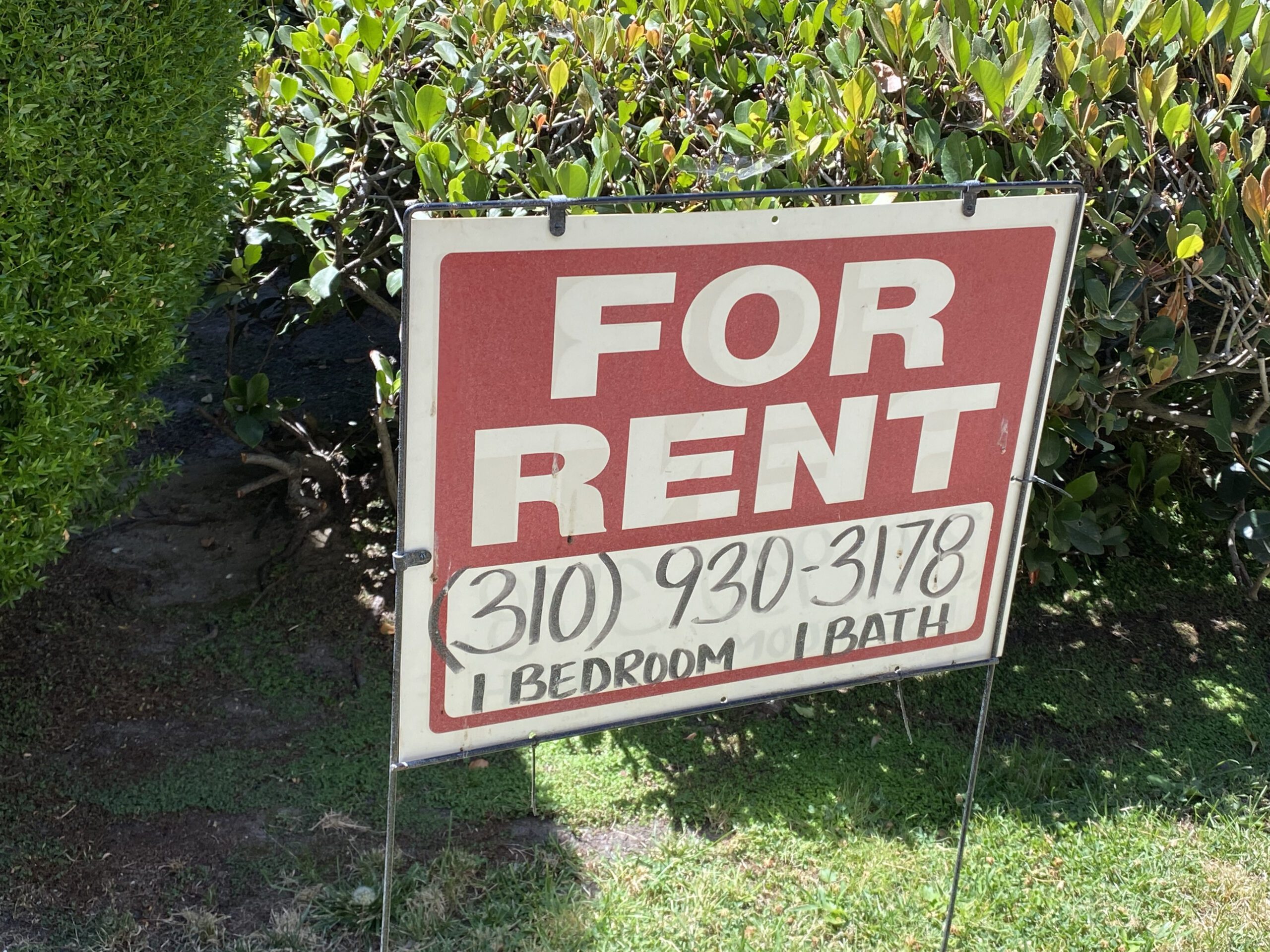 This article is all about Los Angeles rent control.
At the time of writing, the average rent in Los Angeles is $2,781 for a 1-bedroom apartment just under 800 square feet. While the number of renter-occupied households isn't nearly as high as New York, it's still 63% which is more than half the city.
Angelenos have become increasingly rent-burdened in the 2020s. The reversal of COVID-era rent relief policies and mortgage rates ballooning is only increasing the upwards pressure on rents as the City of Los Angeles faces a historic housing crisis.
Subsequently, both the city and the State of California have stepped in with a patchwork of rent control legislation. But navigating Los Angeles rent control laws can be incredibly confusing: many different factors will dictate whether you're protected under some degree of rent control at either city or the state level, such as the age of the property and how long you've lived there.
Here's everything you need to know about rent control and rent stabilization laws in and near Los Angeles, and how you can determine the maximum legal rent increase where you live.
Understanding California Statewide Rent Control Laws
You may be seeing several different news articles pop up about Los Angeles rent control, rent control measures that passed in other cities of the greater Los Angeles area like Cudahy, and groups opposing more stringent statewide rent control laws.
For a brief civics recap, federal law is law of the land and it overrides state legislation. Federal laws like the Fair Housing Act can be enforced against landlords discriminating against tenants for gender, race, disability, and other protected classes, but there is no federal law regarding rental ceilings and floors or caps on annual rent increases. It's completely left up to states, which can pass such laws, and override city and county legislation.
California did pass a statewide rent control law in 2019 that has been gradually increasing its coverage range. However, there are two key pieces of legislation in California that determine rent control eligibility: the Costa-Hawkins Rental Housing Act of 1995 and the Tenant Protection Act of 2019 (AB 1482). For brevity's sake, we'll refer to them as Costa-Hawkins and AB 1482 going forward.
Costa-Hawkins essentially defangs any rent control laws passed by the State of California. It prohibits cities from imposing rent control edicts over the rental of single-family homes, condos, and apartments constructed after 1995. It also banned "strict" rent control, also known as vacancy control, which was a restriction applied to certain rental units. For instance, if an older apartment building subject to vacancy control has 10 apartments, and a tenant voluntarily leaves one apartment while another tenant is evicted for just cause (like not paying their rent), under the old laws the landlord would still be subject to vacancy control on all 10 units. But with the passage of Costa-Hawkins, the old tenants in those eight apartments would be grandfathered under the old vacancy laws but the landlord can now raise the rent on the two vacated units.
AB 1482 was signed into law by Governor Newsom in late 2019, just before COVID hit and a flurry of temporary renter protections were passed since millions of people lost their incomes overnight. The key provision of AB 1482 is that it caps annual rent increases for most renters to 5% of their annual rent. Currently, the maximum is 10% and it decreases to 8.8% on August 1, 2023.
AB 1482 has been hailed as the strongest renter protections in America to date. However, the law expires in 10 years and would need to be put up for a vote again in 2029. It also doesn't cap annual rent increases in the true sense: AB 1482 lets landlords peg annual rent hikes to inflation. With inflation being out of control in recent years, this is why 10% is the current statewide maximum but slightly cooling inflation puts the maximum rent hike rate at 8.8% until July 31, 2024.
AB 1482 also covers many types of properties, but didn't completely undo Costa-Hawkins' ban on local rent control measures. Tenants living in single-family homes are now protected under this law, and the 1995-era provision was stricken and replaced with rolling protection that properties built 15 or more years ago now must comply with AB 1482. There is also a narrow exception for income-restricted housing defined as "affordable" and mobile homes are not eligible.
Tenants' rights groups have their sights set on a proposed bill, the Justice for Renters Act, which would repeal Costa-Hawkins and give more control to local governments to stabilize rents.
City of Los Angeles
With AB 1482 in effect, landlords throughout the state of California are limited to annual rent hikes of 8.8% from August 1, 2023 to July 31, 2024 and this covers most renters except those living in units less than 15 years old.
Los Angeles rent control was already in effect on a citywide level. Rental units that were built before October 1, 1978 are generally included in Los Angeles rent control laws. The chief Los Angeles rent control statute, the Rent Stabilization Ordinance of 1979, has a broader reach than AB 1482 in that it covers more types of housing excluded from the latter such as hotels, mobile homes, and boarding houses.
For most rent-controlled tenants in LA, annual rent increases are limited to 3-4%. But since the maximum is pegged to inflation, rent hikes can be as high as 8% which is just under the current statewide maximum. Because units that are already rent-controlled under city law are not subject to AB 1482, the usual logic of state law trumping local law wouldn't apply. Landlords who include utilities in the rent can increase rent-controlled units by another 1-2%.
It's also important to note that your landlord must give you at least 30 days notice before the rent increases, and they can also increase the security deposit by the amount of the hike. If another tenant moves in with you, like a spouse or friend, your rent can be raised 10% but it also must be reduced by this amount if they move out.
Los Angeles is one of few cities still enacting COVID-influenced protections with a rent freeze for rent-controlled properties until January 31, 2024. This hasn't stopped tenants from facing illegal rent increases, which can be reported to the city's housing department here.
However, if your rental was ineligible for city-level rent control, it may still be eligible for statewide rent control under AB 1482.
Rent Control Laws in Los Angeles County
Presented in alphabetical order, the following cities and certain unincorporated areas of Los Angeles County have passed their own rent control legislation at the local level. Many of these laws were passed after Los Angeles was the chief architect of rent control ordinances in 1979, but some were more recent in response to COVID or pressure from tenant advocacy groups.
Baldwin Park Rent Control
Baldwin Park's rent control laws COVID-specific renter protections ended March 31, 2023. The city has a general annual rent increase limit of 5% if the property is a rental unit built prior to January 1, 1995. Mobile homes, single-family homes, and duplexes are not eligible.
Bell Gardens Rent Control
Bell Gardens limits annual rent hikes to 4% on rent-controlled units for apartments built prior to February 1, 1995. Single-family homes, townhomes, and condos are excluded from the law.
However, Bell Gardens recently passed a citywide rent control edict that would limit annual rent increases to the lower of 4% or 50% of local inflation. No new property types were added.
Beverly Hills Rent Control
Beverly Hills rent control is split into Chapter 5 and Chapter 6 properties. Most tenants fall under Chapter 6 guidelines, Chapter 5 is for tenants who live in rentals that were constructed before September 20, 1978 and started their leases paying $600 or less per month. Every year, Beverly Hills City Council votes on annual rent increase limits for Chapter 6 and monthly increases for Chapter 5 tenants. The limit is 3.2% for Chapter 6 and 5.43% for Chapter 5.
All multi-family rental properties in Beverly Hills are subject to rent control mandates unless they were built after February 1, 1995. Single-family homes, hotels, nonprofit housing, and most condos are not eligible.
Cudahy Rent Control
Among the most recent of greater Los Angeles area rent control edicts, Cudahy passed a citywide rent control law in June 2023. Annual rent increases are capped at the lower of 3% or local inflation rates.
Single-family homes, condos, and townhomes are ineligible as are multifamily rentals built after February 1, 1995.
Culver City Rent Control
Culver City has a permanent rent control ordinance in place with a cap of 5%. Annual rent increases must be the lower of average CPI change or 5%. Single-family homes, condos, and townhomes are ineligible, as are multi-family rentals built after February 1, 1995.
Inglewood Rent Control
Inglewood's rent control laws permit annual rent hikes of up to 10% depending on the size of the apartment building. If there are four or fewer units, the rent can be raised up to 10% every year but 7.9% if there are five or more apartments.
This is based on local inflation but Inglewood city council plans to address these rates in 2023.
Multi-family rentals built in the last 15 years are exempt from Inglewood's rent control laws, as are nonprofit housing, duplexes, and hotels. However, single-family homes and condos may be eligible if they are owned by an individual or family trust.
Pasadena Rent Control
Pasadena recently passed Measure H to institute citywide rent control on housing built prior to February 1, 1995. If you moved into your Pasadena apartment prior to May 17, 2021, the maximum annual rent increase is 6%. This worksheet can tell you what your maximum annual rent increase is if you moved into eligible housing after this date. Interested in moving to Pasadena? Check out our guide with everything you need to know about moving to Pasadena.
Pomona Rent Control
Pomona enacted an urgency ordinance recently to limit annual rent increases to 4% on all multifamily rentals built prior to February 1, 1995.
Santa Ana Rent Control
Santa Ana's rent control law closely models the Costa-Hawkins language in terms of eligible units: mobile homes, single-family homes, and condos are not eligible. Eligible multifamily rentals must have been built before February 1, 1995. Annual rent hikes are limited to the lower of 80% of the local consumer price index or 3%.
Santa Monica Rent Control
Santa Monica's rent control board capped the annual increases on rent-controlled units (apartments built before April 10, 1979) to the lower of 6% or $140 per month. Voters reduced this to 3% and $70 per month with a rent control ballot measure.
The rent control board uses the lower of 75% of local inflation or 6% as the annual limit.
West Hollywood Rent Control
West Hollywood defines rent-controlled units as rentals with two or more units built before July 1, 1979, but single-family homes and condos can be eligible if the tenants moved in prior to January 1, 1996. Like the City of Los Angeles, West Hollywood instituted a rent freeze on rent-controlled units due to COVID but the freeze has ended.
Annual increases are calculated using the lower of 75% of local inflation or 3%.
Unincorporated Cities
Many Los Angeles County residents are subject to county laws instead of city law, such as Altadena and East Los Angeles. This Los Angeles rent control law is specific to unincorporated areas of the county.
Like the City of Los Angeles, there was a COVID-induced rent freeze on rent-controlled tenants but the freeze ended on March 31, 2023. Annual rent hikes of 3% are now permitted.
Tenants in unincorporated areas of LA County are likely to have rent control if they live in multifamily rentals built prior to February 1, 1995. There is a separate ordinance for mobile homes that protects mobile home tenants with a 3% maximum rent increase.
Luxury rental tenants have a 5% rent hike cap through December 31, 2023.
People also ask…
What is the current rent control in Los Angeles?
If your rental was built before October 1, 1978 then you cannot have your rent increased by more than 3-4% most years, but it may be as high as 8% for 2024 since the annual rent increase cap is pegged to local inflation.
What is the max a landlord can raise rent in Los Angeles?
If you are not protected under City of Los Angeles rent control statutes, you may be eligible for state-level rent control under AB 1482. In August 2023, the maximum annual rent increase is 8.8% (5% statewide legal cap on eligible properties + 3.8% CPI).
Will rent go down in 2023 Los Angeles?
LA rent seems higher than ever and that there isn't much hope it will go down in 2023, or even 2024. But while you won't see 2019 or 2020 rent again, vacancy rates across the city limits, LA County, and Orange County have been ticking up throughout 2023 compared to 2022.
What is the average rent increase per year in Los Angeles?
As of July 2023, ApartmentList places the average annual rent increase in Los Angeles to be 4.3%.